January 2003


Reference 3A MM De Capo-i
Improving On Greatness
Review By Steven R. Rochlin
Click here to e-mail reviewer
Longtime readers and those who have been sending me e-mail have realized my favorite stand-mounted minimonitor is the Royal Reference 3A MM De Capo. My previous review two years ago (as seen here) was a resounding rave other than a few small issues with the lowermost frequencies and imaging. Let it also be said i have owned the previous version to the Royal Reference 3A MM De Capo. Namely, the Royal Reference 3A monitors that were, at that time, wrapped in lovely wood. While they were amazing for their time, the wood side panels could separate (warp) away from the base cabinet. Regardless, the original 3A were raved about in various magazines including The Absolute Sound almost a decade ago.
Sitting here today i find myself once again reviewing an evolution to the original 3A. So what does the "i" version have over the pervious Royal Reference 3A MM De Capo (as reviewed here)? Well, many of the issues that were discussed both in my review and between the company and myself have been addressed. The nearly decade old 3A had foam covering the front to reduce cabinet reflections that could also cause a reduction of imaging. The cabinet was very well built and solid, yet most designs can benefit from extremes in this area. The new "i" version has improved on both the original and previously reviewed version with a slightly offset, vertical 8-point brace to avoid cabinet resonances. Furthermore, all braces are now perforated and made from different thickness of boards for reduced internal resonance. Naturally this includes varying the cabinet stress for better dissipation of vibration energy. The drivers have also been improved.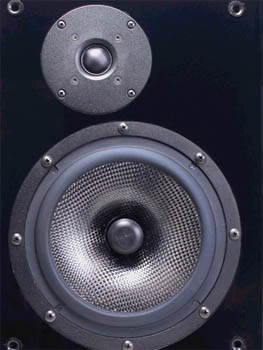 Driver frame, magnet and the "Vibra-Puck" discs are now anchored to the cabinet by a spike to reduce gravitational stress from the driver frame. Since an extremely simple crossover in employed within the 3A, they have been changed from Hovland to paper-in-oil capacitors as high-pass filters. There is no crossover for the 8.25" diameter carbon fiber midrange/woofer. This follows the Less = More concept that can also be found in top-grade loudspeakers like those from Avantgarde Acoustic. Harder materials are now used (solid phenolic, Arboron) for the inlayed corners while the old and awkward binding posts have been much improved with machined aluminum terminal plates and five way binding posts with Cardas jumpers as seen below.
Other enhancements include a new non-ferrofluidic dual suspension tweeter with extremely low resonant frequency of 600Hz that are carefully matched within 0.5 dB after 72 hours burn-in. The midrange/woofer has a lower fs (resonance frequency of driver) of 42Hz and is matched within 0.5dB (after 100 hours burn-in). Silver alloy-carbon hybrid internal wiring (made by van den Hul) was chosen by ear for synergy within this design. So what do all these improvements yield as compared to the previous version?
My main gripe with the previous version was in the imaging department. Due to the careful matching of drivers combined with a much more inert cabinet in this new "i" version has allowed for imaging greatness as achieved within the best high-end minimonitors. To say the Royal Reference 3A MM De Capo-i completely disappears is almost an understatement. Sure the non-"i" version could easily pull off ye' ol' vanishing act, yet the "i" version seems to accomplish this with less setup effort. Not to say that careful setup is no longer necessary. Far from it! Simply put, great results are not as hard to come by. When all is carefully dialed in for the best results, the imaging is about as wide and deep as my ears have heard!
While not necessarily in the sound department, the pervious version had the (dreaded by me) loudspeaker terminal cup. This is a cup that recesses within the cabinet. It makes for a challenging time when using larger loudspeaker cables. Naturally the new loudspeaker plate and terminals have solved this situation. The very simply crossover consists of only paper-in-oil capacitors as high-pass filters that replaced the previous version's Hovland (and before that they were Solen... for those keeping score here). So bottom line is the sound.
How shall i say this other than these four words: "i am in love". From top to bottom the sound reproduced from the Royal Reference 3A MM De Capo-i is smooth, clean, clear and very fast. Not as fast as the $15k Avantgarde Acoustic Duo hornspeaker, yet extremely fast and possibly unmatched within this lower priced ($2.5k), non-horn category. Please read my review of the previous version for other details, and then compare the rating below to understand the overall improvements. In the end i can once again heartily recommend the Royal Reference monitor without reservation. If you are considering purchasing loudspeakers from $2,000 to $4,000, it is very highly recommended the Royal Reference 3A MM De Capo-i be among them. As always, in the end what really matters is that you...
Enjoy the Music,
Steven R. Rochlin
| | |
| --- | --- |
| Tonality | 95 |
| Sub-bass (10 Hz - 60 Hz) | 90 |
| Mid-bass (80 Hz - 200 Hz) | 95 |
| Midrange (200 Hz - 3,000 Hz) | 98 |
| High-frequencies (3,000 Hz on up) | 95 |
| Attack | 95 |
| Decay | 95 |
| Inner Resolution | 95 |
| Soundscape width front | 95 |
| Soundscape width rear | 95 |
| Soundscape depth behind speakers | 95 |
| Soundscape extension into the room | 95 |
| Imaging | 95 |
| Fit and Finish | 95 |
| Self Noise | 100 |
| Value for the Money | 100 |
Specifications
Input Power: 3 to 150 Watts RMS
Efficiency/Sensitivity: 92dB/W/m
Impedance: 8 Ohms
Frequency Response: 42Hz to 20kHz (3dB)
Phase: Almost constant at +/- 10 degrees
Distortion: 0.3% at 1.000 Hz (94dB)
Dimensions: 15 x 28 x 11 x 13 (HxWxD in inches)
Weight: 27 lbs. each.
Price: $2,500 per pair
Tweeter:
Custom designed and pair matched.
27 mm textile dome
Non-resonant rear chamber
Un-damped, dual suspension
Low Resonant Frequency: 600Hz
Cutoff Frequency: 300Hz
High Pass Frequency: 6dB/octave
Midrange/Woofer Driver
8.25" diameter, designed and build by Reference 3A
Designed not to require crossover
Very wide frequency response
Hyper exponential shaped woven carbon fiber cone
Exclusive Vibra-Puck treated driver structure.
Precisely shaped phase plug
Company Information
Divergent Technologies / Reference 3a
480 Bridge Street West
Waterloo, Ontario N2K 1L4
Canada
Voice: (519) 749-1565
Fax: (519) 749 2863
E-mail: diane@divertech.com
Website: www.divertech.com