Toronto Audiofest 2019 Show Report
Part 1 By Rick Becker
Taking a different approach this year, let's open with the Lifetime Achievement Awards at the Industry Cocktail Party on Saturday night. This was easily the most emotionally moving experience of the show for me as all three recipients have been friends or acquaintances for more than a decade; both here in Toronto and even longer at the Montreal show.
Sarah Tremblay and Michel Plante, directors of both Canadian shows introduced the new editor of Stereophile magazine, Jim Austin, who read an introduction from John Atkinson, editor emeritus of Stereophile, for the first recipient.
The first recipient was Robert Deutsch, writer for Stereophile, since almost forever who has written hundreds of reviews and essays as well as covered the Canadian shows for the magazine. His wife and their dog, seen above, came to witness the event.
One of the Main Men at Bryston Ltd. (he may be the owner, Brian Russell) introduced the second recipient. Bryston, of course, is one of the most respected manufacturers in the industry.
James Tanner, VP of Sales & Marketing, as well as part owner of Bryston, is one of the most level headed and straight shooting guys in the industry. He inevitably invites me to sit with him and automatically pulls up one of my favorite tunes with his iPad, clear indication of his marketing expertise. He is seen here with his obviously proud wife and a tellingly humble look on his face.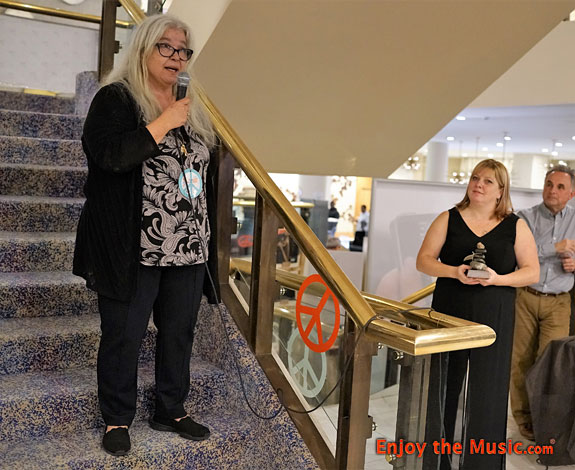 Angie, fearless entrepreneur and owner of American Sound, is known by her first name, kind of like Sting or Ringo. She's also known as the Queen of Canadian High End audio. It was only natural, then, to throw an ermine cape around the shoulders of the next recipient, who is the King of Canadian audio writers.
Ernie Fisher, creator of The Inner Ear, was the first writer to befriend me when I was getting started in this endeavor and he's been an inspiration ever since. Try as I may to follow his footsteps, he is so far ahead of most writers today that the winds of time will erase his footsteps before any of us reaches the legendary height he has achieved.
Looking around, I saw that everyone was pleased with the presentations, especially Sarah and Michel who were compelled to emulate that famous Vienna Acoustic speaker as I melted back into the crowd to finish my annual Audio Fest beer.