The Absolute Sound February 2023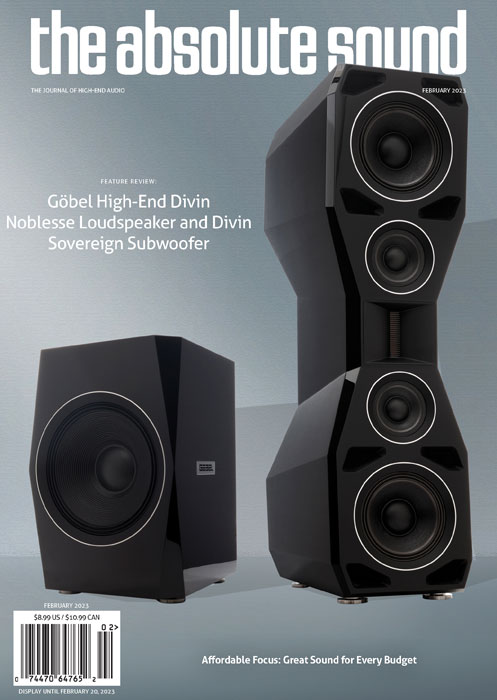 The Absolute Sound is the world's preeminent source of expert product reviews, features, and commentary on high-performance audio. Since 1973, TAS has set the standard for quality audio and music journalism, helping to shape the industry and guiding audio enthusiasts and music lovers to components and recordings that faithfully reproduce the sounds one might hear in a good concert hall. The Absolute Sound's editors and reviewers, many of whom have been writing about music and high fidelity for better than three decades, bring unparalleled enthusiasm, expertise, and insight to the magazine's readers.
From The Editor
Lies, Damn Lies, And Speaker-Sensitivity Specs
Consider a speaker's sensitivity as you an amplifier's output power.
Editorial By Robert Harley
Most audiophiles pay more attention to an amplifier's power-output spec than they do to a speaker's sensitivity rating. Yet those two specs carry equal weight in determining how loudly a system will play. Consider the Göbel Divin Noblesse speaker featured on this issue's cover. It has a sensitivity rating of 95dB — a very high figure. The Göbel will produce the same volume with a 30 Watt amplifier as an 86dB-sensitive speaker with a 240 Watt amplifier. In addition to needing less power, high-sensitivity speakers seem to confer certain sonic qualities that low-sensitivity speakers just don't deliver to the same degree, particularly the sense of lifelike immediacy and dynamic verve. It's not that low-sensitivity speaker can't sound dynamic and lifelike, only that these qualities seem to come more easily and universally to high-sensitivity designs, in my experience.
---> Lies, Damn Lies, And Speaker-Sensitivity Specs.
Letters
Cover Story
Göbel High End Divin Noblesse Loudspeaker and Divin Sovereign Subwoofer
In the Divin Noblesse, German speaker specialist Göbel has developed some novel and sophisticated technologies that translate into a powerfully engaging musical experience. Robert Harley reports on the company's innovations and the sonic results.
Show Report
The Capital Audio Fest 2023
Alan Taffel and Andrew Quint bring you the hottest new products at CAF.
Absolute Analog
VTL TL6.5 Signature Phonostage
Michael Fremer explores the benefits of vacuum tubes in a phonostage with this in-depth evaluation of VTL's top model.
Affordable Focus
Topping LA90 Power Amplifier
What kind of amplifier performance do you get for under a grand? Steven Stone reports on this ultra-affordable amplifier from China.
KEF LSX II Wireless Loudspeaker
This successor to the wildly popular LSX powered wireless speaker takes performance and operational ease to a new level, says Drew Kalbach.
Roksan Attessa Integrated Amplifier
This new integrated amplifier with a built-in streaming DAC hits all the right notes, Neil Gader has the good news.
Equipment Reports
Audiovector QR7 Loudspeaker
The Danish company brings full-sized performance to a mid-priced loudspeaker, says Andrew Quint.
GoldenEar Technology ForceField 40 Subwoofer
This brand-new series of subs from GoldenEar brings high-end performance to a down-to-earth price. Neil Gader gives the ForceField 40 a listen.
Icon Audio Stereo 40 Mk IV Signature Integrated Amplifier
Dick Olsher says that this affordable integrated from England delivers glorious tube sound.
Manufacturer Comments


Future TAS
New products on the horizon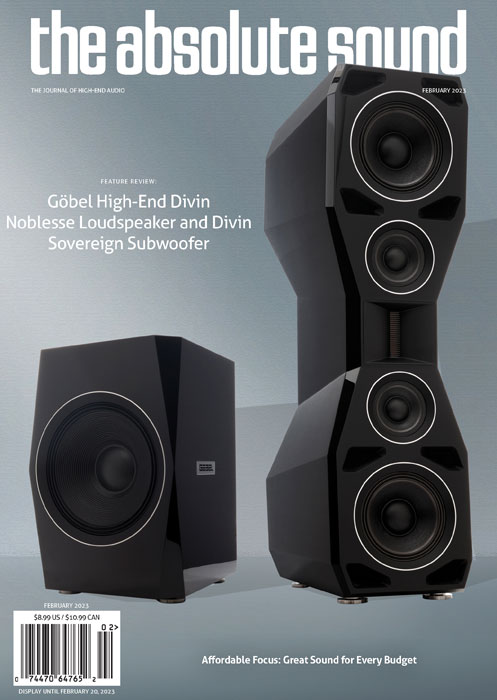 Feature
Robert Harley on a unique new LP that allows you to compare analog and digital, tubes and transistors, half-speed mastering, 33rpm and 45rpm, and more.
Music
Revolver: Special Edition
Neil Gader explores how new technology helps us hear a classic Beatles album in a new way.
Mobile Fidelity's 40th Anniversary Thriller
Jonathan Valin addresses the music, the story, and the sonics behind an iconic Michael Jackson album, along with a side-by-side comparison between the original wax and
MoFi's new One-Step reissue.
Joni Mitchell: The Asylum Albums (1972–1975)
Four essential releases from the Joni Mitchell discography receive the white-glove treatment in a new deluxe edition. Wayne Garcia reports.
The Killer Arises
An excerpt from David McGee's biography of Carl Perkins describes the day when Perkins and Jerry Lee Lewis met in Sun Recording Studios—and a couple of other visitors popped in, as well.
Bernstein's DG Mahler on Vinyl
For the first time, Deutsche Grammophon has packaged together Bernstein's second recordings of the complete Mahler symphonies on vinyl. Paul Seydor reports.
Rock, Etc.
Robyn Hitchcock, Brian Eno, Dry Cleaning, Arctic Monkeys, David Porter, Corky Siegel, New Riders of the Purple Sage, International Submarine Band, and CSN.
Jazz
Ron Carter, Enrico Rava / Fred Hersch, JD Allen, Gregory Tardy, Sun Ra, Ivo Perelman / Matthew Shipp, Eliane Elias, Samara Joy, and the Joe Harriott Quintet.
Classical
Beethoven piano concertos, Beethoven symphonies, viola concertos by Elgar and Bloch, arias and cantatas by J.S. Bach, piano performances by Alexander Gadjiev, the music of Erwin Schulhoff, Julian Brink's Utility Music, and the piano music of Steven Gerber.
Back Page

Subscribe To The Absolute Sound Magazine
Click here to subscribe to The Absolute Sound magazine.
Previous Issues
2023
January
2022
April May / June July August
September October / November December