Salon Audio Montréal Audiofest Show Report Part 3
The incredible industry banquet... sponsored by Enjoy the Music.com.
Report By Rick Becker
Saturday night a sold-out crowd of over 125 people in the industry gathered in the Ville Marie room at the Bonaventure for a gala banquet featuring a multi-genre French Canadian band for entertainment to go along with French Canadian cuisine.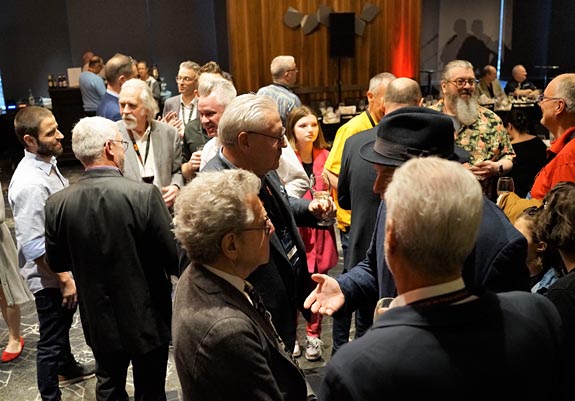 Before long I found myself with a camera in one hand and a glass of champagne in the other. As I milled around, people were being shammed into posing for photos with the Mistress of Ceremonies, drag queen Rainbow Drag. Some posed joyfully.
Others, not so much.
Before I knew what was happening, Sarah Tremblay was pushing me up onto the set.
If my wife sees this I will be kicked out of the house and forced to live on the road, covering audio shows 12 months a year around the globe. The good news is I kept my hand on the camera and didn't spill the champagne.
Others kept their distance from the stage....
...or glued themselves to their chairs.
Ofra and husband Eli Gershman kept a safe distance away.