A Billionaire's Guide To HIGH END 2018 In Munich
HIGH END 2018 Munich Show Report By Steven R. Rochlin

Furutech, Elac, Avantgarde Acoustic, And Gryphon Audio
---
From Japan is Furutech who debuted their new NCF Booster-Signal as the company's ultimate cable and connector damping solution. It features Furutech's revolutionary NCF sound enhancing material. Incorporated into selected Furutech products, NCF features a special crystalline material that has two 'active' properties. It generates negative ions and converts thermal energy. This is to ensure that the critical signal avoids both electronic and physical events from negatively affecting your music. This new model has been designed to supplement the original NCF Booster and offer NCF damping for signal connectors (XLR, RCA, HDMI, USB etc.) at system components and as an effective cable lifter and connector support.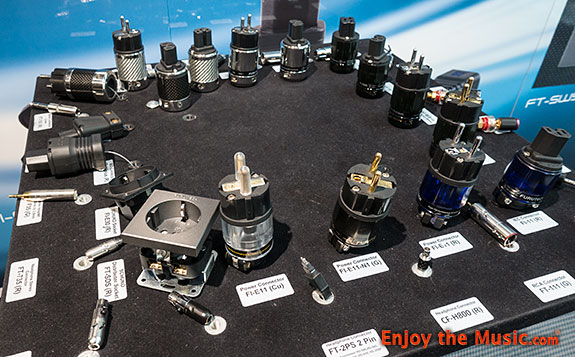 Furutech also makes some of the highest quality end connectors, plus, etc. within the industry. Exotic metals, carbon fiber, and gold are used in combinations, as appropriate, to produce the best signal transfer possible. Furutech's NFC Booster Cable Damping System was featured within our 2018 Great Audiophile Gift suggestions, plus I still use their (as reviewed) DIY power cable and power outlet featuring their FI-50 NCF, FP-TCS31, FP-209 10R, FI-50M NCF, and GTX-D NCF(R).
Elac was at HIGH END 2018 with their very reasonably priced Debut 2.0 series of speakers. Loudspeaker engineer Andrew Joes has done it again with his simple, yet very effective, design skills. It is not easy to create excellent products that are also attractively priced. Andrew chose to implement a new silk-dome tweeter featuring a wide-roll surround and takes response up to 35,000 Hz to create a very lifelike high frequency response. The waveguide improves directivity control and eliminates the acoustic distortion of diffraction modes inherent in traditional box enclosures. When you pick one up, it is obvious that thick MDF wood cabinets are used and not some cheap plastic. Black ash vinyl finish brings a neutral yet elegant visual appeal. As for pricing, Elac's ELAC B6.2 Debut 2.0 are only $300 per pair, with the SUB3010 armed with a 400 Watt powered amplifier being $450. Elac's Debut 2.0 series has been heralded as the best value speakers around, and I agree wholeheartedly! They make a great system for a college student or those on a budget yet desire sensational sound quality. If this has piqued your interest, then see my review of ELAC's Debut F5 floorstanding speaker at this link.
But what if you have nearly unlimited funds and want high-style hornspeakers plus massive subwoofers? Well then, you'll want to have a look and listen to Avantgarde Acoustic's Trio XD hornspeaker in combination with six bass horn (€115,000 on up). Available in a wide variety of colors and your choice of wood accents, the Trios and subwoofer system can aurally fill virtually any luxury home living room or home theater with dynamic sound. With an efficiency of 109dB, think of this as a car that gets 50mpg, it only needs a few Watts, perhaps 25, to reach very loud volume levels. Typical non-horn speakers need about 10x the Wattage / power to reach the same volume level! Avantgarde Acoustic has earned many awards from the audio press, plus one from German's design/ style society. As for how they perform, sounds like a millions dollars to my ears. Fast, clean, and extremely dynamic. Joined by six bass modules, there's no shortage of strong beats of boom into the room.
From our friends in Denmark in famed Danish brand Gryphon Audio celebrating their 35th anniversary with the launch of their long-awaited Gryphon Zena preamplifier (€12,000) As Gryphon's creative braintrust Flemming E. Rasmussen describes the process, "During our periods of radically innovative cost-no-object exploration, the engineering team operates with no constraints in budget, parts selection or technologies, to develop and build aspirational products that will stand as references for years to come." And in my humble opinion Gryphon Audio has succeeded on virtually every level. Gryphon Audio's Zena is based on an exclusive, fully discrete, DC coupled Class A topology with zero global negative feedback plus an eargasm extended 1 MHz frequency bandwidth! This all contributing to what is called high slew rates by tech, yet for us normal folks it means that music happens very fast within overhang as you hear when some system suffer from musky deep bass. With extreme transient fidelity and zero treble phase shift for proper focus, imaging is rock solid and tight. The smallest of details are heard when the Zena is partnered with ultra-quality audio gear. If Gryphon Audio hand-built cars, they'd easily surpass typical exotics and enter into hypercar territory. Gryphon Zena is the first preamplifier to offer the option of installing either a phono stage or DAC module at time of original purchase or at a later date.
My all-time fave speakers I'm nearly begging to try are the Gryphon Audio four-tower design Kodos (€220,000). They use a very special synchronous filter theories developed by the late Danish mathematician Steen Duelund. Gryphon loudspeakers achieve inter-driver phase for phase-matched behavior between multiple drivers that no other manufacturer can claim. The four tower system stands 7.775' tall, incorporating 38 of the world's finest drive units. The MDF side panels of the tower modules are reinforced with 5mm aluminum panels. Stacked modules incorporate additional 8mm aluminum panel supports. Each Gryphon Kodo bass tower houses eight custom designed 8" drive units and a built-in Gryphon power amplifier capable of 1000 Watts continuous output. Of course the amplifier was specifically designed for these drivers. Peak power is approximately 4000 Watts, or 4.5 horsepower for those curious. Of course there are specialized adjustments to ensure the bass tower seamlessly integrated within your listening room. See my review of Gryphon Audio Designs' Kalliope DAC, which is a cost-no-object 32-bit/384kHz and DSD512 DAC for those who desire the very best in music reproduction. We also have a review of their powerful Diablo 300 integrated amplifier With 32-bit/384kHz & DSD DAC option.
---> Onward to Part 4 of our HIGH END 2018 show report.
---> Back to main HIGH END 2018 page.