A Billionaire's Guide To HIGH END 2018 In Munich
HIGH END 2018 Munich Show Report By Steven R. Rochlin

Nordost, Moon Audio, VPI, And High End Society Conference
---
Norodst is a highly respected company thanks offers very high quality cables and audio accessories. Recently EastSide Sound's chief engineer, Marc Urselli, has embraced Nordost as his permanent cabling choice for all of his future recording sessions. Furthermore, their collaboration with Newvelle Records, an exciting new company who produce original high quality, vinyl recordings, has also taken to Nordost products. Nordost cables reside at Manhattan-based recording studio EastSide Sound where they will be used to record Newvelle's fourth season of jazz recordings.
Nordost's new Frey 2 USB Cable and Frey 2 USB C adapter is the company's first USB offerings to provide both USB C and 3.0 compatibility. The Frey 2 USB C Adapter pairs with cables using Standard-A USB connectors (both 2.0 and 3.0 compatible), allowing them to be used with components that require a USB C termination. Another Nordost innovative solution is their Quick Connectors that offer a fast, easy, and solder-free way to terminate 2 Flat and 4 Flat Leifstyle Speaker Cables in the field. Nordost's Quick Connector Starter Kit provides you with the essential elements needed to complete an effortless custom cable installation job. Suggested retail price for the Frey 2 USB Cable starts at $599.99 and is set at $274.99 for the Adapter.
A glorious array of Moon Audio gear filled Nordost's room with top-flight music during HIGH END 2018 show. Everything from phono stage and preamplifier to DAC and amplification, it was all here to hear... over here in Munich.
The VPI Avenger table ($20,000) was originally a project started by company founder Harry Weisfeld over 12 years ago. Shortly after the development of VPI's Prime turntable, and while cleaning out the warehouse in preparation for a dealer training event, they rebirthed their Avenger project VPI's Avenger chassis is three layers of bonded acrylic/aluminum/acrylic, with damping material between layers, locked in by three isolation steel corner posts, three bolts, and the massive bearing assembly. The corner posts which hold the tonearms (up to three will fit) have adjustable machined knobs giving the user the ability to easily raise and lower the height to level the table. Their adjustable arm boards are made from 5/8" 6061 aluminum for rigidity and grounding. The table can mount up to three tonearms, any manufacture's brand, and virtually any length tonearms, any manufacture's brand, and any length! VPI is proudly made in USA (New Jersey).
The yearly press conference by HIGH END SOCIETY focused on technology state with a multi-faceted series of presentations on the so-called Technology Stage within the scope of their lecture series. Everything from room acoustics and setting up a listening room to music services & streaming in practice were discussed. Also, the comeback of analog music media formats in the digital age was another interesting session. Also at HIGH END was Norwegian singer and songwriter Kari Bremnes as brand ambassador of the world's largest audio exhibition, the HIGH END 2018. Kari Bremnes presents music on a high artistic level and is considered one of the most extraordinary female vocalists. It is said that her interpretations embody the perfect link between high artistic performance and the excellence in music reproduction..
Seen at many places during HIGH END 2018 in Munich were high-end espresso / cappuccino machines. Must have been offered at least 12 espressos during HIGH END, and this probably explains why I have quite a bit more show repot to post online. Coffee love.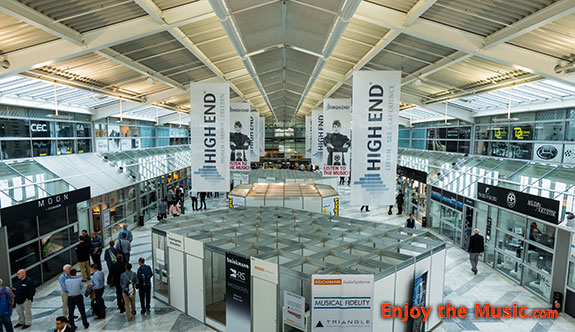 Here's a quick photo of one of the many, many large halls filled with audio gear during Munich's HIGH END 2018 show. This pic was taken early in the morning before the show become exceedingly busy. And truly do mean busy! Life is good!
---> Onward to Part 5 of our HIGH END 2018 show report.
---> Back to main HIGH END 2018 page.