LampizatOr, Tobian Soundsystems, And Westminster Labs @ FLAX 2023
Vacuum tubes plus horns equals glorious music.
Show Report By Steven R. Rochlin
With so much to see, do, and hear during the Florida International Audio Expo 2023, it's easy to see why this is a very successful premium audio luxury show. Bringing a glorious mix of vacuum tubes, horn speakers, tweaks, and more, the music was sensational!
But before we get into my listening note, here's a gear list:
Tobian Soundsystems 12 Signature Edition Horn Speakers $50,000
LampizatOr Horizon DAC $49,000
LampizatOr Gulfstream Music Server $8000
Westminster Labs REI Class A Monoblocks (100 Wpc) $33,600
Westminster Labs Quest preamplifier $23,900
Critical Mass Systems Ultra Q audio rack ~$23,000 as shown
Critical Mass Systems Center Stage Ultra TT footers $825 each
Critical Mass Systems Center Stage Ultra TD footers $665 each
Final Touch Audio SiNOPE USB Cable $1,500
Final Touch Audio Elara Power cords $825
Final Touch Audio Ganymede Balanced Interconnects $3150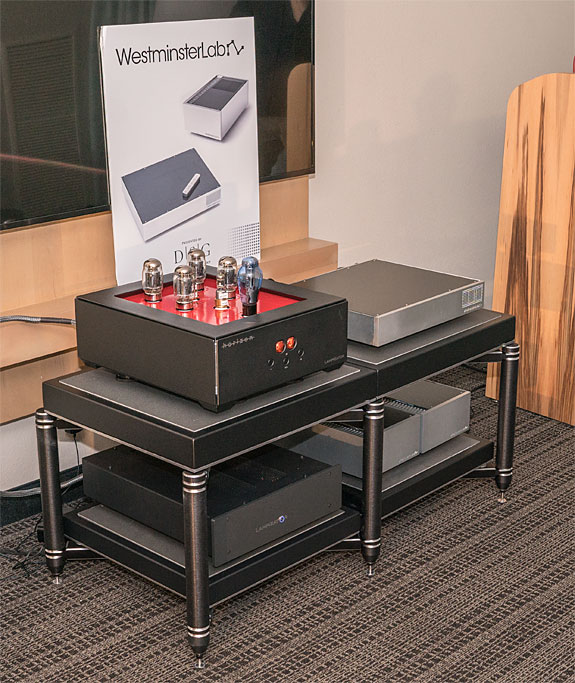 My wife Heather loved the styling of Tobian Soundsystems 12 Signature Edition horn speakers. This two-way design uses a 12" woofer mated to a TI 4" mid-high compression driver. As expected, you don't need a lot of amplification power as they are ~99dB/W/m sensitive and have a wide frequency range from 20Hz to 22kHz.
The horn speakers were being driven by the Westminster Labs REI Class A monoblock amplifiers, which use the company's proprietary iBias and CCS systems. Their iBias technology constantly varies the bias depending on the current and also the loading of the amplifier. The goal is to have all the benefits of Class A, yet without the over usage of electricity and heat production.
Many of us love vacuum tubes, especially upstream, and so LampizatOr's Horizon DAC and Gulfstream Music Server played their part here at FLAX 2023. The DAC employs a very unique digital board with so much / many power supplies that even the company feels it is four times(!) more advanced than what is standard. With proprietary firmware and software, the digital audio chipset feeds a new tube scheme combined with excellent volume control (which can be bypassed if desired). Getting back to the firmware / DAC, it handles very hi-res PCM and DSD512 so you'll enjoy hour after hour of true lossless Hi-Res Music. LampizatOr's Gulfstream music server does everything you'd expect from this top-notch company. From Wi-Fi and Ethernet to ultra-high resolution decoding, you got it all here.
My listening notes say this is perhaps the most natural-sounding and musical system of the show. While I understand the turntable and old-school analog tape reel-to-reel following, digital audio when done right is equally as enjoyable and easy to use too. With so very much true lossless Hi-Res Music available from Qobuz and the like, there's no need to weird proprietary lossy schemes from Tidal and the like (note: proprietary lossy compression scheme may also take hard-earned money away from musical artists).
The bass was very deep, yet tight, tuneful, and clean. As you'd expect, the midrange and highs were incredibly well-integrated and sounded point-source versus multi-driver speakers. Bravo! As for imaging and soundscape, once again this was one of the very best setups here at FLAX 2023. Wide, deep, and whatever was within the music projected into the rooms was a great sense of ease. Tube DAC, Class A amplification, and horn speakers have this special magical way of delivering music to my ears. Love it!
The LampizatOr, Tobian Soundsystems, and Westminster Labs room earns my Best Of FLAX 2023 Award. As I mentioned earlier, my wife Heather loves the speakers, I love them and the LampizatOr tube DAC. With so very many great pieces of luxurious audio gear here in Tampa and very high demand, it brings me joy knowing the show will be even larger next year! As always, enjoy the music.
---> Back to Florida International Audio Expo 2023 show report home page.