Audio Group Denmark @ FLAX 2023
Three outstanding exhibit rooms delivered immense musical satisfaction.
Show Repot By Steven R. Rochlin
Saving one of the very best rooms for last, the Audio Group Denmark had multiple rooms during the Florida International Audio Expo 2023 in Tampa. Having very extensive product lines means they truly needed multiple rooms just to showcase a fraction of the products offered by Aavik, Ansuz, and Børresen.
Room 614
Børresen X3 Loudspeakers – $11,000
Axxess Forte 1 – 5,500
Ansuz Mainz8 A3 Cable – $3,700
Ansuz PowerSwitch A2 Cable – $4,000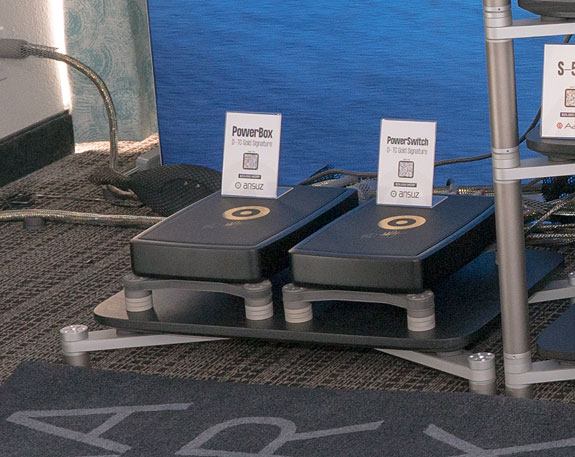 Room 615
Børresen M1 Stand-Mounted Speakers – $100,000
Aavik I-880 Integrated Amplifier – $70,000
Aavik S-580 Music Streamer – $25,200
Aavik D-580 DAC – $25,200
Ansuz Mainz8 D-TC Gold Signature Cable – $64,000
Ansuz Power Box D-TC Gold Signature Cable – $23,000
Ansuz Power Switch D-TC Gold Signature Cable – $23,000
Ansuz Gold Signature Cables
Room 616
Børresen Z1 Cryo Edition Loudspeaker – $14,500
Børresen Z2 Cryo Edition Loudspeaker – $25,000
Aavik U-280 Integrated Amplifier / DAC – $18,000
Aavik S-280 Network Music Player – $12,000
Ansuz Mainz8 D3 Cable – $8,500
Ansuz PowerSwitch D2 Cable – $6,600
Ansuz PowerBox D2 Cable – $5,000
Instead of going room-by-room multiplied by three separate exhibit rooms with listening impressions, as the sound was close to the same (per se) for all rooms, here are my overall impressions. Fast, very fast transients. Very dark / black / quiet background, and from that came a very dynamic and harmonically 'neutral' sound. Any deviation from perfection, which we know no system regardless of price is perfect, so the AGD systems error on the side of a touch of musicality to perfection.
Loved the sound of all Audio Group Denmark rooms, with the uppermost frequencies sounding so very smooth and clean that I wish all loudspeakers had this same ability. The larger floorstanding speakers (Børresen X3) obviously have an advantage when it comes to midbass and the lowermost frequencies (below 60Hz). All of their speakers, and guess I should correctly say audio systems, have a magically neutral midrange that shows off the very best recordings.
As for soundscaping, very wide and deep. The smaller stand-mounted speakers aurally 'disappeared'. Closing my eyes and depending only on my ears, there was a seamless soundscape presented naturally (recording dependent of course). If you have a chance to visit a dealer for Audio Group Denmark products I very, very highly recommend it. Of course they've earned my Best Of FLAX 2023 Award.
Well, that's a wrap everyone for my FLAX 2023 show coverage. As always, in the end what really matters is that you... enjoy the music.
---> Back to Florida International Audio Expo 2023 show report home page.