Florida Audio Expo 2020 Show Report
Florida Audio Expo 2020 Show In Tampa, Florida.
Enjoy the Music.com And MAYORS Celebrates Luxury Timepieces During Florida Audio Expo 2020
In 2020 Enjoy the Music.com is celebrating our 25th Anniversary and wanted to do something extra special. During the Florida Audio Expo we worked closely with MAYORS Jewellers, the Southeast's leading multi-brand retailer of jewelry and luxury timepieces retailer, for an exciting evening devoted to mechanical timepieces. For those unfamiliar, MAYORS has 17 stores within Florida and Georgia and is owned by Watches Of Switzerland, a leading luxury timepiece and jewelry company for over 50 (!) years, and so it took a bit of doing to make this event happen.
Cheers and a terrific toast to Irv Gross of Constellation Audio
On Friday, February 7 at 7 p.m., this special invitation-only event provided access to many highly respected major brands including Bulgari, Cartier, IWC, Longines, OMEGA, Panerai, Rolex, and TAG Heuer, as well as MAYORS' own collections of bridal, diamond, and gold jewelry. This private event was open to only 30 enthusiasts from the Florida Audio Expo, so it was very exclusive indeed!
As a DJ spun terrific tunes while delicious horderves and drinks poured endlessly, our invited guests experienced first-hand how a mechanical watch is assembled. That's right, MAYORS provided their highly-skilled watch technician / watchmaker Danny Stehli as he took apart a timepiece for us all to learn about the inner workings of these highly-prized timepieces. Danny has many years of experience in servicing major brands to showcase the intricate inner workings of a high-quality mechanical timepiece to us all. For a steampunk geek like me, it was ecstasy seeing the many intricately decorated parts!
Our friends enjoyed a relaxing, welcoming atmosphere in MAYORS at International Plaza and Bay Street in Tampa, as savory hors d'oeuvres and delicious drinks (did I mention the delicious drink? Oh yeah, a few times now) while discovering many fine collectible fine products from leading manufacturers. Not only did many of our friends try on desirable timepieces, industry-leading photographer Lee Shelly who kindly took many of the pics you see here, decided to get himself an IWC Pilot timepiece. Our good friend Frank Iacone of partner magazine Headphone.Guru decided to get a lovely Tudor too!
Besides being authorized dealers of many brands, during our special event MAYORS / Watches of Switzerland brought in some mouth-watering special pieces from Bovet, IWC and others too! With 2020 being a leap year, special pieces not normally stocked, yet at our private event, included the stunning Bovet Virtuoso VII Retrograde Perpetual Calendar ($85,000, and my Muse / wife Heather loved it!) with a gorgeous (dare I say sensual) 18-karat red-gold 43mm case. Its' hand-wound movement has an outstanding five-day power reserve too! Another delectable timepiece was Vacheron Constantin Overseas Perpetual Calendar Ultra-Thin ($72,000) all those complications and still being a mere 9.2mm thick!). The 18-karat pink-gold 41.5mm case holds a perpetual calendar and moon-phase mechanics graced by a stylish alligator leather strap.
Eric Neff of The Absolute Sound Magazine trying on a Cartier timepiece.
Way back in 2000 attended an event at a store in Boston where none other than Herr Klaus was showcasing IWC's best offerings. At our MAYORS event Friday night was IWC Schaffhausen' prestigious Portugieser Perpetual Calendar ($38,000) that even has year indicator (in case you forget what year it is, or are a time traveler :) ). Here's another 18-karat rose-gold beauty, with an impressive seven-day power reserve, small seconds display, perpetual calendar, and moon-phase too! Wow! Fans of Jaeger-LeCoultre could have tried on the Duomètre Quantième Luniare ($40,400) with 18-karat rose-gold 42mm case. It provides 50-hours of hand-wound power reserve, a perpetual calendar, moon phase indicator, and flyback seconds (!).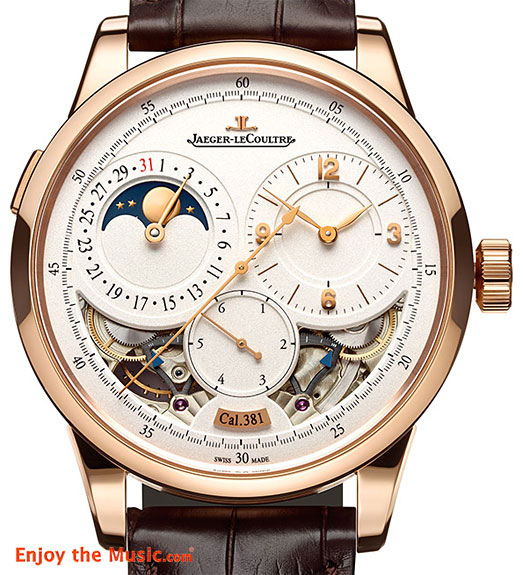 It brought joy into my heart to join with the kindness of MAYORS, a company I have done business with for many years and can highly recommend, with the generous support from Florida Audio Expo co-owner Bart Andeers and PR extraordinaire Sue Toscano, who both very much gave support for this event.
"We are thrilled to partner with two well-respected brands — Enjoy the Music.com, a leading online destination for audio; and MAYORS, the premier luxury retailer of jewelry and fine timepieces — for a special private, invitation-only event during the 2020 Florida Audio Expo," said Bart Andeer, co-founder and operations manager for the Expo. "Our show brings together aficionados of luxury audio from all over the country, providing an opportunity to experience the finest audio equipment in the world. The high-end audio market caters to clientele who have exacting standards — products designed and manufactured for best-in-class performance in many different categories. Because we know that many of these same customers share an interest in handcrafted jewelry and mechanical timepieces, our Florida Audio Expo event with Enjoy the Music.com and MAYORS brings together the best each industry has to offer."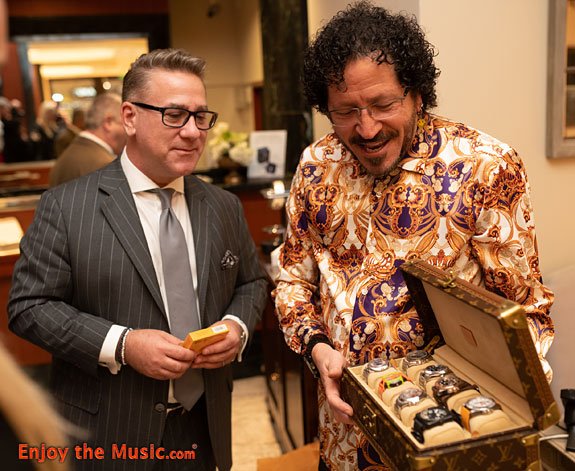 "After decades of attending well over 150 high-fidelity audio events worldwide, we have noticed that many music enthusiasts also enjoy fine jewelry and handcrafted, collectible mechanical timepieces," says Enjoy the Music.com's Creative Director, Steven R. Rochlin. "During Florida Audio Expo 2020, February 7-9, we are honored to bring together audiophile hobbyists with MAYORS, the Southeast's leading retailer of jewelry and fine timepieces. While this event is sure to please devoted aficionados of such items, it will also help educate those who are curious about the history of each brand, and the skills needed to create these examples of desirable beauty. An expert watchmaker will be in attendance to demonstrate how the inner workings of a fine timepiece come together. We look forward to you joining us February 7 as we celebrate luxury timepieces at Florida Audio Expo 2020."
Bart with Kevin and Darlene of Valve Amplification Company (VAC)
It was wonderful having good friends learn about the pleasures of mechanical timepieces, and before I forget VAC's Kevin Hayes fell in love with a modest, yet elegant, Longines Flagship Heritage Automatic. Truly is the 'Kevin Hayes' of timepieces, with understated elegance (and very reasonable pricing I might add). I, on the other hand, or should that be the other wrist, as a 'first wedding' anniversary gift gave my Muse / wife Heather a very classic Cartier Tank Solo XL on bracelet that looks incredible on her wrist. We've already ordered a few different color leather bands (white, purple and pink for her, plus one being black and another one being Hermes orange for when I wear it). Her and I share some of our timepieces, so the very classic Cartier looks great when worn by either of us!
Ok, speaking of Yours Truly and mechanical watches, and my longtime friends know there was no way in heck this event would end without... you know. Have been eyeing the 50th Anniversary Tag Heuer Monaco GULF edition (h/t Steve McQueen within the movie Le Mans 1971) for some time, so decided it's about time. Hmm, or should I say "Life is about enjoying your time". So decided one for her, and one for me. (With a mischievous grin on my face) Sounds fair to me. :)
We all truly need to thank the wonderful support of MAYORS' Melissa Fichman, their extremely helpful PR gal, plus guitarist and corporate cool dude Frank Cimilluca. Closer to home per se, my longtime sales guy Nicholas Squitieri at Mayors Jewelers / Watches of Switzerland within Tampa's International Plaza And Bay Street, helped both Frank and Lee plus my Muse and me too. If you're ever in Tampa and have a hankering for a terrific timepiece or graceful and elegant jewelry, please stop by MAYORS. They support our efforts and went above and beyond to make Enjoy the Music.com's private event so very special. In fact have been receiving rave reviews online within social media and e-mails of the immense fun everyone had on Friday night. As for which timepiece captured Heather and my heart, it was without a doubt the beee-you-teee-ful and versatile Bovet Virtuoso VII Retrograde Perpetual Calendar that takes top honors.
Frank Cimilluca of MAYORS with (Steven's) Muse / Wife Heather.
Ofra and Eli Gershman of Gershman Acoustics
Pete Collingwood-Trewin of Hi-Fi+ (left), hiding Tom Hackforth, and Lee Scoggins of TAS.
Our pro photog Lee Shelly, with Frank Iacone of Headphone.Guru
Perfect MAYORS PR gal Melissa Fichman with my Muse / wife Heather.
Frank and Eric with my fave timepiece dealer Nicholas Squitieri of MAYORS in Tampa.
Oswaldo Martinez of FL store of Let There Be Sound and Jeffery Lee-Ting.
Warning: If you see the above guys... run the other way ;)
Eric and Pete with Tom Hackforth.
MQA's Ken Forsythe with PR gal Sue Toscano and Bart Andeers of FLAX
Ted Denny of Synergistic Research
The wonderful watch enthusiast Wynn Wong of Wynn Audio
In fact, had the below sent via e-mail to the higher-ups at Watches of Switzerland in Europe:
Friendly note as WoS / Mayors Jeweler's Tampa store did an outstanding job last night during our Florida Audio Expo private event. Melissa Fichman and Frank Cimilluca of Mayors truly did far more than I ever expected to create a glorious / fun atmosphere. They brought in some seriously incredible timepieces too! ...My deepest gratitude for the Tampa store event last night.
As always, in the end what really matters is that you...
Enjoy the Music,
Steven R. Rochlin
---> Back to main FLAX 2020 show report page.