Toronto Audio Video Entertainment Show (TAVES 2011)
Part 1 Show Report By Rick Becker
Once upon a time, there was an audio show in Toronto, but that was long ago, if not far away. TAVES was born this fall with substantial help from the people who run the Montreal SSI show in the spring. While there are some who cry that there are too many shows, there are always people who cannot fly the distance or for whom the timing is not conducive. More shows translate into more opportunities for more audiophiles (and the curious) to explore the proliferation of products available to this hobby. There is no shortage of good products in high-end audio, but there is a definite shortage of product exposure. Shows represent an opportunity for manufacturers, distributors and regional dealers to work together to grow the sport. People like to see and touch the equipment, but most of all hear it. And while any given room might be comprised of totally unknown components, exposure is where brand recognition begins and reputations grow — for manufacturer, distributor, retailer and enthusiasts alike. Many were the times I recognized a presenter from one room visiting another to experience the products of a competitor or a potential partner for a room at the next show. And then there is the Press, both print and electronic, who come to report, to seek new review samples and to develop ties for future advertising. For my part it is some of that plus the opportunity to pay it forward. Reading show reports in Stereophile when it was a digest size publication was how I familiarized myself with brands and individual products I could not see and hear in my home town. I hope these dozens of photos and thousands of words move some of you to explore the world of music reproduction that can be both an end in itself, or a pathway to greater appreciation of music. From what I saw, the show was very smoothly run, very well attended and very much enjoyed. I hope when all the gear was packed up and moved out, that down the road the significant dollars and energy expended by the organizers and presenters will result in sufficient gain to justify a re-play next year. I, for one, had a terrific time.
In my coverage of other shows I usually identified rooms that were "among the Best Rooms" I heard. I didn't do that here. With the exception of a few rooms that were targeted at a less critical audience, the difference among the rooms seems to be growing narrower. While the Best are getting even better, the merely good are catching up even faster. Probably because this was a new show, there were few major presentations from the major players. And with the state of the economy, there are fewer cost-no-object statement products. TAVES was very much a real world show. Fortunately, many people still get to choose how they spend their money. I hope you saw something at the show, or see something in this report that captures your imagination.
With Tom Lathrop's wife away for the weekend on a quilting retreat and my wife working in Nashville it was perfectly natural for us to buddy-up and take in the inaugural TAVES show. Tom volunteered to drive us up in his newly acquired Infinity which was fine with me, as we were unlikely to need the 4WD and deep tread snow tires on my humble Tracker. After declaring "no contraband" at the border, I reclined the passenger seat to grab a supplementary catnap, not waking until Tom spiraled through the parking catacombs in Toronto. The passing concrete pillars bore a distinct similarity to Montreal, except the signs were in English. We surfaced to find ourselves almost directly across the street from the King Edward Hotel, a grand vintage structure in the heart of the financial district. Inside, the "King Eddie" exuded Old World elegance with the spit and polish of a modern First Class hotel. It never ceases to amaze me how easily this kid from the suburbs adapts to such opulence.
The Admission line for the show was swift and I quickly obtained my Press badge. It took only a minute to encounter Simon Au (VP of Sales) and Michel Plante (VP of the show), but strangely, I did not to my knowledge encounter Suave Kajko, (President – TAVES and Publisher/Editor-in-Chief - CANADA HiFi Magazine). Probably he was off reviewing in the rooms wearing his Editor cap. The other principal "doer" of the group was Sarah Tremblay, who I saw numerous times, but we've never been introduced. (I'll correct that oversight next year in Montreal.) The word was that Friday had been a gangbuster day for the show, and it seemed to be bustling when we arrived in late morning. Being largely dysfunctional without coffee, I bopped across the street to grab a large one at Tim Horton's—it's a Canadian thing. As I sat in the mezzanine observing people stream into the show, I began to suspect how large and exciting the show might be. I came with expectations of a small show, and had even offered to cancel the room at the hotel several days prior, thinking I could cover it in the afternoon and return home that night. Fortunately, Simon insisted I keep the reservation. While not as big as the Montreal show which is run by Michel Plante, it was clear his expertise played a major role in the success of TAVES. My friend Tom tells me it was not as large as RMAF, either, but both of us had a terrific time. Let me share some room-by room pictures and stories...
First up was a speaker that did the King Edward proud — the Tannoy Prestige Turnberry SE in a decidedly vintage looking cabinet that looked like real furniture, even with the grille off. Although this concentric driver style took me back to the 1960's, Tannoy goes back even further, ESTd 1926. This very efficient design also sports a +/- level control for the treble energy to help you compensate for the damping of your ballroom. The grooves on the canted corners of this speaker are actually vents in this $7300 speaker. (All speaker prices are per pair unless otherwise specified.) They were driven by the pop-styled red Moon Anniversary integrated amplifier that has sounded very good in previous shows as well. A Moon CD player was spinning the disc, but also present were a Brinkman Bardo turntable with Brinkman arm and a Jadis phono stage (?) with a very slender Devialet integrated amplifier which I did not hear. As usual, the presenters often switched systems and components from hour to hour, or day to day. Cardas Clear cabling was used here in this fine and dynamic sounding system. I learned somewhere at the show that Jadis has a new distributor which will hopefully bring this fine brand to greater prominence.
Galicia Flamenca by Gino D' Auri from the album Flamenco Passion was playing off one of the few laptops that were afforded a substantial isolation platform. There were lots of computer based front ends at the show, but not many that were treated with vibration control devices. In fact, the equipment and room was given a lot of attention to vibration and reverberation control. The amplifiers were Art Audio monoblocks with 300B tubes, a fine brand that I have not seen at shows in several years. The speakers seemed to be a Rethm design with a powered servo sub, full-range Fostex drivers at each end of the tube and a super-tweeter mounted on top. Actually, it was the Rhapsody 3D speaker from Blueberry Hill Audio Cables. The DAC was a small M2TECH disguised with a massive weight placed atop. Music here was pristine with superb attack, transparency and dynamics. With multiple systems presented here, the Blueberry Hill snakes seemed to be somewhat out of control. In the distant past I've had extensive conversation with Marlen Mogilever, the active ingredient of Blueberry Hill, particularly around his phono cables with built-in phono stages for MC cartridges. Unfortunately, my tonearm cables extend directly to my phono stage, but if yours terminate with a cable jack right at your turntable, you might want to investigate Blueberry Hill's offerings. Mr. Mogilever obviously has a very good ear.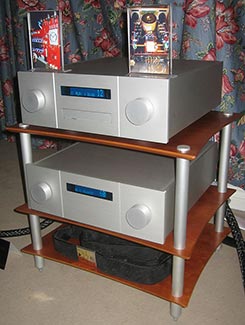 Ted Scharien of Crown Mountain Imports briefed me on their ultra-high resolution system using Mimetism CD player and integrated amplifier from France($8,000 each) to drive the Kudos Audio speakers ($27,000), all connected with top line Kimber Kable. While the Kudos looked to be traditional design floorstanders, the mid & tweeter box was actually supported above the woofer tower with the vents pouring upward into the space between the cabinets. The midrange driver seems to be something very special here, but I didn't get details. The rig had a very precise presentation, similar to, but even more precise than the Escalante Design speakers I reviewed some years ago. Fit and finish on everything here was superb, if somewhat clinical or industrial in style, in spite of the fine veneer on the sides of the speaker.
In the Audio Pathways room I encountered high-end Lifestyle gear in a minimalist system comprised of a laptop with a Wi-Fi feed to a Bel Canto integrated amplifier driving a pair of tall, slender speakers from Ceratec, each sporting lighting from the back side — red on the right, blue on the left, suggestive of the minimalist fluorescent art work of Dan Flavin in the mid-1960s and thereafter. This was certainly a winner for those who wish to minimalize the visual impact of their stereo in a contemporary setting. And for those such as Tom's wife who insist on traditional décor from the 1800s and earlier, preferably at the highest level of taste, Ceratec offers wall hanging speakers that can be covered with a variety of art work. They can even use digital images from your own collection... say a portrait of George Washington, or Mona Lisa.
The owners of TubeMagic Audio Systems, who have their main roots in the furniture industry as importers in Canada, were on hand with a very good sounding and moderately priced system. Focus Audio FP60SE speakers ($3900) on Focus Audio Designer II 22" stands ($1600) not only looked good, but sounded great being driven by the TubeMagic IAM96 integrated amplifier ($4900). Not only was the sound very transparent and dynamic, but the chassis has a rather original look with its wood sides and large numbers proclaiming the model number on the metal top plate. I use less powerful TubeMagic monoblocks with 300B tubes in my reference rig, so this was a very familiar and likeable sounding room to me.
Many of the rooms had equipment on silent display and I took note of several small Bellari pieces on one such table. Among them was the VP530 Tube Phono Preamp USB with switchable rumble filter and RIAA EQ as well as a headphone amp. What confused me was the Line Out USB which begged further investigation. It seems that it has not only line out, but also a USB output to feed the signal to a computer. Another item was their MT502 Matching Transformer which is possibly useful when speed dating or to boost a MC signal to MM strength.
The big rig in this room was a superb collection of diverse brands with software fed to an Audia Flight USB DAC that was connected to a two-box NBS preamp driving a large Audia Flight stereo power amplifier. The speakers were Sonus Faber Amati with the chrome top connected to the bottom plate with a chrome backbone on the rear of the tapered sides with their customary exquisite wood panels. The article on the death of Steve Jobs in Yahoo today (October 5th) said "(Jobs) said the design and aesthetics of a device were as important as the hardware and software inside." Sonus Faber likewise mates form and function as well as anyone and better than most. I loved this speaker when I first heard it and it presented equally well here in this rig. Also of note was the beautiful finish on the NBS Universal Preamplifier ($30,000) that has a light coppery tint that managed to escape being caught by my camera. The Universal Power Amplifier (monoblocks) were also present, but not in use when I visited. Obviously, this was a very expensive rig.
Click here for TAVES 2011 Part 2 coverage.