July 2014


Stein Music's Aventurin 6 Moving Coil Photo Cartridge
A vinyl enthusiast's dream come true!
Review By Wayne Donnelly
Yes, digital audio keeps getting better and better, with high-performance DACs more widely available at reasonable prices and high-resolution downloads pushing the bounds of great sound even further than our already impressive physical CDs DVDs and SA CDs. But in spite of that progress, my favorite medium for listening to recorded music is still a good LP. Perhaps my preference has something to do with my 50+ years of collecting records, which has resulted in a library of close to 7,000 LPs. But whatever the reason, I remain an unrepentant analog lover, and coming across a phono cartridge that makes every record I play sound better than it ever has before is cause for celebration. The Stein Music Aventurin 6 is just such a cause for celebration.
Holger Stein, the creative genius at the head of Germany's Stein Music, makes many audio products, from electronics and loudspeakers through a dazzling assortment of accessories. Over the past few years Holger has been instrumental in helping me improve the sound of my audio system. I will soon offer a comprehensive review of the many Stein accessories that have contributed to the refinement and resolution of my audio. But for now let's concentrate on the Aventurin 6 cartridge.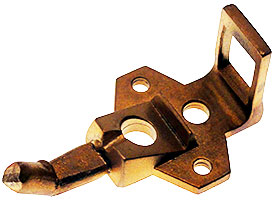 Over the last 20 years or so I have owned and enjoyed many fine moving coil cartridges: a Cardas Heart, a number of Benz and Koetsus, and for about five years a Dynavector XV-1s. The latter had managed to withstand several challengers over those years, and I was becoming convinced that I had found my more-or-less permanent cartridge choice. In spring 2013, when Holger Stein offered an audition of the Aventurin 6, I initially declined. I was happy with my analog setup, and the thought of buying a $6000 cartridge didn't appeal to me. But after thinking about it, and remembering how good every Stein product I had auditioned turned out to be, I finally asked him to send me one to review. Talk about a serendipitous coincidence! So into my life came the Aventurin 6.

Technical Description


The Aventurin 6 is as finely wrought a piece of "audio jewelry" as this writer has ever seen. It is a truly beautiful piece, and the details of its design are best described, I think, by the designer. Here are some highlights as to me by Holger Stein:
The base of the Stein Music Aventurin cartridges is a harmonic construction using a cast bronze structure as a base in conjunction with a housing made of a composite of mahogany and carbon.

Every detail is optimized to attain the overall performance goals.

The bronze base is a special alloy optimized for its acoustic qualities.

It is not machined, but cast to get a tension-free structure.

Mass distribution and geometry of the base is optimized to give the cartridge a stable base to work and to transmit resonances effectively.

After a long test series with different materials we choose a composite of mahogany and carbon for the best sonic results in conjunction with the bronze base.

A final treatment with Stein Music Maestro lacquer makes the overall result perfect.

The generator of the Aventurin cartridge is similar to that of the top Benz generator.

It was adopted in longtime listening tests to be a perfect realization of our goal of a natural-sounding cartridge.
In a future discussion of Stein Music accessory products, I'll have quite a bit to say about the Maestro lacquer mentioned above. In this context I am not surprised that the lacquer plays a role in the excellence of this cartridge. One of the other applications for the Maestro lacquer was to paint my pickup arm and counterweight, which markedly improved the resolution of my turntable. BTW, I gave some of the Maestro to my classical music reviewing colleague Max Westler, and it has enormously improved the sound of his Rega RB-300 arm. Remarkable stuff.

Setting Up The Aventurin 6


The Aventurin 6 was installed in the VPI JMW Memorial unipivot pickup arm on my Aries 3 rim drive turntable (previously reviewed). Being legally blind, I can't do these things for myself anymore, but my technician commented that it was a very easy-to-install cartridge. Tracking force was set at 2 g. After trying several different loads into my Ray Samuels Emmeline XR10b phono stage, we settled on 500 chms, although other loads from 300 to 1000 ohms offered interesting possibilities as well. VTA setting was no problem for my tech.

Using The Aventurin 6


As with any good phono cartridge, Stein Music advises at least 50 hours of break-in prior to critical listening. I was prepared for that and more; actually in the past I have found that a cartridge keeps breaking in well into hundreds of hours until it finally reaches its full potential. I'm sure that will be true for the Aventurin 6 as well, but to my amazement the cartridge sounded extraordinary right from the beginning. The first LP I played with it was one of my all-time favorites, a 1962 British EMI set of the Mahler "Resurrection" Symphony conducted by Otto Klemperer. This recording amounts to a progressively torturous challenge for any analog rig. The third movement Scherzo is punctuated by ominous deep bass drum strikes. Over the years, this passage has been a very reliable test of the low-frequency response and trackability of pickup arms and cartridges. Before the Aventurin 6, I had been favorably impressed with how well my Dynavector XV-1s had negotiated those fearsome grooves – better than any of my previous high-end cartridges. But even with no break-in time on the Aventurin 6, there were truly subterranean depth and power in those bass drum strikes; a little ceramic box on my mantelpiece was suddenly rattling on each beat. Moreover, those drum strikes were clearly emanating from the rear of the orchestra within a suddenly deeper and wider soundscape. My amazement continued in the closing movements, in which the chorus builds on top of the potent orchestra, and then the ethereal soprano of Elisabeth Schwarzkopf floats above it all. Equally as impressive as the profound low frequencies into the expenses soundscape was the relative absence of the excesses high-frequency edginess I typically hear in new moving-coil cartridges. The Aventurin 6 was relaxing to listen to right from the start, and it has continued to improve on that fine beginning.
All of those sonic impressions have continued to grow as the Aventurin 6 breaks in, but even with that first playing it was clear to me that this was by far the finest analog reproduction my system had ever reached. From the beginning, with every musical genre and every type of LP, the old audiophile cliché of "like hearing it for the first time" kept recurring.
A few examples: Let's begin with some of the best possible LPs. Another great analog torture test is the Classic Records 45 RPM reissue of the Dorati/LSO Mercury of Stravinsky's Firebird – for me the greatest performance of that masterpiece ever recorded, during Mercury's "golden age" of Living Presence LPs. The gains in dynamics and three dimensionality, the breathtaking beauty of the woodwinds and the distinctive "bite" of the brass – all gave me a new appreciation for this treasured recording. With the same technology in a different genre, the Classic Records reissue of Mingus Ah Um was now totally involving, leaving me butt-dancing in my listing seat.
Standard LPs could be just as illuminating. Byron Janis's Mercury Living Presence LP of the Prokofiev i Third Piano Concerto reestablished the LP's sonic superiority over the superb remastered CD, with even greater soundscape size and imaging precision. And the magnificent Munch/Boston Symphony LP of the Saint Saens "Organ" Symphony No. 3, which had always seemed too thin in the bass, now conveyed a much more convincing sense of the organ's pedal notes.
I could cite dozens of specific records, but in the interest of economy let me summarize my conclusions from dozens of hours listening to the Aventurin 6 cartridge. Vocal recordings, from the beauty of Renata Tebaldi to the smoky precision of Patricia Barber to the gravelly raunch of Tom Waits, are simply more involving and engrossing than ever before. Scaling, from chamber music or small jazz ensemble to large orchestra and chorus, is precise, fairly reproducing the soundscaping. Solo piano, always one of the toughest tests for any system, is now with any decent recording a kind of "you are there" experience; sitting with my eyes closed, Sviatonslav Richter might be right there between my speakers.
Summing Up
As is evident from the above comments, the Aventurin 6 is a great moving-coil cartridge. In my VPI analog rig, I have yet to find an LP that makes it mistrack. At $6500 MSRP it is by no means inexpensive. Obviously it is intended for the listener who demands the very best in analog reproduction. Fortunately, when Dynavector factory service returned my noisy Xv-1s as a pristine factory rebuild, I was able to make another audiophile very happy with it, and thereby amortize much of the cost of the Aventurin 6. I feel very lucky to have benefited from that exchange, and I gratefully thank Dynavector factory service for properly supporting their excellent cartridge. But now, having lived with the Aventurin 6 for a few months, I know that I would have found some way to purchase it. I have not heard anywhere near every great phono cartridge, but I have heard several that are even more expensive than the Stein Music Aventurin 6. I have never heard a cartridge I would prefer to it. Highest possible recommendation!

Specifications
Type: Low output moving coil (MC) phono cartridge
Frequency Range: 10 Hz to 50,000 Hz
Frequency Response: 20 Hz to 20,000 Hz (+/-1dB)
Output Voltage: 0.32 mV (@ 3.54cm/sec/45Deg. 1,000 Hz)
Output Impedance: 12 Ohm @ 1,000 Hz
Channel Separation: 35 dB or more
Channel Balance: Below 0.5 dB
Compliance: 15 x 8th Power of 10/dynes
Cantilever Material: solid boron rod Stylus Chip: Micro-ridge diamond.
Coil wound on pure ruby
Recommended Stylus Pressure: 1.8-2.2 grams
Vertical Tracking Angle: 20-22 degrees
Weight: 11.5 grams
Optimal Load Resistance: 300 to 10,000 Ohms
Tracking ability at 315Hz and 2 gram tracking force >80μm
Suitable for phono stages with @ 60 dB gain
Lacquered with Stein Music Maestro Lacquer for optimum resonance control
Cast bronze frame for maximum stability
Handcrafted carbon/mahogany composite housing for best resonance control
Please allow at least 50 hours break-in time
Warranty: Two years parts and labor for manufacturer defects.
Price: $6500

Company Information
Stein Music Ltd.
Hingbergstr. 103a 45468
Mülheim Germany

Voice: +49 (0)208 32089
E-mail: info@steinmusic.com
Website: www.SteinMusic.com

North American Distribution
Fidelis AV
460 Amherst St. (Route 101A)
Nashua, New Hampshire 03063

Voice: (603) 880-4434
Fax: (603) 880-4433
E-mail: info@fidelisav.com
Website: www.FidelisAV.com