April 2013


Clearaudio daVinci V2 MC Phono Cartridge
Rock solid, transparent, and capable of creating a fully layered depth perspective.
Review By Dick Olsher
It's third in line from ascension to the throne, the king being the Goldfinger Statement; no relation I presume to celluloid's Auric Goldfinger of James Bond fame. All of the cartridges in the V2 line (Goldfinger, Titanium, da Vinci, Stradivari and Concerto are hand-crafted in Erlangen, Germany, under the guidance of Peter, Robert, Patrick, and Veronika Suchy. One variable is the cartridge body, which in descending order consists of gold, titanium, ceramic coated aluminum, Ebony, and Satinee wood. Commonalities include an improved magnet and generator assembly incorporating micro-gold coils, and a new stylus profile, which taken together, significantly reduce stylus moving mass.

I have great respect for the technicians who assemble these cartridges. The generator design deploys a total of 12 magnets in the Goldfinger and 8 magnets for the rest of the line. These tiny yet powerful magnets, presumably neodymium types, need to be precisely arrayed to obtain a symmetrical magnetic field. All I can say is that that I'm not the man for this sort of precision work, and I suspect that one too many cups of coffee in the morning would render the assembly task nearly impossible. The new design is said to increase dynamic range by 30% and results in a generous nominal output of 0.8mV. In fact, Clearaudio claims a dynamic range of up to 100dB! To realize just how remarkable the V2 generator really is, contrast this performance with the theoretical dynamic range of a 16-bit compact disc which is only about 96dB. Alas, recorded music doesn't even remotely approach such a lofty dynamic range. In particular, pop music recordings are routinely compressed in an effort to make them sound loud for radio broadcast and rarely exceed a dynamic range of 10dB.

Technical Details


Just about every material known to man (with the likely exception of cheddar cheese) has been used at one time or another for cartridge body construction, spanning the gamut from plastic, exotic woods, gemstone, and metal. What is needed is a material that is rigid, lightweight, and acoustically well damped. Since the stylus/cantilever assembly effectively acts as a seismic detector it is sensitive to transmitted vibration from the cartridge body while tracking the groove. Therefore, the importance of a non-resonant body cannot be overstated. While aluminum is convenient for precision machining it isn't a well damped internally. And this is why the daVinci's body is covered with a 30-micron thick ceramic layer. This technique of constrained layer damping makes for a virtually acoustically inert assembly. In addition, the top plate features a unique "12-finger" design with each finger at a different radius to further minimize resonance.

The cantilever, as you might expect from a cartridge of such a lofty pedigree, is a solid boron rod which is far superior structurally to a plain-vanilla aluminum rod. The attraction to boron is its hardness, second only to that of diamond, and the fact that it possesses the highest sound wave propagation velocity of any known material making it ideal for cantilever applications. Interest in boron cantilevers dates back to the late 1970s. A United States patent for boron pipe technology was granted to the Matsushita Electric Company of Japan (Technics) in 1981 and details the intricate process involved in vapor depositing boron over a couple of metallic substrates which are then dissolved to leave a pipe of pure boron. The stylus is double polished and features a line scanning profile, dubbed by Clearaudio as a Micro-HD Diamond tip. Its geometry is described as hybrid parabolic with stylus radii of 0.008mm x 0.040mm. Translating these dimensions into microns we obtain 8 x 40 micron, whereas a typical elliptical stylus measures 8 x 18 micron. This means that the Micro-HD tip is fatter than an elliptical along the direction of motion, much like a cutter head, but the scanning tip in contact with the groove wall is similar.

The stylus effective tip mass is 0.16mg – not a world record, but most impressive for a MC type and no doubt accounts for the daVinci's nimble tracking ability. Moving coils have had a difficult time historically with what should be a basic task for any cartridge, and that is securely tracking a record. The mental image of a drunken hippo trying to negotiate a speed bump comes to mind. With the Vertical tracking force (VTF) set between 2.8 and 3.0 gram, the daVinci sailed right through my top-of-the-pile LPs without a hitch. The recommended VTF is 2.8 grams (+/- 0.2). I opted for a setting of 2.9 grams as it imparted the most convincing tonal color saturation.

Cartridge documentation includes a signed quality control certificate with actual frequency response and channel separation measurements. Clearaudio uses the JVC 1007 test record which had been cut without RIAA equalization. In combination with a phono preamp that linearly amplifies all frequencies between 20 Hz and 20 kHz, these measurements document the true full spectrum response of each cartridge. Now, that's a classy way to assure you the consumer that your purchase had been tested and verified to meet critical factory specifications. I'm always suspicious of any expensive exotic cartridge that lacks basic performance documentation and instead spins a tale that basically says trust me – I'm descended from the hands of a revered master craftsman.

Sonic Impressions




Context is everything in audio. The daVinci settled in nicely into my current reference front end which consists of the Kuzma Reference table and Kuzma Stogi Ref 313VTA tonearm. The latter is a 12-incher with an effective mass of 13 gram. It allows for live VTA adjustments during playback – a major help in correctly setting up line contact cartridges. The Pass Labs XP-25 phono stage was used for all of the listening sessions. Its inherent flexibility for changing cartridge gain, and both capacitive and resistive loading via dials on the front panel was put to good use. I experimented with several resistive loads, including 100, 160, and 250 Ohm, and found that at least in this context, there were audible differences in terms of image focus, transient control and tonal color fidelity. However, the optimal setting, either 160 or 250 Ohm, was a function of the associated power amp.

After just a few bars of Paganini's sonatas for violin and guitar [GyorgyTerebesi and Sonja Prunnbauer, TELDEC 6.35574-00-501] I became a believer. Mind you, this recording dates back to the 1970s and can sound just awful with a cheap cartridge or one that hasn't been setup correctly. At its best, this intimate recording can dazzle with virtuosity and harmonic brilliance. And with the daVinci at the helm, I was astounded by the volume of treble air and transient speed coupled with precision control. I imagine that it's a feeling similar to that of cornering a tight bend in a Formula One race car, the sensation of somehow defying the laws of physics. As a bonus, surface noise seemed to recede into the background yielding a rather quiet presentation. Yet, its virtuosity wasn't divorced from tonal integrity. Tonal colors were consistently vivid and expressed with textural purity.

Neutrality is the operative word when it comes to the daVinci. With a speaker such as the Bud Fried Tower, whose tonal balance is a tad on the dark side of reality, there was no added dose of brightness and hence no shift in tonal character. The question then becomes: can your speaker handle the truth? If your speaker is bright to begin with, don't shoot the messenger. If you're after euphonic relief, perhaps in search of a rolled-off treble range that emphasizes and sweetens the midrange, then the daVinci will disappoint. Au contraire, it lacks the sort of midrange warmth prized by some audiophiles. Consider blending the daVinci with naturally voiced speakers that aren't emphasized in the upper midrange or treble.

Another area of strength was soundstaging. The critical test bed for reaching this conclusion was the Basszilla Feastrex Edition DIY loudspeaker partnered by Triode Corporation's TRX-M300 SET monoblocks. In this setting, 8 watts per channel goes a long ways and highlights the influence of the first watt. The resultant soundstage was rock solid, transparent, and capable of creating a fully layered depth perspective. Image outlines were not only three-dimensional but their harmonic envelopes ebbed and flowed with so much conviction that they projected a reach out and touch it immediacy. This is when the listening experience becomes immersive and I simply kick back, close my eyes, and enjoy the music.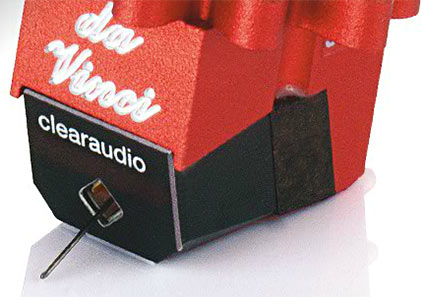 So just how good is the daVinci when contrasted with its peers? For the sake of discussion, let me bring in a couple of similarly priced MC cartridges that I have evaluated in the past under similar conditions; namely, the Dynavector XV-1s ($5450) and Shelter's Harmony Carbon Fiber ($5495). The Dynavector is without a doubt the most dynamic sounding cartridge I've auditioned in the comfort of my listening room. Think killer bass coupled with a dynamite dynamic range. On the minus side, it could be argued that texturally it isn't the smoothest performer. It definitely sounds mechanical relative to the Shelter Harmony. The Harmony's unique gift is its ability to be one with the music. Being naturally and cohesively voiced, it is literally in harmony with the music. So where does the daVinci fit in this elite company? I would characterize it sonically as approaching the holistic character the Shelter Harmony but possessing greater speed and focus.

Conclusion




Ok, so where do I stand with regard to this trio of excellent moving coils? Although not a easy call to make, my first choice at this price point would be the Clearaudio daVinci V2. It is a superlative all-around performer that will repay you with years of musical pleasure. Highly recommended!

Manufacturer's Response




Thanks to Dick Olsher for revisiting Clearaudio moving coil cartridges. A standard moving coil design has both channels wound on the same coil and the suspension consists of a tension wire to adjust the suspension, essentially compressing the coil on a rubber damper. Clearaudio's patented dual coil symmetrical design has been used in their top moving coils for the past 35 years. Each channel is wound on its own coil for electrical symmetry and the suspension employs a unique balanced mechanical pivot/damper.

The latest generation, by virtue of improvements in every sub-assembly, brings excellent balance to the sound. The doubling of magnets for 4 to 8 creates a more efficient generator. The resulting change in the coil windings provides lower moving mass AND higher output voltage, as well as better trackability. The new body materials and unique shape with resonance control lowers the noise floor (or raises the music floor!). The Micro HD diamond stylus further increases information retrieval with less tracing artifacts.

The Suchy Family, Clearaudio


Garth Leerer Musical Surroundings

Specifications
Type: Moving Coil Phono Cartridge
Total mass: 7.0 grams
Frequency Response: 20 Hz to 100 kHz
Stylus Shape: Micro HD
Cantilever: Boron
Coil Material: Gold 24 K
Compliance: 15/15 µ/mN
Recommended Tracking Force: 2.8 g
Crosstalk: > 30 dB
Channel Difference: < 0.5 dB
Output Voltage: 0.8 mV at 5 cm/s
Cartridge Impedance: 30 Ohm
Warranty: 2 years
Price: $5500

Company Information
M2Clearaudio Electronic Gmbh
SpardorferStraße 150
91054 Erlangen
Germany

Website: www.Clearaudio.de

United States Distributor:
Musical Surroundings
5662 Shattuck Ave.
Oakland, CA 94609

Voice: (510)547-5006
Fax: (510)547-5009
Web: www.MusicalSurroundings.com