Mid-January 2014


World Premiere!
EMMESpeakers Da Vinci Loudspeakers
Bringing the story of music, passion and style with a richly palpable sound.
Review By Matej Isak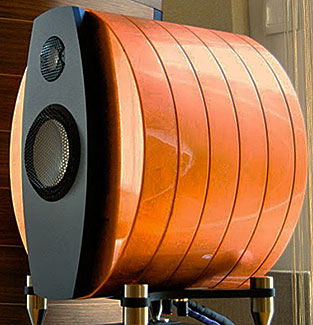 It seems that this year is a celebration of fine Italian art in my home. With the series of exclusive reviews and interviews I'm continuing with the already known EMMESpeakers. As big as Italy seems to be, it is still a small close circle in the specific industry branch. Have already reviewed EMMESpeakers EmmeRack and their Beta speakers and loved them both. Am clearly found of stylish and highly functional objects of fine design and execution and EMMESpeakers Lorenzo Martineli continues to explore what's he calling a passion and style with emotional impact that breaths with a true Italian spirit. EMMESpeakers products are enough different and unique to make them instantly recognizable. This is one of best compliments one can get in any field of creation. I remember from one the interviews with Pat Metheny whom I respect very highly that he got the exact same compliment. Some love to comment how Pat lost his touch past some late 1970's albums, but for me he's among most versatile and skilled players. Interestingly even John Scofield embraced with his last album the lyrical simplicity. So, a return to the basics. I feel, that Pat never lost either his feeling of direction. In my opinion people stopped to develop, adjust and grow. Its their lost and not Pat's.
Getting back to the point. Pat's biggest compliment was his recognizable playing regardless the genre he performs. In analogy EMMESpeakers seems to continue their "leitmotiv" design. One can instantly spot the stand out carved product from this company. This means, that they've found a working continuity. Will this address everyone? Not at all! Company managed to already make their mark upon the earth and found quite few happy homes for their products so it seems they're not worried at all. Perhaps with EMMESpeakers Beta speakers there was still a traditional connection with industry standards, but with new Da Vinci speakers Lorenzo took a completely new path. A bold design I would say. In the times when the high-end audio industry is repeating and copying the past themselves -- like an old song remakes -- here is a standout design that have enough elegance and aura to carry the great master's name. Da Vinci!
When we discussed the design with Lorenzo at the starting point and before I've managed to listen to them I clearly revealed my concerns regarding the use of ceramic drivers. On contrary the new Accutron Cell ceramic drivers performed beyond my expectations. Interestingly, the one thing I feared the most was absent in my listening even from the first note strikes. Namely harshness and balanced dynamic presentation. EMMESpeakers team seems to made the right choices with the crossover and overall loudspeakers design to complemented the sound that avoids the clichés connected to a loudspeakers that incorporates ceramic drivers. It was compelling to hear a balanced presentation from Da Vinci loudspeakers and even more impressive to experience the unexpected large sound. Da Vinci speakers defied the typical logic of "size matters". The presentation of sound space was not only larger, but also way deeper. Ahead of what one would expect from typical monitor loudspeaker based design.
The thing is, that Da Vinci speakers cleverly hide their volume and woofer on the back side of enclosure. When you see the large driver on the rear side everything becomes logical. This unit moves quite some air and it takes care not only for lower bass spectrum, but also add to the definition of lower and upper midrange, which forms a three-dimensional feeling of an instruments and projects the shape of real objects in space. If everything would be hidden behind the curtain I can assure that even experienced listeners with great audio mileage would mistake the Da Vinci for a floor standing loudspeakers. They not only disappear easily, but palpably recreate the basic nature of music being reproduced.
Michael Franks earlier albums like Sleeping Gypsy or Art Of Tea represents his most passionate work. Being a protégé and dear friend of his tutor Antonio Carlos Jobim made him an incredibly suggestive for bossa nova, samba and other South American sublime rhythms. Among few he truly understood the emotional side of bossa nova and Jobim seems to let some of his heritage trough Michael. This is clearly shown in his later 1990's album Abandoned Garden. This music represent Michael other side. The matured, down to earth look at life, friendship, time and death through the expertly forged songs. With a musicians like Steve Swallow, Carla Blay, Joshua Reedman etc. he managed to create a story that further unveils more of itself on each new listen. The almost poignant note that albums embrace makes it even deeper. With a sad loss of Antonio he parted with a lifelong musical genius, which touched so many hearts and creative minds. People always saying how much big things happened in 1970's regarding music.
How much innovation? Not really too much. In a grand scheme I do believe that the phenomenon of bossa nova was one of few, if not only two things, that actually brought something really new. Not only with timing and chord progression, but also with the subtle, sublime energy that came along with this new musical genre. For me Getz Gilbert is one of the desert island disks to take without even taking nano second of thinking through. I know every beat and how this album should sound. With its overblown bass and pianissimo like sounding hi-hats. It simply flow when a system is set right and with EMMESpeakers Da Vinci speakers I could easily recognize Gil Gilbert soul full playing, Astrud heavenly voice and Getz's almost forceful saxophone playing. There is a reason behind Stan loud or almost overblown saxophone sound, but that's the story for another time. Somehow I feared that bass of EMMESpeakers Da Vinci could be on slow side slow or with a bit of time delay regarding to its back ported design, but it worked in a balanced and coherent way. It was a nice celebration of my top ten albums of all time and very enjoyable musical ride.
Adding one more specific album to the test proved my previous findings. Another desert Island no brainer for me is a Charlie Haden/Pat Metheny Beyond Missouri Sky record. Like with Getz Gilberto I simply cannot get enough of this music. Sometimes even on a daily basis. Some compositions jointly performed on this album becomes an immortal and almost transcend the time and space. Both of mentioned albums are for sure two building blocks of such eternal musical library. Like with Getz Gilberto overall sound and especially bass is a bit overblown and warmer then usually. Charlie proffered a warmer tube based sound of recording that clearly gives it a unique stamp. A timeless one. Interestingly Da Vinci's portrayed the album heartfelt nature with a full bloom. No lacking of emotions, deeper warm bass or absence of masterful interplay. This album is for sure quite contrary of what one would expect from a collaboration of such two high profiled jazz musicians. The result is an universe of easy paced music that should be taken as a slow food. As culture, with love, enough time and without over-thinking. This is soul and heart minded music that instantly cuts through the layers of typical music perception. It connects you with something, bigger, better and fulfilling. I'm blessed with wife that's cough on much music I love and both these two albums we can share and did share on countless evenings. This is where high end should be headed. Closer to quality and music. It should connect us on a higher cultural and emotional plane. EMMESpeakers Da Vinci proved that when right decisions are made something both stylishly unique and great sounding can be carved as one object and with pleasing aesthetic note that calls for interaction.
Most importantly these speakers have the ability to connect with the music and lead the way into the deeper enjoyment of beloved music library. EMMESpeakers and Martinelli brothers have a broader look of the market and strive to keep their passion in high end stylish fashion. I love the approach as it addresses many more people urges and expand the potential of new high end enthusiasts. I might have had a few reservations on my first contact with EMMESpeakers products, yet I've managed to update my mind set to the design and reasoning quickly. It is this time of globalization and borderless society that demands new rules and lifestyle movements. It is of deeper trends; with a must to adopt or die. I'm keeping up daily with my news intake of industry at large and try to see it more and more as whole and connected space. Especially when those dots can be jointly morphed into something that celebrates music and musical reproduction. It is a fast-forward world we're living in but this lightning fast movements brings some very fine trends and products as side (d)effects.
Combining an art, great industrial design and potently sounding speakers is a both challenge and hard work. If you want to take it even further then you have to be bold enough to be different and stand behind your work. Martinelli brothers are executing this in an ardent and push forward way. Each new product success seems to ignite their passion and adventures nature of exploring new things. I appreciate and respect this highly. It is one thing to dream about such venture, but completely other thing to bring those dreams to life and survive in the market as thought as it is today.
Conclusion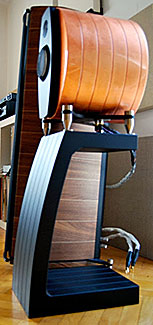 In the era when you have to be wit, fast and innovative its quite a challenge not only to stay alive in the fierce high end audio market, but to actually produce something good and great enough, that will capture the ever evolving and demanding trends. EMMESpeakers seems to fund their spot in the high end audio industry and they're pushing the boundaries of their creational output. The black mate dust coated loudspeaker stand and one of the kind handmade copper leaf finish combine a striking and instantly recognizing shapes that are hard to miss or forget. They jointly stand as an sole object. EMMESpeakers Da Vinci brings a passionate take on the high end audio loudspeaker design with both aesthetic and sound statement. With the back ported large diameter woofer and interestingly shaped chassis sounds fill the room like very few monitor loudspeakers can. Accutron Cell driver seems to provide the needed speedy response and the crossover compliment the organic presentation. It is a working design. I can see many people being dragged by the one of the kind appearance of Da Vinci's. Their aura will for also attract the minds of people outside of niche high end audio society for sure. And that's a great thing!
EMMESpeakers Da Vinci loudspeakers bring the story of music, passion and style told by their rich palpable language. They reminds us that we're passionate and emotional beings first and not always the technical rationalizing crowd that just urges to measure anything and everything. As I say often... You can count the beats, but can you truly count and enjoy the music? EMMESpeakers Da Vinci loudspeakers are grand in their representation and they bring contemporary sound in the emotional shape.
Specifications
Type: Three-way sealed box stand-mounted loudspeaker
Tweeter: 1.2" Accuton CELL drive unit with ceramic dome
Midrange: 5" Accuton CELL ceramic cone driver
Woofer: 10" SB Acoustic aluminum cone driver
Power Handling: 200 Watt
Nominal Impedance: 6 Ohms
Sensitivity: 84dB/W/m
Frequency Response: 30 Hz to 40 kHz (± 3dB)
Dimensions 420 mm x 307,5 mm x 300 mm (HxWxD)
Weight: 41 lbs each
Price: €12,200 per pair, EMMEStand adds €1980 per pair
Company Information
EMMESpeakers
Milano Italy
E-mail: info@EMMESpeakers.com
Website: www.EMMESpeakers.com