(December 04, 2013) Enjoy the Music.TV is now accepting submissions from those within the music industry to have their video featured on our channel. We will be delivering to our enthusiastic worldwide audience high quality videos from manufacturers, recording studios, musicians, DJs, etc. so the world can share in your joy of music! Find out more about this great opportunity by sending us an e-mail for more details.
Soon we will be holding a contest for viewers to submit their videos, with the winner being chosen by our audience. More on this in the coming weeks.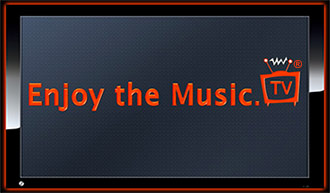 About Enjoy the Music.TV and Enjoy the Music.com
Enjoy the Music.com is the Internet's undisputed industry leading information site for high fidelity audio information, reviews and show reports including home and mobile devices, digital music downloads and more since 1995. The site has received critical acclaim worldwide with like-minded audio publications both in print and online plus the President of the Consumer Electronics Association. Being affiliated with seven prominent print publications, plus offering its own Review Magazine and over 160 show reports online, Enjoy the Music.com is the leading Internet authority for diverse information serving music lovers worldwide. Enjoy the Music.TV adds an additional seven online publications as partners plus both sites are media sponsors of high fidelity audio events including AXPONA, California Audio Show, TAVES, T.H.E. Show Newport Beach and the Rocky Mountain Audio Fest.
Enjoy the Music.com is the only specialty audio site with its own Internet browser, RSS feed, Android and Windows Phone 7 / Windows 8 applications so their readership can easily find information they desire. Music enthusiasts can find us on all leading social media sites including Facebook, Pinterest and Twitter. Enjoy the Music.com is official Internet partners with The Absolute Sound, Australian Hi-Fi Magazine, CANADA HiFi, Hi-Fi+, Hi-Fi Media, Hi-Fi World, HIFICRITIC, and legacy publications Sound Practices and VALVE magazine. Enjoy the Music.TV adds Internet partners Audio360.org, Dagogo, High-Fidelity, High Fidelity PL, Mono & Stereo, Part-Time Audiophile, and Positive Feedback Online.
Those desiring an interview with Editor and Creative Director Steven R. Rochlin can e-mail their request by clicking here.
Note to journalists: Official logos and graphics can be downloaded by clicking here.