High-End Audio Industry News
---
Due to the enormous growth of Enjoy the Music.com's e-mail newsletter list and contests, we have upgraded our services for faster information delivery to you! About once a month Enjoy the Music.com's special e-Newsletter is delivered to your inbox with important site updates including new equipment reviews, high-end audio show reports, industry news, etc. You will also be eligible for our contests and receive valuable advanced information. Join our e-Newsletter list by clicking here.
08 / 28 / 13
For those seeing to move the world with deep bass, Pro Audio Technology has created their new Reference 24" subwoofer that can shake your house with low frequency sound. Using a massive professional-grade driver - the largest available in the residential market - the new LFC-24sm measures a daunting 60.5" x 26" x 21" and weighs 266 pounds! As for the quantity of bass, how does a staggering 129.5dB maximum output grab you? At the heart of the LFC-24sm is an 88-pound, 24-inch driver which boasts a sensitivity of 99dB/W/m. The power handling of the 24" driver is a sustained 1000 watts of constant pink noise for two hours straight without failure. Given real-world music or movie listening material, the LFC-24sm is rated at 2000 watts of continuous power handling, and can endure momentary bursts of many times that amount. To ensure high quality performance, Pro Audio Technology created their Programmable Modular Amplifier that provides 1000 watts of fully DSP optimized signal to the sub and features a suite of in-room performance calibration controls, including parametric EQ and delay. The combined effect of the LFC-24sm's reference quality professional components, four carefully tuned front-firing ports, and the DSP capabilities of the PMA power source combine to create a bass experience said to be like no other. "At first glance, this may seem like purely a statement product," said Paul Hales, Pro Audio Technology founder. "But in fact, the LFC-24sm design is in direct response to market pressure. Pro dealers continuously ask that we push the boundaries of performance as they create evermore lavish home cinemas for affluent clients who demand the very best."
Longstanding and highly respected new and used music dealer Acoustic Sounds has finally launched their Super HiRez music download store! Over the years Acoustic Sounds has been busy growing with their Blue Heaven Studios recordings, Analogue Productions, APO Records, Quality Record Pressings and their purchase of Classic Records. Today Acoustic Sounds proudly launched their new Super HiRez initiative that is available to those within the United States. Current titles available for download include Just A Little Lovin' by Shelby Lynne, Holly Cole's Temptation, Phoebe Snow Phoebe Snow, Rickie Lee Jones Traffic From Paradise, Love Is The Thing by Nat "King" Cole and Norah Jones Come Away With Me. A wide array of digital music downloads from Acoustic Sounds can be found at this link.
Music Industry News 10 Years Ago
InterVideo, a leading provider of computer DVD decoding software, announced the new optional DVD-Audio Pack ($40) for their WinDVD 5 Platinum ($60) and Gold ($50) editions. InterVideo's DVD-Audio Pack will allow computer users with DVD drives to fully navigate DVD-Audio discs and enables users to access special features that have been added by the artists such as slide shows, browseable pictures, lyrics and bonus groups. Naturally this also extends to the ability of decoding the high resolution audio tracks. "In Asia and Europe, where many homes are smaller, there is already a strong demand for PC software solutions that deliver superior audio and video entertainment," said Steve Ro, president of InterVideo. "And in the U.S., consumer demand is increasing for software that provides complete PC-based personal entertainment. A single, centralized solution is ideal for use in student dorm rooms, small apartments, individual's bedrooms and family rooms. The missing ingredient has been a solution that supports DVD-Audio navigation and playback." InterVideo also offers other DVD software such as WinDVD Producer, WinDVD Creator, and WinDVD Recorder.
08 / 27 / 3
Reference Recordings has two new releases consisting of San Francisco Ballet Orchestra's Bizet and the Colorado Symphony and Chorus Portraits of Colorado that was inspired by the landscape paintings of Jerry Malzahn. The first title, Georges Bizet Symphony in C, features the San Francisco Ballet Orchestra conducted by Martin West. The recording was made at Skywalker Sound in Marin County, California by Grammy-winning engineer Keith O. Johnson. The "Symphony in C" is a delightful gem, composed in 1855. It was produced as a ballet choreographed by George Balanchine, and premiered at the San Francisco Ballet in 1961. The next title, Portraits Of Colorado features American Symphony No. 1 and Six Variations for violin and piano with Scott O'Neil, is the first in a series of symphonies composed by Charles Denler. Inspired by a sunrise over the Rocky Mountains, and the incredible works of American painter, Jerry Malzahn, this first symphony carries with it a theme of hope and of new beginnings.
The HDBaseT Alliance, a cross-industry alliance formed to promote and provide a technical standard for HDBaseT technology for whole-home distribution of uncompressed HD multimedia content, has announced their new 2.0 spec. Founding members include the following consumer electronics and content companies: LG Electronics, Samsung Electronics, Sony Pictures Entertainment and Valens Semiconductor. HDBaseT technology is optimized for whole-home distribution and can connect all the entertainment devices in the home through its 5Play feature set, converging uncompressed full HD digital video, audio, 100BaseT Ethernet, Power over HDBaseT (POH) and various control signals all through a single 100m/328ft CAT5e/6 cable. All HDMI 1.4 video and audio formats are supported including full HD/3D and 2K/4K. CEC, EDID, HDCP and multi-streaming capabilities. Audio supported includes Dolby Digital, DTS, Dolby TrueHD, DTS HD-Master Audio, Dolby Pro Logic Iiz 7.1 & 9.1 and more. The new HDBaseT 2.0 spec supports HDMI with 3D and 4K plus easily handles Ethernet, IR, Networking, RS-232, switching and control point capabilities to the physical and data link layers. Multi-stream support is supported as well. The new 2.0 spec handles current USB 2.0 and will hopefully upgrade to USB 3.0 when it is officially released. HDBaseT spec 2.0 includes up to 100 watts of power to be transmitted and DAC/processors, displays up to 40", etc can be powered directly, thus eliminating the need for a power cord.
08 / 26 / 13
Enjoy the Music.com has just posted three sneak peek articles including a World Premiere review within our September Review Magazine! Also remember to enter our August contest where you can win a set $3500 Von Gaylord VG-8 speakers!

Enjoy the Music.com August Contest!
Win a set of Von Gaylord VG-8 $3500 speakers!
Skoff'ing Up Food For Thought
There's None So Deaf...
Article By Roger Skoff
Sneak Peek!
World Premier!
Coincident Turbo 845 SE Integrated Amplifier
Transcending the recording... Ignoring the equipment...
Review By Rick Becker
Sneak Peek!
iFi micro iTube 'Swiss Army Knife'
Hi-Fi's most funky box of tricks?
Review By Clive Meakins
This is the last week of The Cable Company's 18th annual summer against hunger campaign; with 50% to 100% of the money you spend on your stereo in August can be put to work for humanitarian relief efforts. Once again this August, when you purchase from special sponsors' products the Cable Company and sponsoring vendors plus other CARE donors will send an amount equal to your purchase to CARE. Purchase all other products from The Cable Company and an amount equal to half of your purchase goes to CARE. What this means is that your audio purchases this week will generate a 100% equal matching contribution to CARE when you purchase products from their list of sponsoring brands, and all other products, even used products, will earn a 50% donation to CARE. Enjoy the Music.com has been extended special thanks from The Cable Company as we have graciously provided additional ad space to help them promote this great effort.
08 / 23 / 13
Morel new Elate three-way component speaker set can bring high fidelity sound quality to mobile audio enthusiasts worldwide. Features of this new driver and crossover set includes large Hexatech voice coils, the C.A.R filter for better acoustic loading and special MXR crossovers derived from the Fat Lady reference home floorstander that sets the Elate series apart from others. It is not simply about accuracy, as Morel's sound quality, reliability and reputation are also key. The use of substantially larger voice coils has set Morel apart from its competitors from the beginning. The Elate employs the 3" External Voice Coil (EVC) with Hexatech technology, which reduces air gaps in the coil windings to increase efficiency. The newly designed woofers continue to employ Morel's C.A.R (Controlled Acoustic Resistance) filter that controls airflow within the driver, mimicking the effects of a cabinet and improving power handling by 30% even when the speaker is installed in a free-air environment (such as a door). This design improves bass dynamics in a very challenging environment. Complementing the woofer is the new MT250, 28 mm handcrafted Acuflex soft dome tweeter. The tweeter features a vented cavity design for improved transient and dynamic range, and the new CDM880 Acuflex dome midrange provides a greater usable frequency band, smoothing the top end while improving the extension. These new drivers are available in three sizes, the Elate 503 utilizes a 5.25" driver; the 603 a 6.5"; and the 903 is 8.75". Power handling is 160, 180 and 200 watts RMS, respectively.
Denon's new headphone apps for iPhone, iPad and iPod touch enhances the company's lifestyle-headphone users' enjoyment of music including discovering new music, buying music tracks, purchase concert tickets plus a 1000 band EQ option. Denon just launched a significant update, Music Community, to the Denon Audio App, Denon Club App and Denon Travel App for iPhone, iPad and iPod Touch. The Music Community update to the Denon Audio App, Denon Club App and Denon Travel App enables Denon headphone users to discover, experience and enjoy music more than ever before by providing these additional capabilities including:
Read artist biographies
Explore more music from your favorite artists
Discover new artists based on your current music preferences
Buy albums and songs directly from app/iTunes
Purchase concert tickets for the artists
Share concert and venue information via Facebook, Twitter, Email, and iMessage
Of note is the new Denon Audio App. for use with Denon's Music Maniac Headphones allows users to customize the sound via a 1000 band EQ (not a typo). The app features an integrated audio player for playback of all music stored on the iPhone, iPad or iPod Touch, allows for instant playlist creation directly from the app and enables simple access to Internet radio via TuneIn, which offers over 70,000 global radio stations. Also of interest is the Denon Sport App that features GPS tracking for outdoor activities. This enables users to map their routes, automatic tracking and reporting of pace and track nutrition. With access to online communities via Facebook and Twitter, users can easily share their workout progress with friends and track their fitness goals in a workout journal. The Denon Audio App, Club App, Travel App and Sports App are available for free from the Apple App Store while Denon's 1000 band Equalizer function is available for $1.99 via an in-app upgrade.
08 / 22 / 13
Bryston, LTD has announced the introduction of their new Model A series of loudspeakers designed to complement their Model T offering that was launched at CES 2013. The new Model A series leverages the same design principals as the Model T, with a focus toward minimizing distortion and compression during music and home theater playback applications. The engineering team at Bryston has devoted countless hours to innovative driver design, enclosure vibration analysis, crossover refinement, anechoic chamber measurements, and blind listening tests. The first model to reach completion, the Bryston Model T, was subjected to over 200 separate anechoic measurements during the design phase to ensure the highest level of accuracy and refinement. The new Model A series relies upon an array of newly designed drivers including a premium quality 6.5-inch woofer rather than the 8-inch version used in the Model T series. This smaller woofer size achieves startling musicality from a more compact, décor-friendly form factor. The Bryston Model A lineup will initially launch with a bookshelf speaker called the Mini A as well as three floorstanding towers called the Model A1 Tower, Model A2 Tower and Model A3 Tower. The new Mini A bookshelf speaker features a 6.5" woofer, a 3" midrange driver and 1" tweeter in a three-way configuration. Pricing is $3250 for Model A1 Tower, $2395 for Model A2 Tower and $1995 for Model A3 Tower. The Mini A bookshelf speakers are $1200 per pair. Bryston loudspeakers are available in an array of wood finishes, and a durable vinyl is available as a special order lower cost option. These four loudspeakers will become available through authorized Bryston dealers beginning Q4, 2013. Bryston will be adding a matching Model A Center Channel, Model A Surrounds and matching Model A powered Subwoofer in the coming months.
Website Windows X's Live now offers their Fidelizer version 3.0 that is said to instantly turn your Windows Vista/7 computer to audiophile workstation for sophisticated audiophile player like J River, XXHighEnd, HQPlayer, foobar, etc. This procedure involves no permanent modifications, thus your system will remain safe and sound after restart. This tweak includes systems with normal Windows installation where you can experience better sound quality when needed. Fidelizer has three optimization levels, all with the same goal to achieve sonic improvements. The first one is 'Professional' as this level will optimize your system to the extend that it won't significantly affect overall system performance. The next level is 'Audiophile' and it will lower system/network performance so audio can gain more priority to access to resources at time. It will also lower most processes including system ones to lowest level so you need to close your audiophile player before using it. The last one is 'Extremist' and it will stop most bundled system services, thus leaving only important ones for audio. Yes, it will stop network services and such too, though there are options to keep network and user experiences (HID, Tablet and Themes) working for some applications. New version 3.0 fixed audio's core affinity optimization from not working when some features not checked. They also improved core system and resource scheduler optimizations for optimal audio performance plus improved process resource priority optimizations keeping more core audio's related processes. They also reworked multi-core optimizations to simpler yet more efficient approach plus reworked the GUI.
British high fidelity audio company Naim Audio now offers a new firmware update from the Naim website that enables Multi-room, Party Mode and Seek2Time on Naim all-in-one players, separates network players and streaming preamplifiers. The exception is the NDS network player which only gains Seek2Time from the update (enabling you to scroll through individual lossless tracks via n-Stream). Multi-room and Party Mode allow you to play music in every corner of your home in perfect sync. Simply select 'Rooms' from the set up menu via the front panel or remote handset or use your n-Stream app (version 3.3 required) to elect any of your compatible players as the master. It will then stream music from its UPnP, USB/iPod or iRadio inputs over your home network to up to four clients in other rooms, enabling master volume control and selection in the process.
08 / 21 / 13
In a surprise unveiling recently, veteran audio designer Mr. Ed Meitner previewed his new power amplifier, the EMM Labs MTRX. The MTRX is a monoblock with gargantuan continuous power of over 1500 Watts. This new unit marks the first time since the well-regarded Museatex MTR-101 of over 20 years ago that the world has heard a new audiophile Meitner amplifier. Mr. Meitner has always been fascinated by the paradoxes of audiophile power amplifiers that combine brute force with graceful precision. EMM Labs' MTRX monoblocks employ Ed Meitner's new proprietary, fully discrete ultra low distortion amplification systems. Still in prototype form, the MTRX reference monoblocks are fully balanced Class A/B amplifiers conservatively rated at 1500 Watts per channel. They are said to be "Fast, dynamic and totally transparent they are fully capable of driving even difficult loads down to 1 Ohm without distortion". In the next months EMM Labs will be introducing selected music lovers to the Meitner MTRX amplification - leading up to a product launch at CES 2014.
Enjoy the Music.com's part 2 coverage of the Capital Audiofest (CAF) 2013 high fidelity audio show is now online! Taking place from July 26th through 28th at the Sheraton Silver Spring Hotel in Maryland, the 2013 CAF audiophile show was located in downtown Silver Spring, MD and just walking distance from Washington DC and the Metro Rail. Over 40 rooms were filled with gear and well oriented for most any audio system. You can see part 2 of our coverage by Kemper Holt by clicking here.
08 / 20 / 13
The USB Implementers Forum (USB-IF) announced the completion of the USB 3.1 specification which adds enhancements to enable SuperSpeed USB to operate at up to 10 Gbps. This latest release of the specification is now available for download from the USB-IF website. SuperSpeed USB 10 Gbps uses a more efficient data encoding and will deliver more than twice the effective data through-put performance of existing SuperSpeed USB over enhanced, fully backward compatible USB connectors and cables. Compatibility is assured with existing USB 3.0 software stacks and device class protocols as well as with existing 5 Gbps hubs and devices and USB 2.0 products. "The industry has affirmed the strong demand for higher through-put, for user-connected peripherals and docks, by coming together to produce a quality SuperSpeed USB 10 Gbps specification," said Alex Peleg, Vice President, Intel Architecture Group. "Intel is fully committed to deliver on this request."
Axiom Audio's new M100 ($2690 per pair) is their flagship floorstanding speaker designed for the audiophile who wants it all. This speaker shows off the best of what over 30 years of audio research by Axiom. Triple woofers, dual midranges, and twin tweeters - that's 7 drivers in each M100 floorstanding speaker. Total power handling is up to 400 Watts and they present a 4 Ohm load to amplifiers. Frequency response is from 31 Hz to 20 kHz with an in-room sensitivity of 92dB/W/m. Features include titanium tweeters, aluminum cone woofers and midranges drivers all attached to Axiom's anti-standing-wave cabinets that suppress internal resonances which color sound. The vortex-ported cabinets aid in reducing port noise and there are high quality 5-way gold-plated binding posts to attach speaker cables. The M100s come with supplied adjustable metal feet, die cast baskets, bi-wire capabilities, and a wrench for tightening the binding posts. Optional accessories include machined aluminum outriggers, custom finishes, or carpet spikes. Dimensions are 47.5" x 9.25" x 17 (HxWxD) and each speaker weighs 70 lbs.
08 / 19 / 13
Aiming to be the proverbial 'Swiss Army knife of audio', the new iFi Audio iTube unit ($299) is a specially developed active tube buffer/preamplifier with two active correction circuits dedicated for digital and analog playback. iFi Audio's new iTube is founded on classic audio technology with features that cover various aspects of sound reproduction other components do not. One of the features is a pure Class A tube buffer stage that is said to "increase our intrinsic enjoyment of music". The special Class A NOS General Electric 5670 pure tube buffer circuit puts the "analogue" back into your music. A special 3D Holographic Sound for Speakers was developed to address the issue of how we humans detect location cues of the lower frequencies, which is less precise than well-defined upper frequencies. 3D Holographic Sound for Speakers is unrestricted; it corrects real-time in the analogue domain to benefit every recording according to iFi Audio. Another feature is the Digital Antidote Plus that provides the appropriate phase correction in the time domain to remove the harsh, "ringing" digital sound which causes listener fatigue. The iTube can easily handle PCM, DXD and DSD material. Of course there is also a precision analogue volume control and 6dB gain (selectable) to the iTube circuit. Both analog inputs and outputs are via a pair of gold-plated RCA jacks. Music enthusiasts may now bypass components that employ a sonically damaging digital volume control of some modern DACs in favor of the iTube's analog circuitry.
08 / 16 / 13
Enjoy the Music.com's coverage of the Capital Audiofest (CAF) 2013 high fidelity audio show is now online! Taking place from July 26th through 28th at the Sheraton Silver Spring Hotel in Maryland, the 2013 CAF audiophile show was located in downtown Silver Spring, MD and just walking distance from Washington DC and the Metro Rail. Over 40 rooms were filled with gear and well oriented for most any audio system. You can see part 1 of our coverage by Kemper Holt by clicking here.
Music Industry News 10 Years Ago

Enjoy the Music.com has completed their third consecutive year providing virtually live coverage of Áudio e Vídeo's Hi-Fi show in São Paulo, Brazil! Conducted by the Brazilian publication Áudio & Vídeo, this event features many wonderful articles concerning stereo hi-fi and home theater. Tthey also focus on live music and true cinematic experiences. Held at the Centro de Exposições da Câmara Americana de Comércio from August, 8th through the 10th in São Paulo, Brazil, unlike virtually all other shows around the world the 60 show rooms are purpose-built. Click here to see our extensive show Brazil coverage. Our next coverage will be the Top Audio & Video Milan 2003 (Italy) show followed by CEDIA in September. Then we are off to provide maximum exposure to the VSAC show in October! Enjoy the Music.com always welcomes providing millions of audiophiles virtually live show coverage that have a truly welcoming atmosphere and conducted by outstanding promoters/publications. Feel free to see our extensive listing of our past show reports by clicking here.
08 / 15 / 13
Marantz's new PM6005 hi-fi stereo integrated amplifier and the CD6005 hi-fi compact-disc player are aimed at audiophiles looking for outstanding sound quality at a great value ($649 and $499 respectively). The new PM6005 integrated amplifier provides digital audio decoding along with Marantz's exclusive HDAM (Hyper Dynamic Amplifier Module) technology whilst the CD6005 features advanced audio circuitry and compatibility with compact discs plus a variety of files types stored on USB memory devices. Marantz's PM6005 has five analog inputs including MM phonostage, S/PDIF coax and TosLink optical digital inputs, and adds digital audio decoding via the CS4398 24-bit/192kHz high current D/A converter. Both optical and coaxial digital audio inputs allow for direct connection to digital audio sources such as CD players and media players. The power amplifier features current feedback for wide-range, low-distortion sound quality with many different speaker types. Marantz's PM6005 is rated at 45 watts per channel @ 8 Ohms (60 watts @ 4 Ohms). The new CD6005 CD player features Marantz's exclusive HDAM discrete circuit topology along with the CS4398 D/A conversion system, which delivers up to 24-bit/192kHz resolution. The center-mount CD drive mechanism is securely fastened to the chassis to minimize vibrations, and the digital audio circuit block is housed in its own shielded subsection. The player is compatible with music CDs, CD-R and CD-RW discs, and can play a wide range of file types, including WAV, AAC, WMA and MP3 files. A convenient USB port on the front panel works with many USB memory devices, and is iPod and iPhone compatible. The CD6005 player also provides a headphone amplifier circuit in a discrete configuration.
Onkyo's new TX-8020 stereo receiver ($199) produces 50 watt per channel and is aimed at users that don't require video switching or A/V processing capabilities. A total of five stereo analog inputs accept audio from TV, BD/DVD players, CD players, and AirPlay-enabled devices such as Onkyo's DS-A5 RI Dock for iPod/iPhone/iPad. An FM/AM tuner with 40-preset memory is also included, while a MM phonostage caters to the vinyl record collector. Two sets of banana plug-compatible speaker A/B terminals on the rear panel allow the receiver to drive a single pair of 4 to 16 Ohm loudspeakers (A or B), or two pairs of 8 to 16 Ohm speakers (A+B) in a distributed multi-room setup. The TX-8020 also provides a subwoofer pre-out for those looking for an enhanced low end. Just like the vintage classics, this receiver includes basic bass, treble, and balance controls. At the heart of the TX-8020 Stereo Receiver is Onkyo's Wide Range Amp Technology, WRAT, which is based around a high-current, low-impedance drive to handle speaker impedance fluctuations and sudden signal gains. Low-negative-feedback amp circuit topology is claimed to improves dynamic range while preserving the lifelike quality of the original recording.
08 / 14 / 13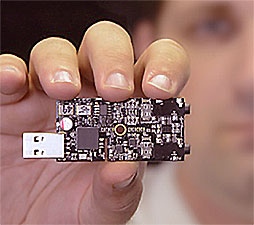 Light Harmonic, manufacturers of the Da Vinci DAC and Da Vinci Dual DAC, just launched a campaign on the Kickstarter website to introduce their GEEK compact portable 2x DSD / 384kHz USB DAC and headphone amplifier combo (was $99 for a few hours and is now $139 on up). The GEEK will retail at $299 once it goes into full production. "We're excited that we can take technology developed while designing and building Da Vinci DAC and Dual DAC, and bring it to the mass-market," said Gavin Fish, Vice President, Sales & Marketing for Light Harmonic. "GEEK is the first portable DAC capable of playing DSD and double DSD files. It can play hi-res PCM files up to 384kHz, which is still rare for any DAC, but very rare for a portable one." The GEEK thumbdrive-sized portable DAC and headphone amplifier simply plugs into the USB port of a laptop or desktop computer for high fidelity audio delivery and there is a powerful headphone amplifier too. The GEEK features proprietary spatialization software that produces the image of a 3-D sound-field around the listener and has two headphone jacks that provides shared listening. The Light Harmonics GEEK Kickstarter campaign will be live through September 11th, 2013.
08 / 13 / 13
Waves MaxxAudio technologies are featured in Musicsoft Arts' Audiophile App for the iPad. The Audiophile Music Player iPad app is a virtual high-fidelity stereo system with superior sound performance, in part due to MaxxAudio technology by Waves. As a leading developer of DSP technologies for pro audio, consumer electronics and live sound, plus the recipient of a Technical Grammy Award, MaxxAudio leverages Waves professional audio technologies to improve sound quality in the creation of music, movie soundtracks and video games. Musicsoft Arts works closely with Waves to employ its Software Developer Kit (SDK) within the Audiophile app. This latest offering in the line of popular MusicSoft Arts music apps utilizes MaxxAudio as its DSP engine, allowing unprecedented real-time processing and control for the user. The MaxxAudio SDK, which is available to developers, provides custom settings to match the speakers or headset being used, and further allows users to customize their sound using individual parameter adjustments within the Maxx module of the app. Audiophile features an optimized display for both portrait (vertical) and landscape (horizontal) iPad orientations, along with full integration with iPad's built-in music control features. Users also have access to a free limited test-drive of MaxxAudio and Waves EQ, Audiophile's premium sound-enhancing features. Audiophile's seamless interface provides complete control over playlist and sound, allowing users to play songs from their own music collections as well as from cloud-based sources. Audiophile is fully connected to the cloud, allowing mobile music fans to discover great songs from a variety of Internet music sources, add them to their Audiophile Playlist, and boost the Bass and Loudness of cloud music with MaxxAudio, Audiophile's audio enhancement features.
08 / 12 / 13
Boulder Amplifiers launched their new 2110 Preamplifier and 2150 Mono Amplifier ($54,000 and $49,00 each respectively) this past weekend. The 2110 and 2150 will be the first components in the new and expanding 2100 Series of products. The 2100 Series is Boulder's highest performing continuously produced product line. Hallmarks of Boulder's 2110 Preamplifier include front panel buttons and volume control disc, with every part and circuit of the 2110 Preamplifier being new and redesigned from its predecessor. This four chassis design features the total isolation of left and right audio channels, logic and user interface sections, and power supplies. Complete surface-mount circuit board construction manufactured on Boulder's own design that increases reliability, consistency and optimized ground planning while at the same time reducing signal path length, PCB capacitance and noise radiation. Boulder Amplifiers new 2150 Mono Amplifier is entirely new and all technological changes are primarily derived from Boulder's 3050 Mono Amplifier. Among the numerous changes include pure linear Class A operation, with the bias current being actively monitored and adjusted in order to increase efficiency and reduce wasted radiated heat energy. Gain stages within the 2150 are Boulder's proprietary 99H2, which is unique to the 2100 Series amplifiers. 99H2 gain stages feature surface-mount electronic design and a new machined and potted housing to increase thermal stability. The 2150 utilizes a grand total of 80 output devices, 48 filter capacitors and 3 toroidal power transformers to generate power output of up to 1000 watts into any load with massive current swings capability. There is full Ethernet IP control capability and a 12V trigger mini-jack connection for use with advanced control systems and triggered home cinema installations.
08 / 09 / 13
VOCO has collaborated with Murfie to be the world's first widely available service to wirelessly deliver lossless 16-bit/44.1kHz CD quality music to mobile device users. The collaboration marks the launch of Murfie's newest streaming service, Murfie HiFi specifically for VOCO, as the first service in the world to provide lossless streaming playback online. VOCO's intuitive voice and touch user interface leverages the best in Wi-Fi broadband connectivity, smartphones, tablets, and cloud-based content management. Simply download the VOCO Controller app for your smartphone or tablet from Google Play, or the Apple App Store, and you will transform your device into a complete media system controller. VOCO includes technology that enables your NAS drive too! By installing VOCO's NAS Software you can access all the media stored on your NAS drive and stream it to your VOCO Media System. This provides you the freedom to access and manage content throughout your home using the power of your voice! How it works: Subscribers to Murfie HiFi streaming service send their CDs to the online marketplace, where each CD is ripped into a Free Lossless Audio Codec (FLAC) format. Those audio files are then added to each subscriber's personal "locker" in the Cloud where they can be accessed via the VOCO Controller App on a smartphone or tablet. Because only VOCO offers wireless streaming devices capable of delivering the high fidelity sound of lossless files throughout the home, consumers are rewarded with true CD-quality. "Murfie now warehouses nearly 500,000 CDs, all belonging to our subscribers" said said Murfie CEO Matt Younkle. "Each of these has been streamable over the Internet, but only now... can our members stream their CDs losslessly in the full fidelity that the artists and engineers intended. I'm finally able to stream my entire collection with zero compromises in (CD) music quality." Murfie HiFi Club is $99 per year and provides music lovers to lossless stream FLAC files with VOCO in addition to enjoying all Murfie Gold benefits.
08 / 08 / 13
LG's upcoming G2 phone packs in modern features including 5.2" HD IPS screen, 13 MP camera with 8x digital zoom and the ability to play lossless 24-bit/192kHz audio files. Coming with the Snapdragon 2.26GHz quad core CPU, 32GB ROM and 1920 x 1080 full HD IPS screen, the new G2 sports a variety of modern features. Now that Wolfson's latest WM5110 mobile 24-bit/192kHz DAC chip is showing up in devices, first reported in May 23 here @ Enjoy the Music.com's Industry News page, audiophiles and high fidelity enthusiasts will soon be able to travel with a single device to hear their high resolution music and answer phone calls plus other mobile computing tasks. Wolfson's M5110 is the industry's first quad core High Definition (HD) Audio Processor System-on-a-Chip (SoC). This new highly-integrated, low power HD Audio Processor with advanced DSP feature set is designed to deliver HD Audio performance of 24-bit/192kHz for smartphones, tablet computers and portable multimedia devices. The WM5110 provides 110dB signal-to-noise ratio (SNR) and a fast 600 MIPS of processing power, while only requiring 3mW DAC to headphone power consumption, making it the most powerful and efficient HD Audio Processor on the market. Other features of LG's G2 include Audio Zooming that enables users to zero in on specific audio source by zooming in on your subject while recording video. This unique feature uses three stereo mikes, which amplify sound from the specified angle and deemphasize the surrounding noise. If you want to enjoy the music, then simply plug in your headphones and go. The unit provides easy file sync simply by plugging in a USB cable and the G2 intuitively shows you the icons for features that require earphones or USB cables when you plug them in. This allows faster access to the apps you desire. The LG G2 comes with a large 3000 mAh battery for hour after hour of musical pleasure.
08 / 07 / 13
CA Electronics new Ceramic LP Puck HW SE (Heavy Weight Special Edition, €500) version is now available. This special edition offers real 23.5 carat gold on top combined with the finest Bentley spec leather on the side. This provides the new model a stunning results and a luxurious look and feel. CA Electronics' Ceramic LP Puck HW SE aims to prevent resonances from the turntable reaching to the critical cartridge/vinyl interface. The weight if the unit will also push the center of the record towards the turntable platter to aid in further stabilizing and flattening. Each unit is carefully handmade in the Netherlands. Specs of the new Ceramic LP Puck HW SE include:
• Weight: ~480 gram
• Height: ~59 mm
• Cross-section bottom: 75 mm
• Cross-section top: 80 mm
• Made out of special and improved Ceramics
• Real 23.5 carat gold on top
• Bentley spec leather sides
• A bushing at the bottom ensures good fit plus protects the ceramic
Music Industry News 10 Years Ago

August 12th is the day Thomas Edison invented the phonograph back in 1877. To commemorate this event, Vinyl Record Day is to be celebrated on August 16th (2003) at Pasadena City College's Flea Market in Pasadena, California. Vinyl Record Day is the brainchild of Gary J. Freiberg, a music enthusiast and patent holder of "The Record Album Frame," an acrylic frame to display album cover art. The frames have decorated the halls of the Smithsonian, the Hard Rock Hotel Orlando; they are the only product of their kind sold at Graceland and the Rock & Roll Hall of Fame. "The objective of Vinyl Record Day," says Freiberg, "is to remember that, whatever we go through on a personal or national level, life has its goodness. Music is the primary vehicle to our fondest memories, Vinyl Record Day is to celebrate and remember them." This holiday will also be recognized by the Rock and Roll Hall of Fame in Cleveland in a celebration on August 23rd, 2003.
08 / 06 / 13
Meridian has announced the introduction of their Director ($699), a high-quality DAC (Digital to Analogue Converter) with the goal to deliver superior audio performance from digital sources such as media players including the Sonos unit, CD players and computers. Built in Britain, the small black Director links digital sources to an analogue audio system. Key features of the Meridian Director include digital audio from USB, TosLink optical and S/PDIF coax, with upwards of 24-bit/192kHz as the highest resolution. The direct-coupled, fixed output for connection to an audio system ensures high fidelity sound quality. Meridian Resolution Enhancement technologies in the Director include Upsampling and Apodizing. Internally, Meridian carefully selected 'music grade' power supply capacitors whilst the four-layer PC board minimizes noise and improves performance. The entire unit is draped in a very durable, elegant anodized metal enclosure for long life and high reliability.
Chord Electronics had added DSD 64 over Ethernet for their DSX1000. The company's high-performance digital network music player, the DSX1000, now offers DSD 64 file playback over Ethernet and thus providing audiophiles even greater opportunity to enjoy high-resolution music from the company's reference-level streamer. The DSX1000 now includes DSD 64 functionality without any increase to the retail price. In addition, existing customers can get the upgrade for free via the internet, with a simple push-button menu option from the unit's display screen. To quote Chord Electronics, "We have been pioneering the implementation of DSD playback into our product line and this latest update follows the recent launch of the DSD 128-compatible CodeX streamer, the world's most advanced network music player, launched at the beginning of July. The implementation of DSD 64 into the DSX1000, enables audiophiles to access an emerging world of stunning, high-resolution material in addition to 24-bit/192kHz PCM files, which the unit is already capable of processing via its world-renowned proprietary DAC technology."
ALERT: Stolen Gear
Theft Report from Brian Ackerman of Aaudio Imports
On Friday my truck was broken into in the state of Nevada at the hotel I was staying at on my way to the California Audio Show. All the Ypsilon gear was stolen, Aelius amps, PST100 MKII, DAC100 & CDT100. Along with several Stage III cables, several HB Power Distributors, Acapella platforms and tools. Damage to my truck and a broken back window. I filed a police report and they have a detective on the case. The retail value was around $250,000 USD... the thieves didn't get the remote controls for the PST100 preamp or CDT100 CD player, so whomever tries to purchase these units will probably be looking to purchase the remotes at some point because the units won't work without them. Then we can turn them over to the police department immediately after getting their information. The gear was stolen in the city of Sparks Nevada, USA on Friday August 2nd, early morning. Any information on this matter can be set directly to detective Jason Edmonson.
A list of the gear stolen includes the Ypsilon Aelius amplifier, Ypsilon PST100 MKII, Ypsilon DAC100 D/A Converter, Ypsilon CDT100, HB Cable Design PowerSlave Marble (x3), HB Cable Design PowerSlave Acrylic, HB Cable Design PowerStar Horizon (x2), Stage III Concepts Kraken Pwr. Cord (x5), HB Cable Design Proton power conditioner cord, Acapella Fondato Silenzio Isolation Platform (x5) and various specialty tools. Thanks for your support in this matter.
Best regards,
08 / 05 / 13
Harman's JBL brand of speakers has added their new Professional 3 Series model LSR305 and LSR308 that offers high performance yet at a low price ($200 and $325 respectively). As the first studio monitor line to incorporate JBL's patent-pending Image Control Waveguide, their 3 Series is designed to deliver exceptional imaging and detail in any listening environment. With a distinctive appearance, rugged build, pristine sound, the JBL 3 Series features two models: the LSR305, 5" powered studio monitor; and the LSR308, 8" powered studio monitor. JBL's LSR305 has a response from 43Hz to 24 kHz and a peak SPL of 108 dB, while the LSR308 features a response of 37Hz to 24 kHz and a peak SPL of 112 dB. Surrounding the high frequency tweeter, and located directly above the woofer, the waveguide precisely controls the sound emanating from the monitor in the vertical and horizontal planes. With a complex contour employing tiny, meticulously engineered ridges, the waveguide optimizes the phase relationship of the loudspeakers, and also the blend of directed and reflecting sound arriving at the listening position. JBL's new 3 Series' long-throw woofer and damped woven composite tweeter are designed from the ground up to reproduce powerful transients and micro dynamics. JBL's patented Slip Stream low-frequency port design works in concert with the woofer to produce deep bass response at all playback levels. The double-flared shape of the port is precisely engineered for greater low-frequency extension and reduced turbulence. Highly efficient Class D amplifiers provide power to the drivers to deliver the output and dynamic headroom needed for the most demanding production styles. Other features include multiple inputs, a detented volume control and an input sensitivity switch for compatibility with professional and consumer equipment. Using 3 Series low and high-frequency 'TRIM' switches, the user can tailor the loudspeaker's response to compensate for room acoustics, program material and personal tastes.
The Cable Company's 18th annual summer against hunger campaign has just begun; with 50% to 100% of the money you spend on your stereo in August can be put to work for humanitarian relief efforts. Once again this August, when you purchase from special sponsors' products the Cable Company and sponsoring vendors plus other CARE donors will send an amount equal to your purchase to CARE. Purchase all other products from The Cable Company (and UsedCable.com) and an amount equal to half of your purchase goes to CARE. Enjoy the Music.com has been extended special thanks from The Cable Company as we have graciously provided additional ad space to help them promote this great effort.
08 / 02 / 13
Von Gaylord and Enjoy the Music.com are giving away a pair of the company's VG-8 reference two-way speakers! To celebrate the company's 20th Anniversary, for a limited time Von Gaylord is offering their VG-8 at 50% off the normal price of $7995. While not part of the contest, they are also extending this celebration by giving 50% off for the Von Gaylord Starlet 4 50wpc stereo integrated amplifier too while supplies last! The VG-8 two-way unit are the newest entry level speaker to the Von Gaylord lineup. Driver compliment includes a 1.5" titanium dome tweeter mated to a custom designed 8" fiberglass cone midrange/woofer. A carefully designed pyramid-shaped cabinet ensures precise driver time alignment for accurate sound. Internally, the ported cabinet is braced to prevent unwanted resonances that cause cause distortion to the sound. Carefully chosen high-end crossover components further extends the overall sound quality. Von Gaylord's VG-8 two-way bookshelf design is wrapped it in a gorgeous piano black finish, with gold plated binding posts on the back ensure excellent speaker cable contact. To learn more and enter for your chance to win click here.
VPI Industries new Classic Companion turntable ($4000) comes complete with virtually everything needed in an easy to setup package. The Classic Companion features VPI's beautifully finished Walnut Classic 2 body that is made and hand finished in the USA. To ensure speed stability of the rotating platter, the 24 Volt AC synchronous motor assembly feeds the unit a pure signal whilst the external step down power supply easily handles unstable line voltage. VPI's Classic Companion includes a standard VPI Classic 2 10.5" gimbaled tonearm with a custom Grado Companion cartridge that has a replaceable stylus assembly. Adjustments of the tonearm include VTA (vertical tracking adjustment) on the fly, a precision adjustable counter weight and of course adjustable anti-skate. Measuring at 2" thick, the 20 pound aluminum Classic platter rides on an inverted bearing.
Emotiva has introduced their second generation amplification with the launch of their new XPA-2 Gen 2 stereo power amplifier ($899). Visually highlighted with new chassis design, a variety of upgrades extends the performance as compared to first generation models. Emotiva refined the XPA-2's circuit topology for higher fidelity yet lowering the noisefloor. Several mechanical improvements have been adopted including solid machined gold-plated RCA jacks, high-quality metal toggle switches for input selection, and new aesthetics of the high-strength chassis. Emotiva's XPA-2 Gen 2 has increased power as compared to the first Gen version, which in Gen 2 form produces 300 watts RMS per channel at 8 Ohms. The XPA-2 Gen 2 can be switched into monoblock mode to deliver 1000 watts RMS into an 8 Ohms load. Internally, the unit is fully discrete, dual differential, produces high current, and has a short signal path. The Class A/B topology is powered by a 1200VA toroidal transformer with 45,000uF of storage capacitance. Inputs include analog unbalanced RCA or balanced via XLR and output is via gold-plated high quality 5-way binding posts.
Linn announced today that they are establishing their own direct distribution in North America. Linn's arrangements with current distributor TC Group Americas Inc. will conclude on October 1st, 2013. "Linn have enjoyed a long and successful relationship with TC Group Americas and we thank them for their valued contribution. We are looking forward to working directly with our specialist dealers in North America and investing in a territory that plays an important part in our strategic growth," said Tony Owens, Finance Director at Linn. North America is a vital market for Linn, contributing significantly to the brand's success in recent years. Both TC Group Americas and Linn are striving to ensure a seamless transition for the dealer base, and to aid this transition, Linn will be retaining key personnel operating in both Canada and the USA. Marc Bertrand, CEO of TC Group Americas, comments "A great deal of care will be taken to make this handover virtually transparent to our dealer base and we wish Linn all the best for the future."
08 / 01 / 13
Enjoy the Music.com's August issue of our Review Magazine features three World Premiere equipment reviews, the much anticipated Astell&Kern AK120 review plus much more! Our August giveaway allows you a chance to WIN a pair of $3500 Von Gaylord VG-8 speakers! See the August Review Magazine by clicking here.

Regular Reading
Daily News: Audiophile news updated each weekday!
BAS Speaker
Sound Reproduction: Loudspeakers And Rooms
Book written by Floyd Tool
Loudspeakers, rooms, and books aren't perfect.
Review By Howard W. Ferstler
Sound Practices
Core Issues: Choosing A Power Transformer
Article By Michael S. LaFevre Of MagneQuest
VALVE Magazine
The Venerable Dynaco Stereo 70
Article By Dan Schmalle
Contest!
Enjoy the Music.com August Contest!
Win a set of Von Gaylord VG-8 $3500 speakers!
Show Reports
Capital Audiofest (CAF) 2013 Show Report
Kool Kat Kemper chimes in with his show coverage.
Viewpoint
In This Issue...
Three world premieres, revisiting my Memo, the much anticipated Astell&Kern's AK120 review and more!
Article By Steven R. Rochlin
Audiolics Anonymous Chapter 165
Pure Power+ 3000 And PurePower + 1500 Regenerators
Article By Dr. Bill Gaw
Skoff'ing Up Food For Thought
The small stuff.
Article By Roger Skoff
Manufacturer Article
Michael Green Speaks His Mind About The Biggest Question...
Reply To Steven R. Rochlin's "My Memo To The Industry"
Lifestyle & Design
Stern's Rolling Stone Pinball Machine
Vintage rock meets vintage gaming.
Article By Steven R. Rochlin
Super Awesome Sylvia's WaterColorBot By Evil Mad Scientist Labs
A modern-day Etch-A-Sketch for robotic enthusiasts!
Article By Steven R. Rochlin
NVIDIA Quadro 6000 Professional Graphics Card
Professional graphics solution for hardcore users.
Article By Steven R. Rochlin
Audiophile Equipment Reviews
World Premiere!
Arte Forma Audio Elyssa Vacuum Tube Stereo Integrated Amplifier
New old technology...
Review By Rick LeFaver
World Premiere!
LKV Research Phono 2-SB Phonostage
An excellent and highly accurate Class A phono-pre with zero feedback.
Review By Tom Lyle
World Premiere!
Furutech DF-2 Disc Flattener
Plus the system that time forgot.
Review By Ray Chowkwanyun
Astell&Kern AK120 Portable Audio Player
Digital music on-the-go finally reaches true high fidelity status.
Review By Steven R. Rochlin
Audio Electronics Hercules EL34 Vacuum Tube Stereo Amplifier
Cary's new leader in the crowded EL34 field.
Review By A. Colin Flood
Rogue Audio Sphinx Tube Hybrid Integrated Amplifier
A price versus performance bargain!
Review By Ron Nagle
Triode Wire Labs Plus Power Cords
High-fidelity power cord without the prerequisite exotic pricing.
Review By Jonathan Lo
Zu Audio Union Loudspeaker
Outstanding transparency and uncompressed dynamics.
Review By Rick Becker
Partner Magazine Reviews
The Absolute Sound
Marantz Reference Series PM-11S3 Integrated Amplifier
And The Marantz SA-11S3 SACD/CD Player
Review By Paul Seydor
Magico Q7 Loudspeaker
Review By Robert Harley
Hi-Fi+
First Listen: Abyss AB-1266 Planar Magnetic Headphones
Review By Chris Martens
Spendor A3 Loudspeakers
Review By Alan Sircom
Hi-Fi World
The Beatles Stereo LP Box Set
The Beatles discography on vinyl.
Review By Paul Rigby
Astell&Kern AK120 Portable Player
Uprated line amplifiers put the new Astell&Kern AK120 portable music player ahead of the field.
Review By Noel Keywood
HIFICRITIC
Valves or Tubes? (PDF preview)
Paradoxically, the 'Valve' Amplification Company is an American operation
Article By Rafel Todes and Martin Colloms
High End 2013 Part 2 (PDF preview)
Markus Sauer provides a German perspective on this year's big event!
Music Reviews
Classical Music
From San Francisco, Michael Tilson Thomas offers a magnificent, great-sounding Beethoven Ninth Symphony.
Review by Max Westler

From Reference Recordings, great-sounding, commendable performances of British music from the American Midwest.
Review By Joe Milicia
Rock, Techno, House, etc.
Daft Punk
Random Access Memories
Listening to the vinyl two 180 gram LPs...
Review By Claude Lemaire
See the August Review Magazine by clicking here.
---
For previous high-end audio industry news click here.