High-End Audio / Audiophile & Music Industry News
---
01 / 30 / 20
Countdown To Florida Audio Expo 2020 Next Weekend
Florida Audio Expo 2020 happens next week, Friday through Sunday, February 7th through 9th, at the Embassy Suites by Hilton Tampa Airport Westshore. Free admission grants access to 66 exhibitors — up from last year's total of 41. Many of these exhibitors will unveil new products, giving attendees the opportunity of being among the first to experience some of the best high-performance audio equipment — electronics, loudspeakers, turntables, headphones, and more — from all over the world.
Lossless Hi-Res Music online streaming service Qobuz returns as the FLAX's official streaming service, and David Solomon, Chief Hi Res Evangelist, Qobuz USA, will host his famous Flash DJ sessions throughout the show. Again, there is no cost to attend FLAX 2020; however, attendees are encouraged to register in advance, so that we can ensure that Expo 2020 doesn't exceed the hotel's maximum daily capacity. See registration link here. Note: Saturday is already at full capacity(!).
World Premiere Review
Pathos Acoustics Classic Remix Integrated Amplifier / Headphone Amp w/DAC
Combining the musicality of tubes with the drive of solid-state amplification.
Review By Dr. Panagiotis Karavitis
Yours truly spent a dozen years in Italy studying and tasting some dolce vita in cities like Rome and Florence. He fell in love with the bell paese and everything beautiful coming from that country; most of all the style. Italians have this way of creating that transcends typical "good taste" into something deeper, sophisticated and cool at the same time. Think about Maserati and Alfa Romeo, Armani and Valentino and you get the idea. The same can be said for their high fidelity audio products.
---> Read More
01 / 29 / 20
Schiit Releases Their New Unison USB Interface
Schiit Audio announced the immediate availability of their Unison USB input ($150, or $200 if installed by Schiit) for all of its upgradable DACs (Bifrost, Gungnir, and Yggdrasil.) Unison USB is Schiit's unique, proprietary USB input that is the result of two person-years of development. Running on a general-purpose Microchip microprocessor (rather than a typical XMOS or C-Media solution), Unison USB provides superior UAC2 performance at very low current draw from the host, as well as complete electromagnetic and electrostatic isolation.
All models of these DACs, regardless of age can be upgraded to Unison USB. Gungnir requires a motherboard firmware re-flash, which means it needs to come back to Schiit for the upgrade. Bifrost and Yggdrasil can be upgraded by any competent technician, or can be sent back to the factory, at the owner's choice. If a customer chooses to have Schiit do the upgrade, they can continue to enjoy their DAC until it is ready to be upgraded, thanks to Schiit's upgrade queuing system. All new Gungnir and Yggdrasil models will now include the Unison USB input standard. Gungnir cost increases to $899 for the delta-sigma model, and $1299 for the Multibit version. Yggdrasil increases to $2449.
Qualcomm Next-Gen Smart Speaker Technology SQ
Qualcomm is improving next-generation smart speaker sound quality, as demanded from consumers worldwide. In the last two years, it has become clear that richer sounding audio playback is the #1 most important feature for smart speaker shoppers. In Qualcomm's State Of Play 2019 consumer audio report, published earlier this year, research showed that the demand for great sound quality — already the top-ranked driver for smart speaker purchases — actually increased year-over-year since 2018. In fact, consumers care more about their audio experience than they do about speaker price.
Integrating superior audio capabilities for richer, more immersive listening experiences into the next generation of smart speakers will be one of the most powerful ways to appeal to consumers — helping to expand the reach and scale of this exciting product category. Advanced, highly integrated technologies like our Smart Audio 400 Platform enable brands to build better performing smart speakers with more sophisticated use cases at all tiers. As this next wave of devices start hitting the shelves, shoppers can expect a wider selection of smart speakers to choose from — and with improved listening experiences. higher volume playback without distortion and higher-quality audio that does justice to all your favorite tunes is the goal. Richer connectivity — to the cloud, and to other devices. All these features will be combined with ever-smarter services from Alexa — and not just in the smart speaker category, but across all types of smart devices.
Grammy Awards TV Show Reaches A New Low
While many music lovers and musicians globally appear to not be satisfied with the current state of the music industry, "Music's Biggest Night", a.k.a. the Grammy Awards TV show, wound up being the least watched broadcast in its' history. While the live audience accounted for an impressive 18.7m on Sunday night within the United States, overall it is down 6% as compared to 2019 according to Nielsen data. This is a decline of 1.2m viewers as compared to 2019. Yet it gets worse as the music industry loves the critical 18 to 49 year old consumer, and in that regard a mere 5.4% of viewers in this category watched CBS's broadcast of the Grammy 2020 TV show live.
But wait, there's more as while there were a grand total of ~307.3m people within TV households, Nielsen alludes that the Grammys 2020 audience was 18.7m, which means just 6.1% of the overall TV viewership within the USA bothered to watch. In fact this is the lowest number of eyes watching the Grammy Awards since 2013. Enjoy the Music.com will allow our wise and musically talented readers to further speculate why this TV show has declined to new lows.
01 / 28 / 20
AES Honored With Technology & Engineering Emmy Award
The National Academy of Television Arts & Sciences (NATAS) has honored Audio Engineering Society (AES) for "Development of Synchronized multi-channel uncompressed audio transport over IP Networks" in the 71st annual Technology & Engineering Emmy Awards. The award will be presented within a special ceremony at the upcoming NAB Show at the Wynn Encore Hotel and Spa on Sunday, April 19th, 2020, in Las Vegas, NV. The distinction for "Development of Synchronized multi-channel uncompressed audio transport over IP Networks" cites the AES alongside ALC NetworX, Audinate, Kevin Gross, QSC, Telos Alliance and Wheatstone. AES's AES67 standard for high-performance streaming audio-over-IP interoperability was introduced in 2013. AES67 compliance allows audio content interoperability between the proprietary IP-based audio networking protocols developed by the Emmy co-winners: RAVENNA, Dante, Q-Sys, Livewire+ and WheatNet-IP. Co-Emmy-winner and AES Fellow Kevin Gross led the AES67 Standards effort and is the chair of the AES Technical Committee on Network Audio Systems.
"The improvement from audio networking born in the mid-1990s to new IP-based solutions emerged as a simultaneous invention from the honored companies," says Kevin Gross. "While collectively this represented a technical improvement, interoperability was not addressed until the AES initiated the X192 project on audio interoperability. Thank you, Steve Church, Rich Zwiebel, Philip Lawo and Andreas Hildebrand – leaders at the honored companies who understood the potential for a standard to take audio networking to the next level – and thanks to then AES Standards Manager Mark Yonge, who mentored the standard process." Colleen Harper, AES Executive Director, said "AES67 is an essential protocol that established a standardized language for audio transport, employed every day in the broadcast world and beyond. Its introduction in 2013 fundamentally changed the broadcast audio landscape and paved the way for recent similar developments for video, and we are honored to be awarded with a Technical & Engineering Emmy alongside our industry peers."
01 / 27 / 20
Amazon Music Has Achieved ~55 Million Paying Customers
On September 17 (2019) Amazon Music HD, perhaps the first mainstream Hi-Res Music streaming services to offer true lossless audio, let customers access and stream more than 50 million songs in High Definition (HD) audio. Subscriptions start at $12.99 per month for new subscribers, with current subscribers to Amazon Music paying only $5 per month plus their regular plan fee. In about four months, Amazon now claims to have achieved ~55 million paying customers to their online streaming music service globally. This marks a nearly 50% year-on-year growth within many markets including France, Germany, Italy, Japan, Mexico, Spain, the United Kingdom, and the United States of America.
"We're proud to reach this incredible milestone and are overwhelmed by our customers' response to Amazon Music," said Steve Boom, VP of Amazon Music. "Our strategy is unique and, like everything we do at Amazon, starts with our customers. We've always been focused on expanding the marketplace for music streaming by offering music listener's unparalleled choice because we know that different listeners have different needs. As we continue to lead in our investment in voice with Alexa, and in high-quality audio with Amazon Music HD, we're excited to bring our customers and the music industry even more innovation in 2020 and beyond." You can enjoy a 90 day FREE trial of Amazon Music HD at this link.
01 / 25 / 20
Happy Lunar New Year
May the Year Of The Rat bring you and your family joy, abundance, and prosperity.
01 / 24 / 20
KEF Is Now Shipping Their KF92 Active Subwoofer
KEF's new KF92 subwoofer ($2000) features twin 9" drivers aligned in a 'force-cancelling' configuration. Two massive 9" drivers are powered by an immense 1000 Watts of power. Optimized with KEF's Music Integrity Engine, KEF's KF92 subwoofer delivers astonishing levels of deep and controlled bass according to the company. KEF says, "To reproduce serious bass you need a completely different kind of loudspeaker, one which can cope with huge pressure. KF92 is engineered to blast out huge chunks of lower frequency energy, yet is subtle enough to pick out the delicate details of a double bass. KF92 ensures you don't just feel the air move - you feel the sound move you."
Two 9" drivers are positioned back-to-back in a force-cancelling design which cancels out the reactive forces which stress conventional subwoofers. This configuration keeps their KF92 perfectly balanced so all you'll hear is deep and clean bass at sound pressure levels of up to 110dB. The 9" driver was designed and engineered conceived specifically for the KF92. They feature a hybrid aluminum/paper cone and an oversized motor system and voice coil. KEF's research into digital sound processing - Music Integrity Engine - is the brains behind KF92. Intelligent Bass Extension optimizes the relationship between the amplifier, drivers and cabinet, while placement-dependant EQ allows for seamless integration into any room. With 1000 Watts (RMS) of Class D amplification (500W RMS per driver), this aid in creating immense power, and thus delivering incredible levels of control. Furthermore, it also improves timing accuracy and dynamic response, producing a more detailed sound closer to that in the studio.
Silversmith Audio Celebrates 20 Years With FIDELIUM
Silversmith Audio is celebrating their special 20th anniversary by announcing their new line of FIDELIUM loudspeaker cable. This new series is said to represent a 330% performance increase over the company's previous PALLADIUM speaker cables, yet at 1/10 the price. The skin-effect characteristics of Silversmith Audio's FIDELIUM alloy are up to 33 times superior to those of copper or silver says the company. The FIDELIUM speaker cable, already at less than a thousandth of an inch thick, is claimed to perform as if it were 5.5 times thinner, thus experiencing less frequency dependent attenuation and phase distortion than even a 0.00018 inch thick copper or silver ribbon, or 64 gauge wire.
The speaker cable design gains further sonic advantage by avoiding the significant sonic degradation caused by traditional spade and banana connectors. As a simple yet elegant solution, the cable itself is notched to facilitate connection to most binding posts. Geometry and alloy advancements contribute to the new FIDELIUM cable's performance. FIDELIUM speaker cable is offered in lengths and prices from four foot at $795 to ten foot at $1395.
Sonos Quickly Responds To The Error Of Their Ways
With the recent reports of Sonos 'bricking' many millions of older units due to the company's new and more modern product offerings, public outcry was unleashed and now Sonos has responded. Their e-mail we received is as follows:
We heard you. We did not get this right from the start. My apologies for that and I wanted to personally assure you of the path forward: First, rest assured that come May, when we end new software updates for our legacy products, they will continue to work just as they do today. We are not bricking them, we are not forcing them into obsolescence, and we are not taking anything away. Many of you have invested heavily in your Sonos systems, and we intend to honor that investment for as long as possible. While legacy Sonos products won't get new software features, we pledge to keep them updated with bug fixes and security patches for as long as possible. If we run into something core to the experience that can't be addressed, we'll work to offer an alternative solution and let you know about any changes you'll see in your experience.

Secondly, we heard you on the issue of legacy products and modern products not being able to coexist in your home. We are working on a way to split your system so that modern products work together and get the latest features, while legacy products work together and remain in their current state. We're finalizing details on this plan and will share more in the coming weeks. While we have a lot of great products and features in the pipeline, we want our customers to upgrade to our latest and greatest products when they're excited by what the new products offer, not because they feel forced to do so. That's the intent of the trade up program we launched for our loyal customers.

Thank you for being a Sonos customer. Thank you for taking the time to give us your feedback. I hope that you'll forgive our misstep, and let us earn back your trust. Without you, Sonos wouldn't exist and we'll work harder than ever to earn your loyalty every single day. If you have any further questions please don't hesitate to contact us.
Sincerely,
Patrick Spence
CEO, Sonos
01 / 23 / 20
Falcon LS3/5A Classic Small Two-Way Monitor Reborn
Resurrecting the old classic BBC LS3/5A that lives up against the older classics.
Review By Joseph Ki Cheong Ming
It is no secret that Malcolm Jones did most of the design and development of the legendary KEF drive units such as the B139, B200, B110, T15, and T27. He left KEF in 1974 having just completed the famous Reference Series 104 system and thus began work on an active professional monitor plus his new company Falcon Acoustics Ltd. When Falcon announced making LS3/5A, using all-new drivers that were said to 'voice' to the original KEF 15 Ohm drivers (B110-SP1003 and T27-SP1032), a desire was set on fire waiting in anticipation among all LS3/5A enthusiasts! My pair finally came after four gruesome months of waiting. This pair arrived and is the 25th pair of LS3/5A within my collection.
---> Read More
SD Association Celebrates Their 20th Anniversary
While many mainstream music lovers now stream their music via an online service, audiophiles also enjoy true lossless Hi-Res Music downloads for the highest of sound quality. Portable audio fans rely on both internal and external memory to store their fave tunes. And with that said, the SD Association (SDA) is celebrating its 20th Anniversary with a mission to reinvent the memory card. This has made life easier for consumers and businesses globally. Throughout the years, SD memory cards evolved, expanded capabilities, are faster, and became the number one card of choice. Today, these cards play a critical role in a variety of devices and uses unimagined 20 years ago.
The trusted family of SD memory cards give consumers and business users a choice, increase the usefulness, value and longevity of numerous consumer electronics by offering unprecedented portability, upgradeability and interoperability. SD memory cards have become the de facto storage device for billions of products in this mobility era when more storage is required. By 2023 and beyond, enterprises, machines, industries, consumers, science, and more will be generating 103 Zettabytes per year, according to IDC. Data generated by consumers and businesses, whether it is from smartphones, tablets, laptops, drones, or automobiles, rely on SD memory cards to keep their music, movies, and photos safe and always accessible.
01 / 22 / 20
Schiit Jotunheim R For Raal / Requisite Headphones
Schiit Audio's new Jotunheim R is the world's first and only direct-drive amplifier for the Raal / Requisite ribbon headphones. Jotunheim R eliminates the need for a speaker amplifier and interface box to drive these very low impedance ribbons, and thus substantially simplifying a Raal / Requisite system and while offering the potential for higher performance. Pricing for the Jotunheim R is as just an amplifier is $799, add in an internal True Multibit DAC card at $999 total, or with the external Bifrost 2 DAC at $1399. This one-box solution is said by Schiit Audio to be ideal for professionals who want to use the Raal / Requisite headphones for portable mastering. It also provides professional-level protection, with over-current and over-temperature shut-off.
Jotunheim R features Schiit's exclusive, unique Nexus gain stage, which debuted on Ragnarok 2. This inherently balanced, differential discrete stage handles both balanced and single-ended inputs seamlessly, and provides very high performance. In Jotunheim R, the Nexus output stage delivers up to 14A RMS per channel at visible clipping, a current level that is usually only seen in speaker amplifiers. Jotunheim R was developed when Jason learned of the need for a super-high-current amplifier for the Raal / Requisite headphones. After several revisions the final product resulted in an all-new amplifier, the Jotunheim R, which shares only two parts with Jotunheim: its potentiometer and bottom chassis. Schiit Audio's Jotunheim remains in production for conventional headphones. Like all of Schiit's products, Jotunheim R is designed and built in California.
01 / 21 / 20
IsoAcoustics STAGE 1 Board And ISO- PUCK 76
IsoAcoustics announced a pair of brand new products: the IsoAcoustics New STAGE 1 Board portable isolation platform ($99.99) for music amps, and the IsoAcoustics ISO-PUCK 76 isolator ($79.99) for large studio monitors. The new STAGE 1 Board comes with STAGE 1 isolators integrated (previously, buyers would have to purchase the board and isolators separately). This unit provides a ready-to-go and easily portable isolation platform for monitor speakers, amplifiers, universal disc players, subwoofers, etc. The New STAGE 1 Board reduces resonance through support surfaces as well as internal reflections from returning back up the gear, while handling upward of 100 lbs in weight. STAGE 1 Board is supplied with grip-tape and measures 25" x 10" x 1.85".
The latest addition to IsoAcoustics' popular ISO-PUCK isolator series, the ISO-PUCK 76 is the largest model in the range so far – designed for heavier studio monitors, speakers and subwoofers. Boasting IsoAcoustics' patented sound isolation, ISO-PUCK isolators are designed to sit between the piece of audio equipment and its supporting surface. An upper flange suction cup adheres to the underside of the equipment, while the lower isolator anchors to the supporting surface. The arrangement decouples the speaker, amp or sub from the supporting surface, dampening resonance and improving audio clarity, stereo imaging and focus. The ISO-PUCK 76 has a weight capacity of 40 lbs per isolator. Three or more ISO-PUCK 76 isolators can be used depending on the weight that they are supporting. Each ISO-PUCK 76 measures 3" wide x 1.5" high.
01 / 20 / 20
Florida Audio Expo 2020: February 7th Through 9th
Music lovers rejoice as February's warm weather Florida Audio Expo 2020 show is sold out of exhibit space months before the event! The Florida Audio Expo is the place to be from Friday February 7th through Sunday the 9th at the Embassy Suites by Hilton Tampa Airport Westshore. Attendees will have the opportunity to experience the world's finest high-performance audio equipment in Florida's famous sunny weather. This includes audio electronics, legendary loudspeakers, terrific turntables, and must-hear headphones from the industry's most coveted brands. Hi-Res Music streaming service Qobuz returns as the Expo's official music source. There's no cost to attend the show; however, attendees are encouraged to register in advance so that we can ensure that the Expo doesn't exceed the hotel's maximum daily capacity. Enjoy the Music.com has quietly announced our very private mechanical timepiece event available to only 30 lucky people. If you'd like to attend this private event e-mail us, as only three spot remain available.
Cube Audio Nenuphar BASiS Single Driver / Sub Speaker
Cube Audio's Nenuphar BASiS (€15,900) is a single driver floortstanding loudspeaker based on the company's F10 Neo driver with an addition of new Cube Audio Sub 12. To have extended low frequencies and comfort of placing the speakers anywhere in the room, the lower cabinet houses an active 200 Watt Class AB amplifier that drives a 12" woofer, which also helps reduce the need for high Wattage amplification. The subs were designed to accompany the Nenuphar Monitors or classic Nenuphar so we used sealed cabinets for very low group delay and amazing accuracy. The full-range driver does not have any crossover, and thus the sound is as pure as the company offers. Complete regulation of SUB volume, phase with an addition of 0 - 6 dB gain in the range of 30 to 50 Hz make the sub a perfect match for the speakers. Available cabinet finishes are white and black.
​Cube Audio's Nenuphar BASiS is said to be a perfect match for a vacuum tube amplifier with at least three Watts per channel. This drives the 10" full-range driver, with overall system rating of 92dB/W/m. Cube Audio uses their new F10 Neo driver with ultra-powerful neodymium magnet motor and new cone geometry. A proprietary driver spider ensures the cone voice coil stays centered within the specially-designed neodymium magnetic structure. The voice coil is completely underhung with +/- 3 mm excursion in 100% magnetic field strength. The maximum excursion is +/- 6 mm. In order to maintain 0.01 mm tolerance of all elements, magnetic motor components are manufactured using computer-controlled CNC lathes. System overall frequency response is from 17Hz to 18kHz (-6dB).
01 / 17 / 20
Devialet Phantom Reactor Opéra De Paris Active Speaker
Devialet's new Phantom Reactor Opéra De Paris is an active loudspeaker with 900 watts and impressive sound quality aided by DSP. It also is a self-contained full sound system capable of streaming music, and fully controlled via easy-to-use app. The master gilders at Ateliers Gohard finished the Phantom Reactor Opéra De Paris' cabinet with glorious gold leaf side plates following time-honored methods. Each gold leaf is applied by hand to create a unique patina. And these heritage techniques demand absolute perfection — once the leaf has been applied, it cannot be removed. Bearing the Phantom Reactor Opéra de Paris, Devialet signature, the side plates are gilded with Moon Gold, a precious and stainless palladium-yellow gold alloy. With 900 Watts and a frequency response from 25Hz to 20kHz (+/-1dB), it can produce up to 98dB SPL at one meter.
Bose To Close All Retail Stores Within The USA
While Bose might not be considered the most 'audiophile' of companies, we're here to report the news. It does sadden us to report that Bose will be closing all 119 retail stores, and so there will be no more of their location within your favorite mall and airport within the USA. "Originally, our retail stores gave people a way to experience, test, and talk to us about multi-component, CD and DVD-based home entertainment systems," said Bose's Vice President of Global Sales Colette Burke. "At the time, it was a radical idea, but we focused on what our customers needed, and where they needed it – and we're doing the same thing now. It's still difficult, because the decision impacts some of our amazing store teams who make us proud every day. They take care of every person who walks through our doors – whether that's helping with a problem, giving expert advice, or just letting someone take a break and listen to great music. Over the years, they've set the standard for customer service. And everyone at Bose is grateful." Bose's 130 retail outlets within China, India, South Korea, and the United Arab Emirates will stay open for the time being.
01 / 16 / 20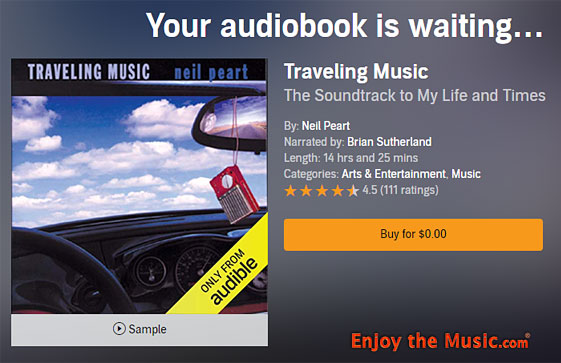 Free Books By Neil Peart Of Rush On Audible.com
With his recent passing (see January 11th news below), Audible.com is offering many of Neil Peart's books at no charge. As you probably know, Neil Peart was the drummer's drummer and enjoyed a long and critically-acclaimed career playing with the prog band Rush. Get Neil Peart's books for free at this link.
KEF Expands And Updates Reference Speaker Series
KEF is pleased to announce expansion of the KEF Reference finish selection for 2020. The 2020 lineup also introduces a new Silver Satin Walnut finish, and expansion of bespoke Kent Foundry Edition finishes (Blue Ice White and Copper Black) to the Reference 4c and 2c center speakers. KEF has also added a smaller Reference THX Certified Ultra In-Wall Custom Installation model for further installation flexibility. KEF's new Silver Satin Walnut finish utilizes a Silver Satin, tone-on-tone design encompassing the drive units within a solid, brushed aluminum front baffle. Pair-matched Walnut, real wood veneered cabinets compliment the speakers' overall design.
The Foundry Edition finishes, adorning the 2c and 4c center speakers pay homage to KEF's Maidstone beginnings, Blue Ice White hints at the blue of the original KEF logo, while Copper Black combines the latest Reference technology with an aesthetic that subtly evokes this rich pedigree. Together the finish selection consists of Piano Black, Silver Satin Walnut, Kent Edition Copper Black and Kent Edition Blue Ice White as the 2020 finish selection for floor, bookshelf and center channel models.
KEF has also added a further Reference In-Wall, THX Certified Ultra custom installation model to accompany the formidable Ci5160REF-THX model. The new, smaller Ci3160REF-THX makes use of the same Reference driver topology as the box designs and utilizes two 6.5" bass drivers and 6.5" Uni-Q driver array. The larger Ci5160REF-THX has four 6.5" bass drivers and 6.5" Uni-Q driver array. Both make use of the same Reference, solid aluminum front baffle, which eliminates unwanted vibrations. Each In-Wall model can be used in left, right, center, side and rear applications.
Reference 5 - Flagship three-way floorstander: $10,000 /ea.
Reference 3 - Mid-sized three-way floorstander: $7,000 / ea.
Reference 1 - Three-way standmounter: $4,000 / ea.
Reference 4C - Three-way center speaker: $7,500 / ea.
Reference 2C - Compact three-way center speaker: $5,000 / ea.
Reference 8b - Twin 9-inch driver 'force-cancelling' subwoofer: $7,000 / ea.
Ci5160REF-THX - THX Certified Ultra In-Wall Ci speaker: $10,000 / ea.
Ci3160REF-THX - THX Certified Ultra In-Wall Ci Speaker: $7,500 / ea.
Bob Ludwig On Digital Audio
It is hard to make an unmusical sounding LP (ticks and pops aside),
but it is easy to make a rotten-sounding digital recording.
From BAS Volume 18, Number 4 October 1989
It seems that my opinions about recording systems are being misquoted in certain quarters, so I'd like to set the record straight. First, I want you to know that I am a musician. I played first trumpet in a symphony orchestra before I was employed professionally as an engineer. Maybe I speak with forked tongue?! When the CD was invented (and I mastered the first CD ever mass-produced in America, Born in the USA) I stopped buying vinyl records.
---> Read More
01 / 15 / 20
HiFiMedia January 2020 Issue Now Available
HiFiMedia's January 2020 issue features AV & gadget news, plus gear reviews of the Pass Labs INT-25 stereo integrated amplifier, Pro-Ject Stream Box S2 Ultra Network Bridge, Marantz NR1200 stereo receiver, Samsung QE65Q90R 4K QLED TV, Davis Acoustics Balthus 30 loudspeaker, Samsung HW-Q90R soundbar, Denon AH-GC30 noise cancelling headphones, Bowers & Wilkins PX5 noise cancelling headphones, and Bose Frames audio sunglasses.
Within his editorial, Andrija Curkovic says, "Peter Fonda, a representative of a rebellious generation from the late 1960s, a hippie movement and rock and roll, has recently passed away; an actor, screenwriter and producer of the cult film "Easy Rider", identified by many contemporaries of the period. Seeking more freedom in the form of protests against political elites of the time, accompanied by rock concerts, has also spawned a group of musicians who are still considered the pinnacle of rock music. Many later became role models for others to establish their own bands and launch new musical directions - prog and glam rock, hard and heavy metal, punk, grunge...." See what's within this issue of HiFiMedia at this link.
Klipsch T10 World's Smallest 24-bit/96kHz Earbuds
Klipsch, having recently announced a multi-year partnership with McLaren Racing, says their new T10 earphones ($649) are powered by EAR Micro to help make them lighter than competitive products. EAR Micro designs, engineers and produces impossibly small hearable technology for world class brands. Yet Klipsch's T10 universal fit in-ear monitors are not just wireless earbuds, they're micro ear-computers. With an onboard micro-computer, this allows for audiophile quality sound at 24-bit/96kHz and nearly limitless programmable experiences.
EAR Micro has developed the first completely customizable hearable platform. Swap-out, upgrade and customize parts to fit your customers lifestyle. EAR Micro's tiny form factors fit fully and discretely inside the ear. At 3.6 grams, these earbuds weigh in as the industry's lightest. Custom Klipsch-tuned Sonion balanced armature aided by built-in computer processing brings a 10-band programmable parametric digital equalizer. Set-it and forget-it auto equalization recall, a technology first written about by Enjoy the Music.com's Creative Director Steven R. Rochlin years ago, enables equalization by song title or genre. This means your music is truly personalized just for you. EAR Micro technology can host native apps, provide bio-feedback, work with IoT Devices and much more. Quad-core ARM CPU running Bragi OS handles six-axis gyroscope, programmable touch, voice and motion interface. SDK allows for customizable programming too.
Pass Labs INT-25 Stereo Integrated Amplifier
The most musical amplifier I've had the opportunity to listen to.
Review By Review By Neven Kos of hifimedia magazine
It's been a while since I've had an opportunity to listen to some of the Pass amps officially. The last one was, if memory does serve me, an integrated INT-30 amplifier, a review you had the opportunity to read in this magazine (No. 81 / 2010). My experience with Pass Labs amps is not extensive, but it may be relevant. Before that integrated amplifier in my listening room I enjoyed my own amps over the years, such as integrated amplifier INT-150, power amp x150.5, preamplifier X1 and Aleph P.
---> Read More
01 / 14 / 20
NOVO Magazine Goes Digital For 2020
The Canadians are leading the pack as print publication NOVO Magazine (was CANADA Hi-Fi), a longtime partner with Enjoy the Music.com, goes digital online only. As the first print magazine to go pure online during 2020, with other high-end audio magazines expected to follow during 2020, we will continue our successful strategic alliance as online partners. "We've taken a bit of a break from publishing new content on the site over the last several weeks, but starting this week we're back at our desks and ready to roll out new content on a regular basis," says Suave Kajko, Publisher / Editor-in-Chief of NOVO Magazine.
"As you may have guessed from the title of this post, starting in January 2020 NOVO Magazine will be published online only – as we continue to evolve with the times. It's no secret that newspapers and magazines in print have been disappearing from newsstands around the globe, as an increasing number of readers turn to the web for all their news. As a reaction to this trend, today's advertisers also prefer to work with online publications were advertising is more affordable and capable of reaching a much wider consumer audience. Readers will gain access to all of our reviews and feature articles much sooner than in the past. Previously there was a several week delay between the publishing of the print edition and the time all the articles from each edition made their way online."
"There are a couple of other very important advantages to going all-digital," said Suave Kajko "I have long been an avid supporter of pro-environmental efforts and I'm very pleased that our carbon footprint will be reduced massively by eliminating the print edition. No more trees will be destroyed, no more toxic inks will be used to print the pages and no more vehicles will be used to deliver the magazines to stores. Further to this, going completely digital will also eliminate the challenges we have faced over the years as a publication that existed in print only in Canada. Shifting all of our efforts to the web will make NOVO Magazine a truly international publication that connects with more readers from around the world than ever before. This in turn should make the publication inviting to a larger number of advertisers from abroad."

Enjoy the Music.com's Creative Director Steven R. Rochlin says, "We are honored to be partners with NOVO Magazine since August 2013, and will continue our mutually beneficial relationship via content sharing as we do with Headphone.Guru and Positive Feedback magazine. This benefits both magazines by providing more content for each publication and cross promoting each website. We're also pleased in the environmentally positive move from print to web, plus the speed of content delivery to enthusiastic high-end audio music lovers is greatly improved too! Congratulations to Suave Kajko and their staff for having he courage to go pure digital during 2020 and beyond. Starting with Enjoy the Music.com's February Review Magazine our readers will benefit in seeing reviews by NOVO Magazine on our site, and our reviews on their website."
01 / 13 / 20
CanJam NYC 2020 Personal Audio Event In February
CanJam Global returns to New York City next month with CanJam NYC 2020 to feature the world's most innovative headphone and personal audio electronics. This exclusive event will take place on February 15th and 16th (2020) at the New York Marriott Marquis, right in the heart of Times Square. Featuring the home audio industry's leading brands in over 30,000 sq. ft. of exhibition space, CanJam NYC 2020 will showcase the latest products and innovations in headphones and personal audio electronics and is the largest headphone audio show within the United States. The headphone audio industry, one of the hottest trends today in Consumer Electronics, is expected to grow over 60% to reach USD $18 billion by 2023.
01 / 11 / 20
Virtuoso Percussionist, Drummer... Neil Peart Passes
It is with a heavy heart we report that Neil Peart, percussionist, drummer, and lyricist of the band Rush, has passed away. "It is with tears in my eyes when I heard the news," says Enjoy the Music.com's Creative Director Steven R. Rochlin, "Neil was far more than just a musician. He was a loving husband and father, a voracious reader, author, motorcyclist, and one who never compromised his principles and beliefs. Met him, and his first wife and daughter, while they vacationed in Florida back in the late 1980s. Neil also was not a fan of the overly commercial nature that unfortunately flourishes within the music industry. The world truly has become a bit less talented with his passing. Am personally finding it immensely difficult to put into words, and overcome my tears, to celebrate Neil's many joyous gifts he chose to share with the world. There truly are no amount of words I could type here that could ever come close to describing Neil's diverse talents, kindness, and understanding of human nature. We are truly blessed in having the opportunity to... uncompromising expression... loving... that he so freely shared with us all."
From Rush's website, "It is with broken hearts and the deepest sadness that we must share the terrible news that on Tuesday our friend, soul brother and band mate of over 45 years, Neil, has lost his incredibly brave three and a half year battle with brain cancer (Glioblastoma). We ask that friends, fans, and media alike understandably respect the family's need for privacy and peace at this extremely painful and difficult time. Those wishing to express their condolences can choose a cancer research group or charity of their choice and make a donation in Neil Peart's name. Rest in peace brother. Neil Peart September 12, 1952 – January 7, 2020."
"It's about being your own hero," Neil said to Rolling Stone magazine in 2015. "I set out to never betray the values that 16-year-old had, to never sell out, to never bow to the man. A compromise is what I can never accept."
01 / 10 / 20
BuzzAngle Music 2019 USA Music Consumption Report
BuzzAngle Music's 2019 report on USA music consumption shows a big decline in album sales while on-demand streams reach over 1,000,000,000,000 (one trillion)! In fact there were 1,010,000,000 on-demand streams, and for the third year in a row total consumption growth was up double-digits. The 13.5% growth in 2019 in total consumption was fueled by the continued growth of on-demand streams. Music consumers continuing to move more towards streaming, as on-demand consumption now represents 85% of all music consumption in the United States. This is a 7.6% jump over 2018 (77%). On-demand audio stream consumption in 2019 set a record high with 705 billion streams, up 32% over 2018's 534.6 billion audio streams. While album sales and song sales continued to decline, 23% and 26% respectively, vinyl album sales in 2019 experienced another double-digit growth year and was up 10.5% over 2018. Vinyl sales is the only bright spot on physical media with CD sales dropping a staggering 26% (44.9 million) while vinyl sales reached 10.7 million. Cassette tape consumption dropped 11.5% as compared to 2018 to achieve only 104.6k in sales. To put vinyl LP sales in perspective, total album sales during 2019 was 795.9 million, so 10.7 million LPs is small by comparison yet does provide very high profit margins for record labels per album.
Build Your Own Korg HA-S Headphone Amplifier
Korg's HA-S ($249) is a Nutube-equipped DIY stereo headphone amplifier kit that will let you enjoy high quality audio anywhere. No soldering is required, so even if you are new to the world of DIY, you will be able to assemble the HA-S to add a warm, analog tube-driven signal boost to any sound source in no time! Nutube is a fully analog vacuum tube developed by Korg and Noritake Itron Corporation. The same as a conventional vacuum tube, Nutube is constructed with an anode, grid and filament, and operates as a complete triode tube, effectively generating the response and same rich harmonic characteristics of conventional vacuum tubes in a more compact, stable and energy-efficient way. The transparent case of the HA-S delivers a glimpse into this technology; allowing the glow of the tube to be visible at all times.
The filament of the Nutube is powered by a DC to DC converter, which consumes less electric current and thus allows for long battery life. The design is so efficient that the HA-S can drive the Nutube with a line voltage of 26 Volts using only two A4 batteries. The HA-S has a special NFB (Negative Feedback) switch, that allows you to choose from a high fidelity clean and pristine sound, or a warmer, more harmonically rich sound as expected from a vacuum tube. When the NFB switch is OFF, the harmonics present in the Nutube (triode tube) will be amplified to create a sound rich in harmonics, warmth and textures. When the NFB switch is ON, the distortion ratio and frequency characteristics will be modified, creating a really detailed and clean sound. Korg has included two OpAmp options for the output: the premium audio oriented MUSES01 and the industry standard NJM4580, both from JRC. These can be easily replaced so even the most purist audiophiles will be able to customize and adapt the sound of their HA-S to heir heart's content. For advanced users who want to customize their amplifier even more, the circuit diagrams are readily available, making it really easy to change discrete components and make your own and unique headphone amp matching your desired tone and performance.
SoundID Brings Your Preferences To All Supported Devices
Sonarworks and 1MORE announce a partnership that will bring personalized audio technology to the consumer market in 2020. SoundID by Sonarworks is integrated into the 1MORE MUSIC app, and is based on the biggest ever research into sound preferences. With a 39,000 sample size, Sonarworks has developed a unique method of analyzing and augmenting sound using machine learning and big data-based sound preference and hearing tests. The result is that over 78% of listeners prefer SoundID enabled audio delivery over the factory default settings of any single headphone model. This partnership will enable users familiar with 1MORE's award winning acoustic design the flexibility to tailor their headphones to their exact listening preferences.
While not a new concept, and written about conceptually many years ago by Enjoy the Music.com's Creative Director Steven R. Rochlin, professional creators and listeners can define your own personal SoundID based on use case, device, hearing and preference. A quick one-time in-app hearing test that includes age, musical preferences, and hardware configuration will create your SoundID profile. That profile will be automatically enabled across all your devices to create a seamless listening experience that is individually perfected every time. Music can be enjoyed to the max, irrespective of how, when, or where you listen. And importantly, this collected data and analytics helps continuously improve your music listening experience everywhere and on all supported devices. Audio is personalized to each listener, with your custom profile making it a seamless experience with SoundID that delivers a unified sound preference to all your devices.
01 / 09 / 20
Audio-Technica ATH-AWKT And ATH-AWAS Headphones
Audio-Technica's new wood stereo headphones.
Review By Frank Iacone Of Headphone.Guru
Audio-Technica is known for building quality high-end audio products for both music lovers and audiophiles. The Japanese company takes pride in build quality headphones that offer the best sound possible in musical reproduction. The company has a reputation for building reference headphones with unique and often rare wood that is only available in Japan. Past renditions included the limited edition 65th anniversary Cherry Wood headphones which now have a cult-like following within the personal audio community. The new designs being reviewed continue with the beautiful designs of rare wood being used in both reference models.
---> Read More
The Neoteric Listener
Furutech DSS-4.1 Speaker Cables And DPS-4.1 Power Cable
Review By Dean Seislove Of Positive Feedback
Cables have it rough. Last in thought, least in budget, forever to be put to work quickly, and then quickly overshadowed by flashier audio gear. When gushing about an audio system, who starts with the cables? Nobody ever, that's who. Such neglect is a crying shame. Cables bear the precious audio signal like a yeoman's cart dispatched by his ladyship. They're the pack mules in the trip down the Grand Canyon; the Pontoon boat floating down the Mekon river. Without cables, your audio system deluxe is just odd-looking furniture. Cables deserve accolades, no matter how much contrary nonsense is spouted off by cynics. I deny the cable deniers!
---> Read More
FiiO M15 Hi-Res Audio Portable Music Player
FiiO's new M15 ($1299) packs dual flagship AK4499EQ DACs and fast SoC Exynos 7872 processor to deliver great sounding Hi-Res Music to your headphones and home stereo system. With 3GB of RAM aboard, the FiiO M15 also has 64GB of built-in memory to store your fave tunes, while it can also be expanded up to 2TB more via memory card. A5.15" HD display (720P) with 18:9 support is covered by high quality Corning Gorilla Glass. Both 2.4 / 5GHz dual band Wi-Fi support handles streaming services and connecting to your NAS drive. A 7490mAh battery provides 15 hours of music playback. There's both a 2.5mm balanced and 3.5 standard headphone jack, plus a 4.4mm balanced port as well. Qualcomm's flagship Bluetooth chip CSR8675 handles virtually every type of BT connectivity including two way LDAC. To reduce jitter to ensure precise digital audio, two class leading Femtosecond crystal oscillators from NDK and XMOS XUF208 control chip for direct decoding of 32-bit/768kHz and native DSD512. FiiO's M15 also decodes lossy proprietary MQA (8x) files.
The casing is CNC machined aluminum-magnesium alloy, there are five physical buttons with customizable functions for ease of control, and a one-click standby mode. A 21 Watt dual fast-charging stand is included. FiiO Link, DLNA, AirPlay, and Wi-Fi song transfer support brings music to you seamlessly and easily. At the headphone jack, a 32 Ohm load output is 490mW and balanced output of up to 800mW. With a 300 Ohm headphones, single-ended output is 70mW and balanced output of up to 275mW. Full Bluetooth formats supported include SBC, AAC, apt-X, apt-X HD, apt-X LL, LDAC, and HWA.
Bluetooth LE Audio Ups The Sound Quality And Features
As the names suggests, Bluetooth LE is a new low energy wireless audio system, which is backward compatible to existing devices, plus ups the sound quality of wireless audio. Classic Audio operates on the Bluetooth Classic radio while LE Audio operates on the Bluetooth Low Energy radio. LE Audio will not only support development of the same audio products and use cases as Classic Audio, it will introduce exciting new features that promise to improve their performance as well as enable the creation of new products and use cases. LE Audio enhances the performance of Bluetooth audio and introduces Audio Sharing, an innovative new use with the potential to once again change the way we connect with each other and experience the world around us. Bluetooth LE Audio includes a new high-quality, low-power audio codec, the Low Complexity Communications Codec (LC3). Providing high quality even at low data rates, LC3 will bring tremendous flexibility to developers, allowing them to make better design tradeoffs between key product attributes such as audio quality and power consumption.
Multi-Stream Audio will enable the transmission of multiple, independent, synchronized audio streams between an audio source device, such as a smartphone, and one or more audio sink devices. Bluetooth Audio Sharing can be personal or location-based. With personal audio sharing, people will be able to share their Bluetooth audio experience with others around them; for example, sharing music from a smartphone with family and friends. With location-based audio sharing, public venues such as airports, bars, gyms, cinemas, and conference centers can now share Bluetooth audio that augments the visitor experience.
Pass Labs XP-12 Preamplifier And XA30.8 Stereo Amplifier
Impressed by Pass Labs' INT-60 integrated amplifier, Kevin Fiske decides to check out the XP-12 and XA30.8 pre/power combo.
Review By Kevin Fiske
Having much admired the Pass Labs Int-60 integrated amplifier, which combined one-box practicality with a refined Class A performance that made it well worth Audio Excellence status, I subsequently asked the UK distributor if I might try a Pass Labs A30.8 power amplifier. With a stereo output of nominally 30W/ch, it had more than enough grunt on paper to drive my relatively efficient speakers (and quite a few less efficient designs besides). I left it to Pass Labs to suggest an appropriate pre-amp, and was sent the first XP-12 to land in the UK.
---> Read More
01 / 08 / 20
Mark Levinson No5105 Turntable / Record Player
HARMAN International, a wholly-owned subsidiary of Samsung Electronics, has introduced the Mark Levinson No5105 turntable ($6000, or $7000 with factory-installed MC phono cartridge). The No5105 is a premium precision-engineered turntable with a completely original custom design. This turntable features 1" thick, bead-blasted, black-anodized, solid aluminum front panels that are machined and contoured to flow seamlessly into the sleek glass display. The tinted glass is recessed into a bead-blasted, clear-anodized aluminum bezel, with aluminum Speed and Standby control buttons to match. The iconic Mark Levinson hourglass knob design is also featured as a record weight; bead-blasted machined aluminum with a gently curved profile mass loaded with solid brass. This silhouette is echoed in the custom aluminum tonearm gimbal.
A custom 10" high-gloss back carbon fiber tonearm tube is fused to a solid aluminum headshell with an integrated finger lift and 14 pound solid aluminum platter suspended on a ground, hardened steel axle rotates on ultra-precise bearings. An oil-free bearing bottom made of a mix of composite material with integrated lubrication and a maintenance-free sintered brass bushing ensures reliable operation for years to come. The Mark Levinson No5105 turntable's nearly 2" thick solid aluminum plinth is machined from a single billet and is suspended on three adjustable aluminum feet, each with a mixed-material internal suspension system. The integrated white bubble level aids in deck leveling. The 12V synchronous motor's control signal is digitally generated; therefore, it exhibits no temperature drift, ensuring speed stability and low wow/flutter. A signature platter mat and user guide are delivered stylishly in the No5105 12" double LP gatefold jacket.
Mark Levinson No5101 Network Streaming SACD Player / DAC
Mark Levinson's upcoming No5101 combines decades of superlative audio engineering with the latest acoustic and technological advancements. Combining audiophile digital disc formats with modern high resolution network streaming capabilities over Ethernet and Wi-Fi, plus standalone PrecisionLink II DAC and expansive control features, the Nº 5101 is a unique 3-in-1 solution. Mark Levinson's No5101 features the latest generation ESS PRO Sabre 32-bit D/A converter with jitter elimination circuitry and a fully balanced, discrete current-to-voltage converter form the heart of the digital audio processing stage. Five digital audio inputs are provided: one coaxial and one optical S/PDIF, and USB for playback of high resolution PCM (up to 24-bit/192kHz, Network (Wi-Fi and Ethernet) for streaming from a NAS drive which supports FLAC, WAV, AIFF, OGG, MP3, AAC and WMA, and an SACD input which supports disc formats including SACD, CD-A, CD-R and CD-RW.
Mark Levinson's No5101 utilizes a proprietary PurePath circuitry - a fully discrete, direct-coupled, dual-monaural line-level output circuit for exceptional reproduction of the analog signal, which is delivered to the balanced XLR stereo outputs as well as the single ended RCA connectors. A linear power supply with an oversized toroidal transformer is employed to ensure the widest bandwidth and dynamic range possible. System integration and communication ports include IP (Ethernet), RS-232, IR input, and 12V trigger input. A newly designed, aluminum IR remote is included with the Nº 5101. In addition, drivers are available for major control systems.
JBL L82 Classic Two-Way Bookshelf Loudspeaker
JBL has announced their new L82 Classic ($2500 per pair) compact two-way bookshelf loudspeaker featuring the company's advanced acoustic technologies. With a combination of iconic retro-inspired styling of its' larger family member, the L100 Classic (reviewed here), JBL's L82 employs their 1" titanium dome tweeter with waveguide (JT025TI1-4) and 8" pure pulp cone woofer with cast frame (JW200PW-6). There's a high-frequency level control to adjust the tweeter output on the front, with dual gold-plated binding posts on the cabinet's back. The cabinet is wrapped in genuine walnut satin wood veneer, fronted by JBL's classic styling Quadrex foam grille, which is available in a choice of black, orange, or blue.
This two-way bass reflex design is said to provide dynamic and authoritative sound even in larger spaces. The accessory JS-80 floor stands allow the L82 Classic to be used in a freestanding environment with the loudspeaker angling gently backwards to focus the sound to the listening position in the same manner as the JS-120 floor stands with the L100 Classic. In the storied tradition of JBL 8" two-way loudspeakers, the L82 Classic is sure to become a favorite of listeners around the world. Recommended amplifier power is from 25 to 150 Watts, it has a 6 Ohm impedance, and sensitivity of 88dB/W/m. Overall frequency response is from 44Hz to 40kHz (-6dB), with drivers having a crossover frequency of 2.5kHz. Dimensions with grille is 18.61" x 11.06" x 11.65" (HxWxD) and weight is 27.9 lbs.
01 / 07 / 20
Throwback Tuesday!
CES 2015 Live Stream Show Report
Celebrating 25 Years Of Service To Music Lovers Worldwide
Enjoy the Music.com, celebrating our 25th Anniversary in 2020, pioneered live streaming CES for the high-end audio community. It was indeed a massive amount of work in scheduling beforehand, optimizing photos so they looked great during the live broadcast, plus ensuing audio levels were good, video fidelity tweaks, etc. To make the live magic happen, it took three keyboards, two cameras, two laptops, one tablet, one pro video control surface... and working it all while Enjoy the Music.com's Creative Director Steven R. Rochlin was on camera as he broadcast live to the world. All 35 CES 2015 live videos can be seen at this link.
NAD Masters M33 BluOS Streaming DAC Amplifier
NAD Electronics just unveiled their Masters Series M33, a BluOS enabled DAC / amplifier that can serve as the heart of a reference whole-home system ($4999). With the employment of the new HybridDigital Purifi Eigentakt amplifier technology, NAD's M33 stereo unit produces a minimum of 200 Watts per channel. A 7" color display combined with BluOS brings ease of use for network streaming and multi-room operating. BluOS high-resolution multi-room systems has a growing ecosystem of compatible products that tightly integrate hardware and software for an exceptional user experience. Besides multi-room, another compelling feature of BluOS is its high-res streaming capabilities. The latter with MQA proprietary lossy decoding support from a local NAS or shared drive, plus internet streaming audio services. Among the some 20 supported services which offer high-res content are Tidal, Deezer, true hi-res lossless music on Qobuz and Amazon HD plus others. Music services such as Spotify, Amazon Music, Slacker, TuneIn, nugs.net and many others are also supported.
Also included is Dirac, a highly-regarded room correction system that not only adjusts for frequency response, but also optimizes the impulse response. By optimizing the speaker/room interface, music sounds more natural and lifelike. NAD's M33 also has a high-quality selectable MM or MC phono stage to bring out the best in LPs. Furthermore, headphone enthusiasts will delight at the sound of the discrete headphone amplifier, which is able to drive even planar and high impedance studio headphones. With high voltage and low output impedance, headphones will sound their best. For those who wish to enjoy their headphones but not be tethered to a cable, the integrated Bluetooth aptX HD module makes it simple to also enjoy wireless headphones.
Reserve Your Free Tickets To Florida Audio Expo 2020
The Florida Audio Expo 2020 show is the place to be from Friday February 7th through Sunday the 9th at the Embassy Suites by Hilton Tampa Airport Westshore. Attendees will have the opportunity to experience the world's finest high-performance audio equipment in Florida's famous sunny weather. This includes audio electronics, legendary loudspeakers, terrific turntables, and must-hear headphones from the industry's most coveted brands. Hi-Res Music streaming service Qobuz returns as the Expo's official music source. There's no cost to attend the show, though attendees are encouraged to register in advance so that you can be assured that the Expo doesn't exceed the hotel's maximum daily capacity.
01 / 06 / 20
Hi-Fi World February Features Reviews & Think Pieces
Hi-Fi World's February 2020 issue features your chance to win an Audio Technica OC9x SL cartridge worth £660. High-end audio reviews include the McIntosh MA352 hybrid valve amplifier, Acoustic Energy AE500 standmounted speakers, Klipsch Heritage The Sixes wireless powered speakers, FiiO M11 Pro Hi-Res Audio portable music player, Mutech MC3+USB Smart Clock, and Audio Direct Beam Portable USB / DAC. Other gear reviews within this issue are the Technics SL-G700 Network / SACD player, Melco N10 EX Series network storage drive, Aiwa DAT HD-S1, Chord Electronics Huei phonostage, Pro-Ject Vinyl Cleaner & Sweep Brush Cleaner, plus B&W PX7 wireless MC headphones.
Within his editorial, Noel Keywood says, "Valves can be a bit troublesome. If you're lucky big ones responsible for producing power will last a few thousand hours, but then need replacing. However, small ones that don't dissipate power will soldier on past 10,000 hours – and what's more they cost little, in the £10-£20 region. No wonder then that manufacturers nowadays use transistors to produce power, but use small valves elsewhere in a hybrid amplifier. The sound is a bit of a compromise, but one worth making, especially since transistors give tighter sounding bass. A lot of advantages then, explaining why McIntosh of the US went down this route with their new MA352 hybrid amplifier reviewed in this issue – see p10. Our pictures show just how visually arresting a hybrid can be, especially with a little help from LED up-lighters and illuminated power meters." See what's within this issue of Hi-Fi World at this link.
01 / 03 / 20
RIAA Report: Streaming Is Now 80% Of US Market
There's no doubt music lovers globally have adjusted from physical media to streaming digital music over the past decade. The Recording Industry Association of America (RIAA), the trade organization that supports and promotes the creative and financial vitality of the major music companies, has given us a sneak peek into their upcoming Decade's End 2010 — 2019 report. At the beginning of 2010 streaming accounted for only 7% of the United States of America market, yet by 2019 it reached 80% of the market. Paid streaming music subscriptions also greatly increased from only 1.5 million in 2010 to well over 600 million during 2019.
Analog lovers rejoice as vinyl LP sales, once an afterthought for music labels as digital music formats took hold, is now a major revenue source. During 2010 it accounted for a mere $50 million in revenue, yet by 2018 it greatly increased to approximately $450 million. Record Store Day, special limited edition vinyl LP box sets, plus a major increase in social acceptance by youthful music consumers has brought vinyl back to becoming an important revenue stream for both major music labels and small niche music produces alike. Enjoy the Music.com expects more data to be revealed by the RIAA once their full Decades End report is released.
01 / 02 / 20
Hi-Fi+ January 2020 High-End Audio Magazine
Hi-Fi+ magazine's January 2020 issue features a very special obituary of Ken Ishiwata 1947–2019. This issue also has Audio Video Show Warsaw event coverage, plus Copenhagen HighEnd 2019 too. Equipment reviews within this issue includes the Sonus Faber Olympica Nova 1 stand-mount loudspeaker, VTL TL-6.5 SII Signature/S200 Signature line-stage preamplifier and stereo power amplifier, iFi Audio Aurora network music system, Conrad-Johnson ET7-S2 line-stage preamplifier, Technics SL-G700 CD / SACD / network audio player, Hegel H120 integrated amplifier, and Harman Kardon Citation 500 networked active loudspeaker.
Analog and personal audio reviews includes the MoFi UltraDeck+M turntable, arm and cartridge, Dan Clark Audio ÆON2 closed-back planar magnetic headphones, 64 Audio Tia Fourté Noir universal-fit in-ear monitors, and Wire On Wire Experience 660-S loudspeaker cables.
Within this month's editorial, Alan Sircom says, "It's the start of a new decade, and while I am troubled that neither hoverboards nor psychotic replicants made it into the public domain during the 2010s, there's always the scent of change in the air when you move from one decade to the next. As Hi-Fi+ races toward its 21st birthday, change is definitely taking place as we welcome aboard our new President of the newly-formed NextScreen Publishing Group, Lee Scoggins. The group includes The Absolute Sound and Hi-Fi+. " See what's within this issue of Hi-Fi+ magazine at this link.
01 / 01 / 20
Enjoy the Music.com's January Review Magazine
Why I Love Our Loyal Readership
First and foremost, this entire site is for you! Let's work together....
Editorial By Steven R. Rochlin
In a few months Enjoy the Music.com will officially be celebrating our 25th Anniversary. For those who've read the About Us info, you'll notice below all the site facts n' stuff that not a single word has changed for decades. And so it began 25 years ago...
---> Read More
Enjoy The Music!
Roger Skoff writes about the thing we love.
Article By Roger Skoff
Ever since the Paleolithic era, when "hard rock" was a literal description, and humanity's catchiest tunes were played by rhythmically banging stones together, people have loved music. We've probably played it, sung it, chanted it, danced to it, and loved it for as long as we've had language – and maybe even longer, if animal behavior is any indication of the behavior of our far-most-distant ancestors.
---> Read More
Tom Lyle, Enjoy the Music.com's Senior Editor
A deep look into the life of a true music lover.
Article By Tom Lyle
To get to the point of my short diatribe, I have to give a bit of background information about myself. Please bear with me. At first it might sound a bit narcissistic, but it will help put my discourse into perspective. For a long time, I considered myself an audiophile. Even before I knew what the term audiophile was. I did know that I was a lover of the equipment that reproduced the music I listened to. But because of the types of music I listened to I always felt as if I was an outsider.
---> Read More
Chord Electronics Huei MM / MC Phono Stage
Making music sound like music, which is what makes high-end audio high-end audio.
Review By Tom Lyle
In the past I've had the pleasure of reviewing two other components made by Chord Electronics from East Farleigh, Kent UK. In December of 2014 I reviewed the first version of their Hugo, a battery powered digital to analog converter. During January 2019 I reviewed their Symphonic moving coil phono stage, which in this case is more than noteworthy because the Huei phono stage that is being reviewed here is a smaller version of their excellent Symphonic phono stage.
---> Read More
ProAc Response D2R Standmounted Speakers
Updating a true classic loudspeaker.
Review By Phil Gold
When I moved to Canada in 1980, I bought Meridian M2 Active Speakers which I had originally heard in Edinburgh while I was attending the festival. They were so outrageously good I kept them for a very long time. Only when I found the ProAc Response 2 did I feel passive speakers had caught up and even overtaken the old M2s. That would be around the early nineties. The Stewart Tyler-designed Response 2 also lived in my system for a long time, finally giving way to a pair of Wilson Benesch Act 1 speakers when I moved into a larger home.
---> Read More
Synergistic Research Foundation Cables
Oracles house themselves within temples of the humble.
Review By Rick Becker
Like with climate change, it's hard to believe there are still cable deniers in this world, but they show up in the forums with a loud voice. You would think the multitude of High End cable manufacturers would be a clue. After all, if high end cables were all snake oil would so many companies exist? Would so many people buy them? And importantly, would brick & mortar stores, who build their reputations and depend on repeat customers, be selling them? At audio shows nobody runs generic power cords or interconnects.
---> Read More
Magnepan 30.7 Panel Loudspeakers For Condos
On the road at Audio Connections.
Review By Jules Coleman
On Wednesday, December 18 (2019), I joined Herb Reichert of Stereophile and Steve Guttenberg of Audiophiliac Daily, at John Rutan's retail store Audio Connections in Verona, New Jersey to listen to Magnepan's prototype / concept speaker, currently dubbed '30.7 for Condos' (hereafter, FC). Audio Connections was the latest stop in Magnepan's road show orchestrated by Wendell Diller and his spouse, Galina. Whereas pre-production listening sessions are ubiquitous, pre-production road shows are not! This begs the question: Why an elaborate road show in the case of 'for Condos'?
---> Read More
Read All Articles, Reviews, And Show Reports
We have many more reviews, show reports, and think pieces than shown above, so be sure to read this month's edition of Enjoy the Music.com's Review Magazine at this link.
---
Previous High-End Audio News
For previous high-end audio and music industry news click here.