Pugs & Crows Fantastic Pictures
Format: Vinyl (140 gram LP at 33.33 rpm)
Review By Claude Lemaire
'Whatever you write, please don't categorize us under jazz' — was guitarist and composer Cole Schmidt's sole request last July 3rd when he handed me a copy of his most recent music project: Pugs & Crows' Fantastic Pictures which won a Juno award for 'Instrumental Album of the Year' (2013). At first glance this may seem a bit odd given that the band had just completed a one hour outdoor set at the world-renowned Festival International de Jazz de Montréal. But as anybody who has set foot at the ever popular jazz fest will tell you, 'music fest' would be a more honest if less 'hip' name to define the broad programming this 34 year edition supplied. Owing reference to its original jazz roots, the annual 10 day event has long ago expanded its repertoire to a vast array of music styles, so much so that one would be pretty closed-minded not to find something worth investigating.
As a long time fest-follower and audiophile, I have discovered early on that the 'best outdoor view sound-wise' is up close, stage left or right; 'bypassing' to a large degree the multi array PA system. This yields a more natural, intimate and dynamic performance. And such was the case with my first encounter with Pugs & Crows. In addition to the aforementioned Schmidt, the Vancouver-based quintet comprises Catherine Toren on piano, Meredith Bates on violin, Russell Sholberg on double-bass and Ben Brown on drums.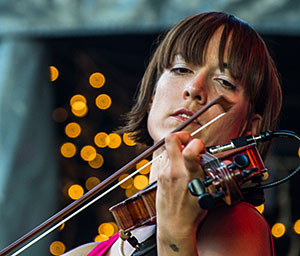 The latter - just a few feet away from my standing position — provided a particularly enthralling rhythmic tour de force both sonically and artistically. In no way should you infer by this that he overshadowed the rest of the band, only that I have a weak spot for captivating drummers. In fact each member left a convincing impression of knowing exactly what and when to play, displaying great authority of their chosen instrument and seamlessly blending together as one unit.
Musically, the group combines diverse elements of instrumental independent rock; exploratory avant-garde jazz with 'prepared piano-like' styling; dissonant and minimalist violin loop patterns; fusion and progressive structured compositions. At times, Schmidt's experimental surf twang guitar drive, reminded me of Marc Ribot's signature work on John Zorn's Zevulun with the Bar Kokhba Sextet from disc 2 of The Circle Maker [TzadikTZ 7122].
So in effect we are quite far from any form of 'traditional jazz'. Exceptionally for one song, guest singer Debra-Jean Creelman added a touch of Argentinean-tinged waltz, somewhat akin to a female version of Canadian singer-songwriter, musician and poet Leonard Cohen; not surprisingly knowing she just finished reading the latter's writings. A former member of Mother Mother, Creelman had collaborated with the band on their 2009 debut album Slum Towers.
The album was recorded in June of 2011 at the Factory in Vancouver, Canada by engineer Sheldon Zaharko. Additional recording was done by pianist, multi-keyboardist, composer, engineer and producer Chris Gestrin at Public Alley 421, who has worked with some of the big names in jazz and avant-garde such as Dave Douglas, Gary Peacock, David "Fathead" Newman and Peggy Lee just to name a few. In addition, he is credited with the mixing and mastering of the album.
Jeremy Crowle's front cover artwork features a picture of several tight-knit tree trunks in a dark lit forest with what appears to be a teeny weenie gorilla staring at us right under the 'R' of 'Pictures'. The back cover keeps it simple with the song titles and minimal credits printed white on the black background. The LP is housed in a semi-glossed, semi-rigid grayscale printed inner sleeve reprising the nature theme with the chopped tree trunks seen from above the black background. Care should be taken during normal removal and insertion not to scratch the vinyl surface with this type of sleeve. The labels also pursue the above thematic with no added text whatsoever. The 140 gram (approx.) LP was flat and 'square-sided', with no 'scuff marks' or 'bluish' hues. Though black, it did not convey the luster sometimes found on 180 gram premium audiophile pressings, nor did the groove patterns exhibit large and deep dynamic shifts worth 'drooling' over.
The non-credited cutting engineer, chose an identical groove-spread of 2.75" for both side A and side B begging the question was this a 'blind auto-cut' or was it really determined that this was the best spread based on the sourced music spectrum and not just the time criterion used as basis. Lacquer and stamper inscription had 'PUG001' etched in the dead wax. With approximately 17 minutes of music on both sides this translates roundly to 6.2 min./inch of linear cutting displacement and being under the typical 20 minute recommended limit for a 33 rpm of 'average level' cutting should not pose any problem. No info on the pressing plant was provided.
Starting on side A at an average cutting level; Brown's brief snare roll crescendo leads us into "Rats That Now Star". From the first bars, we are plunged into a Zorn-like atmosphere as previously alluded to in their live performance. Surf guitar and violin playfully interact; the — prepared perhaps — piano joins in with dissonant dialog; violin veers from arco to pizzicato plus drum punctuations throughout the track, complement several staccato dynamic bursts. The overall sound is somewhat roomy and slightly distant especially so the drumkit, sounding further back than the rest with the double-bass mostly too low in level and definition, making him hard to follow. There is a lack of intimacy and frequency extremes are a bit curtailed, leaving a mild midrange predominance.
Engineers Zaharko and Gestrin seem to have strived for a sound that approaches what one could hear live acoustically in a small semi-reverberant venue but with the listener in the eight row instead of the first row. Not being present at the recording I can only venture a guess but it almost sounds like a two or minimal ambient mic setup. Although this can at times yield great results — as I have personally confirmed so in the past — placement is paramount, be that musicians as well as mics. On the positive side, it does not sound very compressed so dynamic swings add a nice liveliness which is all too often missing in modern recordings. There are some similarities also with the 'Chicago style' of raw recording as practiced by Steve Albini and others but with less proximity and realism. In a nutshell, this is a great composition and performance, yet only fairly good sound.
"Hibernation" changes style completely toward a smoother, eventually jazzier vibe. Guitar, violin and piano play in unison, the latter beautifully rendered by Catherine Toren. Unfortunately the drum with 'wishy-washy' cymbals is too far in the mix robbing it of impact - even more so after witnessing Brown's intensity and complexity in concert. The musical structure metamorphoses towards a freestyle improv bordering on contemporary inklings. Musically, it is on par if not better still than the opening track. Too bad that the sound - even more mid dominant - is a notch lower.
"Sam and Sara" is very exploratory and contemporary sounding in the intro with Asian plucked string influences thrown in followed by a cyclic guitar pattern. Drums and violin embark on this rather 'heavy' progressive vibe that tends towards a noisy, close to saturation, more compressed sound. Dirty and grainy cymbals cause some ear fatigue. The double-bass is again hard to follow. The outro is similar in nature to the intro, this in effect closing the 'loop'. Another splendid adventurous composition held back by so-so sound; this one being the lesser sounding of the album. Vinyl was quiet the whole side.
Flipping to side B...
"Talkin' Fish Instead" has the violin and piano playing in perfect unison in a 'busy' syncopated syntax until it switches to a general détente before the primary riff reappears and idem with the secondary pattern. Cymbals are much better rendered with top end details more present than the previous side. Everything is tonally better balanced with nice dynamic shadings. There is superb jazzy piano playing by Toren, exploiting its keyboard fully and later veering to a more contemporary school. In the final measures, a long crescendo conducts us to an abrupt coda reprising the main intro riff. I found this track to be the best of the album in composition, performance and sound quality, approaching a 4 on 5 for the latter; a far cry from the previous track. So the inquiring mind wants to know: was this the same engineer(s) and if so, then there is a clear lack of consistency at some point in the 'sound chain'.
"We Must Befriend the Ice Queen" follows with the violin, sweeter sounding in the high register, deftly running on this faster 3/4 meter. The drum shows better bottom weight for the kick and top end for the cymbals contrasting with the first side. Bates' violin is lovely adopting a more manouche style until a 'violent storm' of noise crescendo metamorphoses into an industrial avant-rock sound followed by abrupt ending; a hair below the previous track in both criteria.
"These Fantastic Pictures", the title track, closes the album. It starts out as a ballad with guitar and violin soon joined by all. A counterpoint of instruments dialoguing in pizzicato becomes almost cacophonic in tension then back to the intro riff culminating with the band softly singing "These fantastic pictures on the wall will fall" in a light humored tone. This side was also devoid of any surface noise.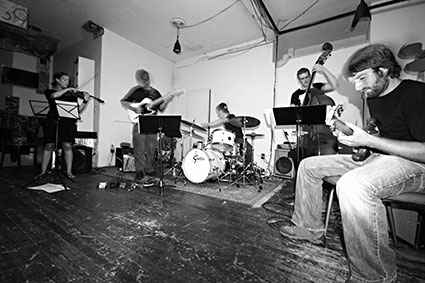 To conclude, Pugs & Crow's Fantastic Pictures lives up to its name: a two-dimensional sound portrait of a fantastic three-dimensional band that I had the privilege of discovering live in action. This is regrettably a recurring reality in many genres when listening to a recording of a band after watching the real thing and wondering to myself; why could they not capture the energy and sound that they got, despite the pressure and time constraints, of a live setting versus the studied studio scenario? Or is that ironically the answer to my question — just imagine you are playing live and hit record, and 'it's a take everybody', errors and all. Or, do what Eddie Kramer brilliantly did with Kiss for their breakthrough landmark 1975 LP Alive! [Casablanca NBLP 7020]. After three unsuccessful studio albums, he recorded them live in concert and later overdubbed some or several parts — depending on interviews — and remixed it as if you were getting the real thing or feel in your living room and fooled everybody for many years. You may have noticed that I did not mention often Sholberg's double-bass contribution on the record, for the simple fact that he gets overlooked in the recording and mix and should not in any way diminish his musical importance. A last recommendation I would offer, and this applies to many promising independent bands, is to leave the mastering stage to a third party; an experienced 'outsider' engineer will bring the project a global objective perspective and a polished cohesive sound that an insider will often miss on inferior speakers.
Despite some sonic reserves, Sheldon Zaharko and Chris Gestrin presented nonetheless a non-processed and low compressed recording that; combined with the strong compositions, arrangements and musicianship on this album, makes me urge you to seek out and explore this adventurous quintet at home and better yet live.
Enjoyment:
Sound Quality:
to