Jimi Hendrix
People, Hell and Angels
Format: Vinyl (two 200 gram LP at 33.3 rpm)
Review By Claude Lemaire
Pacino and DeNiro, Lennon and McCartney, Giorgio and Donna, Bacharach and Warwick - all convey the importance of cultivating a great team and to that we can add Hendrix and Kramer and... Marino?
Yes, the late mastering and cutting engineer George Marino who passed away in June of 2012 was as much a fixture in the winning team to reissue with honor the Legacy of the rich Hendrix catalogue as was having on board the original mixing engineer of the famous Electric Lady Studios.
And as I have stated many times in the past, Eddie Kramer is simply one of if not the best rock engineer-producer of all time. Sadly but understandably to continue these historic releases, finding a worthy successor to Marino was a key priority for all parties concerned.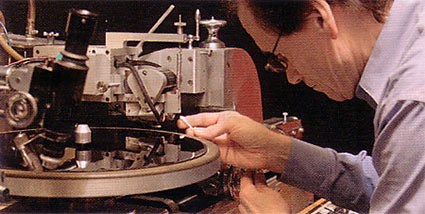 Enter veteran mastering engineer Bernie Grundman into the picture. Well known in audiophile circles for remastering and cutting Classic Records' reissues of the famed RCA Living Stereo catalogue. Add to that many Verve, Columbia and Blue Note jazz titles as well as iconic rock albums of the past analog years and more current releases either through ORG or regular 'non-audiophile' labels. It seems safe to assume that his 'wax' calendar appears booked solid.
But on top of that, there are two other changes to take into consideration relating with the prior Experiencing Hendrix vinyl releases: pressing plant and vinyl weight. While RTI in California and 180 gram were the past de facto choice; this latest release is the first to be manufactured by Quality Record Pressings and weighs in at a hefty 200 gram. The latter is rarer but comparable to the older MoFi ANADISQ 200 series as well as some of the later Classic Records' QUIEXSV-P releases a few years before folding. How these three new factors of the equation come into play will be interesting to judge on the final sonic footprint.
Contrary to popular belief, I have found no direct correlation between heavier vinyl weight and higher sound quality; in fact on some aspects such as 'bass bounce' or low frequency 'elasticity' I find that stiff 180 gram and more so 200 gram vinyl tend to be less satisfying than lighter pressings; perhaps due to the different decay, natural resonant frequency and vinyl impedance of the physical medium. Case in point are the vastly opposite sound from MoFi ANADISQ 200's - which I found tended towards a stiff harder bass versus their earliest thin JVC Japanese pressings; a fine example being Gino Vannelli's Powerfull People [Mobile Fidelity Sound Lab MFSL 1-041] that has incredible creamy deep lows and dynamics.
Granted there could be many other technical reasons responsible for this. A more rigorous comparison would be the slight differences in sound between Classic Records' 180 gram and 200 gram reissues of Billie Holiday's Songs For Distingué Lovers [MG VS-6021] made I believe from the same stamper; the heavier one having a bit less air in the top end - even after compensating for VTA. The one clear thing is that the heavier pressings hold the advantage in reducing possible vinyl warpage.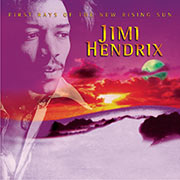 Like the previous LPs -- First Rays of the New Rising Sun [Experience Hendrix Legacy 88697 63403 1] and Valleys of Neptune [Experience Hendrix Legacy 88697 64059 1] -- People, Hell and Angels is an official posthumous release approved by half-sister and CEO Janie Hendrix. This latest and - according to Kramer - last studio album, showcases 12 previously unreleased studio recordings that could have been featured on what would have been the follow-up to Electric Ladyland [Experience Hendrix - Legacy 88697 62398 1] originally out in October 1968. Recordings for this new album took place in New York at the following venues: Record Plant, Sound Center, Hit Factory and Fame studios between March 1968 and August 1970; one month prior to his death at only 27 years old.
The superb two-tone gatefold jacket imbues a classic high quality timeless look. Famed British rock photographer Gered Mankowitz's cover art encapsulates to a tee Hendrix's exquisite sense of fashion in one of his famous military-esque jackets with metallic medallion and scarf. Inside the left side is a fuzzy close up of his face while the right side appears to be a backstage shot of him playing guitar. While on the back cover, American rock photographer Chuck Boyd captures the 'guitar God' dressed in paisley shirt along with the song's listing on the right. Included is a high quality 11.5" x 12" booklet comprising 8 thick pages with great sepia, b&w and color photos of Hendrix live and in studio with producer Kramer and others beside him. Technical credits and musical personnel followed by historic facts accompany each song. The generous packaging is to be commended even more so at the very fair retail price.
Each thick 200 gram LP is well protected in an anti-static 'archival' sleeve identical to what Mobile Fidelity has been using since many years but naturally with 'Quality Record Pressings' printed on it instead. All sides were perfectly flat, black and shiny with no 'scuff marks' or 'bluish' hues whatsoever as was sometimes the case with RTI pressings. A different background color is chosen for each label; with red, blue, violet and green respectively. Working in Hollywood California at his usual Mastering suite, Bernie Grundman chose a groove-spread of 2 7/16 inches for side A and side B; 2 9/16 inches for side C and a mere 2 1/16 inches for side D, leaving a full 1 1/2 inches of dead wax; of which all 4 sporting the lacquer and stamper 'BG' inscriptions. With 13:20 minutes of music on side A; 14:30 on side B; 15:14 minutes on side C and 9:30 minutes on side D this translates roundly to 5.5 min./inch; 6 min./inch; 6 min./inch and 4.5 min./inch of linear cutting displacement respectively. I would have preferred using up a bit more of the lateral spead - closer to 2.75" or just under 3" - to take more advantage of the bass possibilities.
As with many Grundman cuttings, he tends to stay further away from the label perimeter - prioritizing cleaner top end treble over ultimate bass amplitude and depth - than for example Doug Sax, Steve Hoffman, Kevin Gray and most of MoFi's mastering team; George Marino somehow seemed to fit in between extremes. These highly regarded engineers also cut at a lower level while Bernie's are sometimes viewed as modulated louder or 'hotter'. As with just about everything in life, there are pluses and minuses for both approaches - vinyl noise floor, dynamic range window, cutter head saturation, modulated groove velocity, cartridge tracking limits, frequency bandwidth and side/timing material just to name a few - with their respective proponents naturally defending their own camps. All things being equal, louder cuttings tend to sound more upfront, energized and producing tighter bass with a slightly harder or leaner tonal balance while lower cuttings favor a smoother or softer, laid-back presentation with looser groovier bass and warmer tonal balance but more susceptible to distracting ticks and pops if the music gets low in level. Why such is the case, without hard data to back my hypothesis, I can only speculate that more voltage on the cutter head combined with the RIAA pre-emphasis curve produces greater harmonic production at the output leading towards a predominance of odd over even harmonic distribution.
Before evaluating the sound of People, Hell and Angels,I have to admit that a certain bias on my part worries me that this 'semi-changing of the guard' may not be for the better. I base this in part on my comparison of Hendrix's Axis Bold as Love [Classic Records 612 003] done by Grundman versus [Experience Hendrix L.L.C. Sony Legacy 88697 62396 1] done by Marino. Now some may correctly point out that this is not exactly fair, for Classic Records were remastering their version directly from the original mono master tapes while Marino under Kramer's guidance were using the original stereo master tapes; both mixes seemingly quite different. Point well taken. That said, while both remasterings were excellent and are worth getting, the latter is to my ears, superior in organic warmth and grooviness and no surprise, stunningly wide panoramically bringing out the psychedelic nature of the recording and the times to its maximum.
Don't get me wrong, Grundman has oftentimes impress me, be it with Holst The Planets [Fidelio Music FALP028], the mono Blue Note series as well as Davis' Birth of the Cool [Classic Records Capitol Jazz T-762], the Mercury Living Presence reissues for Classic and many, many more; but when it comes to rock I crave for the typical 'meaty', warm and 'organic' textures that Hoffman, Gray, Sax and - at least regarding Hendrix is concerned - Marino tend to produce. This comes down to a matter of taste. An analogy would be like comparing bridge rectifier choices in amplifier power supplies; some will prefer solid state diodes whereas others will prefer old tube rectifiers and of those the choice then goes down to a 'looser' 5R4 'Potato Masher' or the tighter 5AR4 or something 'midway' like the popular 5U4. In other words: to each his own. Now let's see how the new 'keeper of the flame' turned out after all.
From the start of side A, the cutting level is moderately lower than the typical BG cutting level at least for past Classic Records reissues are concerned. "Earth Blues" recorded December 1969, opens the set with a catchy guitar riff and chorus built on an up-tempo rhythm section backed by drummer Buddy Miles and bassist Billy Cox. Rather simple and repetitive in structure with no heavy emphasis on psychedelic effects. Excellent guitar tone accompanied by good articulated kick drum though not as groovy 'plump', 'cushiony' as past Marino or even more so Kevin Gray remasterings. Engineer Bob Cotto and Kramer's mix is pretty equilibrated but the soundstage is near mono as opposed to prior psychedelic-wide material such as Are you Experienced [Experience Hendrix - Legacy 88697 62395 1] or the previously mentioned Axis Bold as Love. A strong track for music and sound.
Things change gear with "Somewhere", a slow heavy blues rock. Great wah-wah pedal dissonant leads. Kick drum is thicker, slower and more emphasized in the mix than the previous track; accompanying him on bass is Steven Stills of future C.S.N.Y. fame. Hendrix's vocals have a slight reverb effect. There is an early Led Zep feel in structure and Miles' drums are close in style to Bonham's circa 1971s "Black Dog" from their fourth untitled LP [Atlantic 2401012] but it is worth noting that this track was recorded well before all that way back in March 1968 no less. Likewise sound is dirtier and close to analog tape saturation - another Led Zep trait in those early years - while soundstage is wider. No less than four engineers are credited along with Kramer on the mixing desk. Almost on par with the opening track for both ratings.
"Hear My Train a Comin'" is even more bluesy but still heavyish in rock style. Sound is denser; cymbals are dirtier plus the leads are very dissonant. The latter and backbone rhythm parts become rather repetitive, resembling extended jam sessions typified by the acid rock era at the height of the Haight-Ashbury scene. Engineer Dave Ragno's recording of May 1969 is a bit compressed but still tolerable. Near the coda the vocals get louder and distorted as is commonly encountered in this type of bluesy rock. First instance of slight ear fatigue, yet nonetheless fairly good in overall sound. Throughout the side, the vinyl remained perfectly silent and free of static and other anomalies of the medium.
Flipping sides and cut a bit louder is a cover of Elmore James famous "Bleeding Heart". The intro has the guitar plus reverb soloing dead center until the snare roll crescendos the rest of the trio into a slow blues rock instrumental. Hendrix's vocals and guitar are mixed upfront. Dave Ragno's whole mix has a cold sound to it; kick is 'cardboardy'; cymbals and in particular the ride are not pleasant, lacking extension; everything in fact lacks top end detail. Mono-ish sounds; clearly rough demo sounding; 'not ready for prime time' and quite inferior in music and sound compared to side A and past Hendrix releases to the point of calling it boring. Strangely it was recorded the same day as the previous song. The track ends roughly and I would have recommended skipping it instead of wasting precious wax. A faster paced version previously appeared on Valleys of Neptune which was way better.
With "Let Me Move You", we are back to stereo with warmer, more detailed sound. A mix of funky soul R&B and rock is the resulting sauce. Think James Brown meets The Isley Brothers 'shouts'. Hendrix, having prior collaborated with saxophonist Lonnie Youngblood's as a sideman a few years back, called upon his old pal to pitch in. With vocals and sax that would do proud a JB or Joe Tex single, this is not at all what you expect out of a Hendrix record. The hi-hat is 'dirty'; some mild compression causing a bit of bottom emaciation. John Winfield's funky organ that could fit in a Memphis Stax record leaves the impression that the tape is rolling on an improvised R&B session. Hank Anderson is on bass while Jimmy Mayes takes over Miles' drums. Engineer Gary Kellgren -- the founder of The Record Plant - is credited on this so-so sounding track. Dating from March 1969, it marked the first use of the studio's newly acquired 16-track Ampex tape recorder.
"Izabella", which first appeared on First Rays of the New Rising Sun, closes side B with an original syncopated groovy rock structure including an interesting dissonant blues based lead. Cox is back on bass but this time it is Mitch Mitchell that is on 'skins' and Jimi has strong company with American guitarist Larry Lee. Kramer's touch brings a more full bodied, meaty tonal balanced mix that some might qualify as warm and 'tuby'. Again some subtle Led Zep influences come to mind but when recorded in August 1969, it is safe to say that it is more the latter being influenced by Hendrix than the other way around. Ear slightly 'full'.Perfect pressing.
Moving on to record 2 side C with the cutting level back in line with side A. "Easy Blues" - recorded the same date as the previous track - starts with Cox's muffled bass soloing followed by Lee's jazzy-blues swinging rhythm guitar and Jerry Velez and Juma Sultan's tambourine and 'percs'. Mitch's drums come in strong as his groove accelerates progressing into heavier drum fills and eventually back to a swinging rhythmic feel. The drums are well captured with good tom impact and tone, superb snare textures with good micro-dynamics. Nice warm sound for the lead also. Remaining instrumental throughout, it comes across like an improvise jam to a certain degree. Pretty much on par with side A's two opening tracks.
"Crash Landing" is one of the three best tracks of the album musically and sonically. Dating from April 1969, this "Chicken scratch" guitar funky R&B rock hybrid has definite roots in the psychedelic soul of Sly and the Family Stone. Nice sustained psychedelic leads supported by superb snare drum crispness and fast dynamics, fine hi-hat and warm sound. Engineered by Kellgren and mixed by Kramer. Rocky Issac replaces Mitchell on drums accompanied by Al Marks on percussion and an unknown organist.
The first thing that strikes you when listening to the instrumental "Inside Out" is the enormous resemblance with the "Purple Haze" riff and what would eventually result in "Ezy Ryder". With Mitchell on drums, Hendrix takes over bass duties on this one. Engineered by Kramer in June 1968, it possesses great snare and tom textures; good slightly 'dirty' hi-hat; excellent balanced mix of course; widely panned overlapping leads; odd complex syncopated structure; warm slightly compressed but retaining superb snare 'snap and pop'. It ends bizarrely and abruptly. By and large this is a stronger side than side B and the most constant in both rating criteria.
The last side starts with the slow tempo "Hey Gypsy Boy" from March 1969. Engineers Kellgren and Kramer provide us with a powerful solid kick and hi-hat with a very natural 'closing' sound and drumstick timbre. Great guitar tone. The whole sound is juxtaposedly intimate and with grandeur. Without doubt the most transparent track of the album and 'demo-worthy' on appropriate systems.
"Mojo Man" opens with a combination of tambourine and horns that are pure proto-blaxploitation - psychedelic soul, mixing elements of The Temptations' "Cloud Nine" [Gordy GS939] and Isaac Hayes' Theme from Shaft [Enterprise ENS 2-5002] as well as his later single "Chocolate Chip" [HBS ABC Records ABCD-874] except that this Mojo was recorded in 1969 and August 1970, one full year before Hayes' soundtrack mega-hit was released. Superb interplay of guitar and brass arrangements. Albert Allen of the Allen Brothers provides the vocals. The latter changing their name to the Ghetto Fighters. Kramer's engineering provides good treble detail but just misses some bottom weight. Still, one of the best tracks of the album.
"Villanova Junction Blues" closes the project. We are back to a much slower paced bluesy rock instrumental. Ragno's work gives us a strong articulate kick. Too bad the track gets off to a good start but at less than a minute in total length it is way too short in duration. Again both sides of this second LP remained perfectly silent and devoid of artifacts, affirming that on this occasion Quality Record Pressings fully lived up to their name.
To conclude, just like Valleys of Neptune, this latest posthumous LP from the maestro varies somewhat in sound and musical merit, more so than the excellent uniformity found on First Rays of the New Rising Sun of which I consider essential in any worthy collection. People, Hell and Angels does not fall exactly into that category but is nonetheless one of the many interesting albums of 2013 out so far and worth investigating regardless of where you stand on the 'Hendrix fan ladder'. The luxurious presentation alone is a strong enticement; add to that the quality pressing (I could not resist) and general fine rock sound makes the choice of going with the vinyl version over other formats a no-brainer. As for the choice of 200 gram over 180 gram is concerned, I do believe that it may have played a small part in the overall - tighter - sound, especially the bass signature but further QRP evaluations will be in order to confirm or disprove such conclusions. Finally to the question of does Grundman live up to the high standard set out by the late George Marino? I believe that he came surprisingly close to surpassing my expectations but ultimately I would have wanted a touch more warmth and 'groove factor' injected in and remain curious as to how a Hoffman-Gray or Sax version would sound on future related projects.
Enjoyment:
Sound Quality: Variable between
(Track 4 only) and
Sound Quality (average rating): close to