Three CD Remasters Of
Jethro Tull's Early Recordings
Review by Steven Rochlin
Click here to e-mail reviewer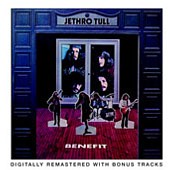 CD Stock Number: Various
www.j-tull.com
Every once in a while we get small jewels in the form of remastered titles. Sometimes the master tape is so fried that only an act of G-d herself could make the music sound as good as a first pressing vinyl that is now decades old. Being a fan of the band Jethro Tull, i jumped at the chance to review three newly remastered titles. Tull's earliest three albums, 1968 release This Was, 1969 Stand Up, and 1970 Benefit, directly precede his band's most popular 1971 title Aqualung. Tull (born August 10, 1947 in Edinburgh, Scotland) firmly had his musical roots during ye ol' British blues back in the '60s. After going in and out of a few bands, Ian Anderson (flute, piano, singing), Mick Abrahams (guitar), Glenn Cornick (bass guitar), and Clive Bunker (drums) formed the band called Jethro Tull in 1967. The name comes from an 18th-century farmer/inventor. While they had their own following for years, their real break came when they opened for none other than the now legendary Pink Floyd on June 29, 1968 at London's free music festival in Hyde Park. The rest, as they say, is history.
Their first United States release in 1968 titled This Was shows the blues roots in full stride. There is much to admire about this recording musically. There is a great blues swing feeling on "My Sunday Feeling" while a deeps roots sound takes over during "Some Day The Sun Won't Shine For You". In some ways it reminds me of Alone & Acoustic by Buddy Guy and Junior Wells [Alligator ALCD 4802] with guitar, harmonica and vocal duet. The remainder of the album is wonderful blues, if a bit surreal at times. Additional songs on this CD that were not in the original album release include "One For John Gee", "Love Story" and "Christmas Song".
Jethro Tull's second release, Stand Up, was their 1969 follow up and seamlessly continues their previous release. Both albums have hard panning. In other words, you may have Anderson's voice in the right channel and a guitar in the left. "Bourée" begins in the more strolling jazz style than goes into a jazz/blues feel while "Back To The Family" and "For A Thousand Mothers" show hints of their more (then) mainstream commercial sound that will fill the majority of their next album. Giving a totally different feeling, "Fat Man" firmly plants itself with Eastern sounds. Bonus tracks include "Living In The Past", Driving Song", "Sweet Dream" and "17". Most Gen X'ers such as myself will immediately remember "Living In The Past" as this song reach number three in the British charts and did quite well on this side of the pond as well. Meanwhile 'Sweet Dream" went to number seven on the British charts.
Following the relative commercial success of Stand Up, Tull release Benefit in 1970. Better than reaching the number three spot is Britain, Benefit hit the eleventh spot within the American charts to become a truly successful band with impressive album sales. Musically, this album veers from their blues and experimental music of the first two album and becomes much more commercial for the times. The compositions are (generally) more along the lines of slow, hard rock than deep rooted-blues. Additional sings on this remaster release include "Singing All Day", Witch's Compromise", "Just trying To Be", and "Teacher" (original UK mix). Benefit proved to Chrysalis Records that many music lovers in England and the Untied States admired the band Jethro Tull. Tull followed up with Aqualung, Thick As A Brick... but we can leave all that for a future review (perhaps).
Sound quality wise, i find the first two albums to be more to my liking. Gone are the harsh highs that we all know in Aqualung. Instead you have this overall thick, rolled-off highs sound that is typical of the era in many rock and roll recordings. i prefer this over harsh and aggressive. Overall, there are some real gems (audiophile-wise) in these remasters. Whoever was at the controls did a great job! More like these please. As always...
Enjoy the Music,

Steven R. Rochin

This Was [Chrysalis 7243 5 35459 2 5]
Enjoyment: 95
Sound Quality: 90

Stand Up [Chrysalis 7243 5 35458 2 6]
Enjoyment: 90
Sound Quality: 85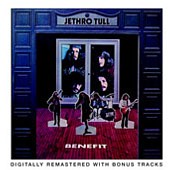 Benefit [Chrysalis 7243 5 35457 2 7]
Enjoyment: 80
Sound Quality: 85