November 2015


ROCCAT Kova Pure Performance Gaming Mouse
Serious performance for the hard-core computer user.
Article By Steven R. Rochlin
Hardcore gamers and those seeking the most extensive functions mouse need to look no further than ROCCAT's Kova Pure Performance Gaming Mouse (available November 17th, 2015). You can forget about those lower res 4000 dpi optical rodents as the Kova has an overdrive mode to provide an effective dpi of 7000. Maximum stability is provided by the Kova's Turbo Core V2 32-bit ARM-based MCU. Then again the ROCCAT Pure has an 82000 dpi sensor, but let's not debate a mere 7000 versus 8200 dpi, as it is also the quantity of FUNctions.
The Kova mouse has double the button functions on a streamlined frame with lines and angles reminiscent of, you guessed it, a high-performance sports car. Before the lust begins, those of you with Apple OS are probably happily using your minimal mouse, yet hard-core users need more and so the Kona works with Windows 7 through 10. Sure the R6 optical sensor is native at 3500dpi, yet you also get 1000Hz polling rate and thus a 1ms response time. How does 20G acceleration and 12-bit data channel plus 72MHz Turbo Core V2 32-bit Arm based MCU sound to you? Oh, and of curse it has 512kB onboard memory because, well, everything moves fast and furious when you're a hardcore user / gamer.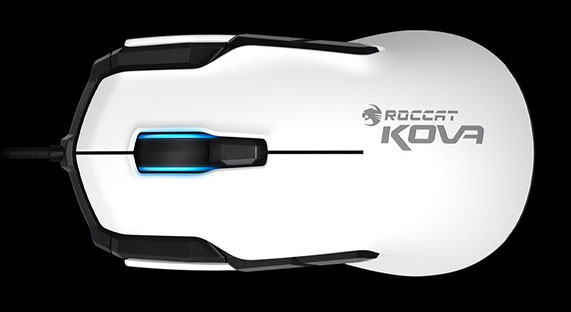 Good news all you lefties in your right mind as the ROCCAT Kova is ambidextrous and thus suits left- and right-handers alike.
Smart Cast is the company's intuitive button layout that doubles up on your standard mouse 1 and mouse 2 functions. Optimally placed within finger-tip reach, it adds reflexive control and is coupled with Easy-Shift[+]. This gives you powerful combos and button assignments at your disposal. Oh yeah, it also doubles the Kova's total button functions from a Spinal Tap eleven to an impressive 22 (did some FPS gamer just say Double Tap?).
Because you want your mouse to look the way you want, because it is all about you, ROCCAT's Kova has an RGB lighting illumination system that provides customization. Create your own unique style by configuring the color of your scroll wheel and mouse rim independently of each other. To ensure your Kova mouse is truly unique in color, there are 16.8 million colors to choose from. And if that were not enough, there is Talk FX + AlienFX Illumination lighting effects for your fave games.
Swarm software handles that crucial next-generation system control for apps 'n' games for and all your ROCCAT products. This unified driver suite gives you an overview of all of your ROCCAT devices. Now if only i could get this incredible mouse to handle controlling massive FUNctionality of a truly intuitive high-resolution audio streaming music app whist gaming we'd have a winner. Imagine that you've just obliterated your component's team after hours of play and with a simple click could play Queen's "We Are The Champions".
Wait, what the.... Leeroy Jenkins!!!
Manufacturer
ROCCAT Studios
Website: www.roccat.org