Great Audiophile Gift Ideas For The 2017 Holiday Season
Enjoy the Music.com celebrates our 12th annual gift ideas to give your audiophile!
Soundeck IsoPlatMat Turntable Mat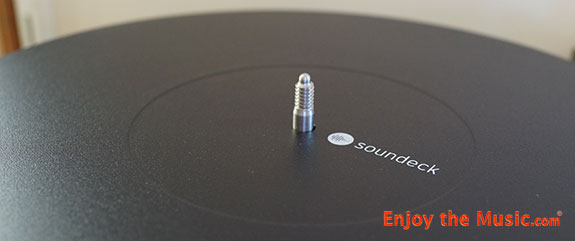 My analog adventures with the VPI Scout continued with the drop-on installation of the latest version of the Soundeck IsoPlatMat. (Formerly known as SoundDeadSteel and SoundDampedSteel). Les Thompson has honed his product with a black powder coat paint job over the sandwich of two layers of aluminum with a layer of visco-elastic polymer between them. The 2.2mm thick mat is available in three sizes: 295mm for most tables, 292mm for a drop-in on a Linn LP12 platter and 285mm for Technics SP12s.
The center hole diameter is 7.9mm and it is perfectly centered on this precisely machined disc. Fear not that the painted surface will damage your precious LPs. The music lies down in the grooves, not on the peaks of the ridges. The IsoPlatMat works in direct contact with the LP where it absorbs micro vibrations from the cartridge screaming down the grooves as well as vibrations coming up through the platter from the bearing as well as from the air. It delivers improved resolution and a lot of tonal color that has been hiding deep in the groove. It lowers the noise level, damps the clicks and pops practically out of existence, and improves the dynamics of the music.
At about $120, it is a very high-value addition to your analog rig. It is a chief ingredient of my own highly modified Linn LP12. When used on the VPI Scout in conjunction with the Audio Machina V8 and the Ginko Cloud 9S it takes the non-suspended VPI to the level of a very expensive suspended turntable.
Recommended by Enjoy the Music.com's Rick Becker.