May 2014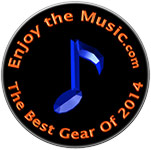 Bryston BHA-1 Headphone Amplifier
The Bryston BHA-1 is one heckova high-end Class A headphone amplifier.
Review By Ron Nagle
If you love music and yearned for something you never could afford there is a good chance are you are an audiophile. The Bryston BHA-1 headphone amplifier for $1395 falls squarely into the affordable category. There was a time years ago when I cashed in a life insurance policy to buy a Dynaco 416 Amplifier and a C100 energy storage system. But now the years have zoomed by and another generation and another page has been turned. Portable music devices have made "personal listening" and headphones popular once more. We have come a long way from the days of crystal radio. Here for our love of music is a search for not what might be but what can be.
Bryston Ltd. happens to be comprised of some of those notoriously polite people up North in Canada. They have been designing and manufacturing high-end audio electronics for both the consumer and professional audio marketplaces for over 35 years. Among high-end home audio aficionados the company has garnered a reputation for quality and reliability. This is most evident in the companies unusual 20 years analog and 5 years digital warranty for their products.
Our Subject

As you might suspect the BHA-1 has a rectangular black chassis. The review sample is 19 inches wide and 2.713 inches high and 11.1 inches deep. The whole thing weighs in at 8 pounds. There are two front panel variations. You can purchase a 17 inch or 19 inch wide front panel in either a natural aluminum silver color or in a black anodized aluminum. From left to right the front panel has two mini toggle switches. The first is labeled Input and it has three positions, Balanced, RCA and Mini. The second switch is a two position gain select, High is 20dB gain and Low is 14dB gain. Next is a large non detented Nobel Stereo Volume control knob. At the center front panel is a smaller Balance control knob. Moving farther to the right there are three XLR style female connectors all three are labeled Balanced Output. The first pair are conventional style three pin XLR Labeled Left and Right. The third connector is a four pin Stereo XLR jack.
Four contact pins doubles the contact area and cuts resistance in half for a higher current capacity and more dynamic sound. The locking 4-pin construction also ensures that headphones will continue to work even if one pin were to fail. Continuing, farther to the right of the front panel is the 1/4" headphone jack then a power indication LED and last the power on toggle switch.
Around Back
The BHA-1 has provides a line input with a choice of earthier balanced or unbalanced cable connections. The rear panel at the left side has a fused IEC line cord socket, to the right of that is a remote trigger input (12 Volt DC power on). Next is a right channel XLR balanced stereo output jack. Situated under a white painted bracket, labeled Inputs, there is a grouping of five left and right channel input jacks. These are two XLR female two RCA jacks and a single 3.5mm headphone input. And finally the last rear panel connection is the left channel male XLR output jack.

Under the bonnet, the overall circuit topology is a Dual Mono balanced Class-A linear amplifier. The dual mono configuration means that the left and right sides of your headphones have separate and independent amplifiers. The BHA-1 has the ability to power two separate sets of headphones simultaneously. The circuit uses six discrete (Bryston) Class A operational amplifiers. The on board the power supply has a very oversized toroidal transformer. The BHA-1 is able to output 20 Volts into 600 Ohm load. For the very fastidious Bryston manufactures an optional MPS-2 outboard supply that replaces the internal power supply.

Review Methodology
Let me explain the approach used to evaluate this Earphone Amplifier. The Bryston Company does not manufacture their own headphones. But the EHA-1 provides both a volume control and a balance control. This allows me to use the EHA-1 as a line preamplifier in my reference stereo system. I connected EHA-1 directly to my Sanders ESL power amplifier with a pair of balanced XLR cables. The speakers were my reference two-way Aurum Cantus Se 2. This set up minimizes variables since it will be the only new element in my very well-known two channel system. Utilizing the EHA-1 as a preamplifier allows me a performance reference totally independent of what type headset I use. With a Sagean HDT-1 digital tuner providing the tunes the Bryston burned in about five hours before any sit down listening. And yes the sound does improve during that burn in period. The improvement was most apparent around the bass and mid-bass. As a standalone preamplifier the BHA-1 headphone amplifier was a very pleasant surprise. It was important to me that I establish this baseline because head phone reproduction can vary all over the map. In reference to that I would like to refer you to an article by Benchmark Media Systems that appeared in the April 2014 edition of Enjoy the Music.com.

Condensed with paraphrasing: The white paper tells us that many manufacturers' headphone amplifiers specifications may look similar because they are taken with ideal resistive loads. However the music reproduced by different headphones can be drastically different. What you hear is not the sound of an ideal purely resistive load.

Analogous Sound In 3D
Shortly after my return from Las Vegas I used my reference system Marantz 8400 CD/ SACD/DVD player and my ribbon tweeter equipped Aurum Cantus 2 SE to play the CD sound track, "LOVE". This particular recording I use as a test of imaging and whisper quite detail resolution. This is the Cirque du Soleil tribute to the Beatles musical legacy. It is performed at the Mirage Hotel in Las Vegas. I experienced this incredible musical theater presentation with a surround sound system that had speakers built into the backs of every seat. This performance has to exemplify the very definition of panoramic three-dimensional sound. There were times when I had to cover my ears to protect them. No, I do not confuse high decibel levels with dynamic contrasts. While they are not mutually exclusive they are not really the same thing. The very first track of this recording is called, "Because" it incorporates very low level sounds of birds and a very difficult to get correctly, the sound of an insect (fly?) in flight. You first hear a soft buzzing sound just to the left side of the right speaker. Then it traverses across the center sound field (where it usually fades out) and moves into the distance behind the left speaker. The Bryston BHA-1 functioning as a preamplifier tracks this flight with astounding accuracy.

Headset Olympics


Note: The Bryston Company, who manufactures the BHA-1, do not make their own headphones. Nor have they recommended any manufactures headphones. The guidance I received was that the amplifier has wide compatibility and is capable of driving high impedance headphones.

This segment uses only my Marantz 8400 CD/SACD/DVD player as the source and the BHA-1 to drive headphones. Subsequently I used three widely available medium priced headphones from, Sennheiser, Audio Technica and Pioneer. The test recording will be, "Party at the Palace". You can find it on a Virgin CD [7243 8 12833 25]. This recording was an outdoor event celebrating Queen Elizabeth's Golden Jubilee. It was recorded live in the park in front of Buckingham Palace. It is a gathering of famous artists brought together to celebrate the Queen of England on her Golden Jubilee. All performances were accompanied by, The Royal Academy of Music Symphony Orchestra directed by Brian May. On stage are, Queen, Phil Collins, Tom Jones, Bryan Adams, Annie Lennox, Elton John, Eric Clapton, Joe Cocker, Rod Stewart, Paul McCartney, Shirley Bassey, and Brian Wilson of the beach boys. Could you ever hope to hear Brian Wilson performing Good Vibrations and God Only Knows backed by The Royal Academy Symphony Orchestra? I do highly recommend this recording.

What you hear is ever so clean spacious and dynamic played through the Bryston BHA-1 amplifier. The effect is that you are transported to a grassy field and made part of the vast audience facing the stage. Every announced word and every musical passage echoes outward into the air. As a test the recording contains the massed responses of a cheering throng. I refer to it because there are brief seconds scattered throughout this recording when this wide open air park produces faint return echoes. You had better have a really top notch preamplifier and headphones to pick up this subtle effect. You definitely need the ability to separate it from the direct stage performance and the crowd noise overlaying it. This is wonderful music that is wonder filled.

The Golden Jubilee through Headphones:

(A) The Audio Technica earspeakers over emphasized bass response and does not resolve micro details or for that matter the return echo from the distant center.

(B) The Pioneer headset is the only open back headset. This is a horse of a different color. The sound spectrum is light and airy but lacking in the dynamic contrasts I know are there with the BHA-1 in my reference system.

(C) Now Sennheiser: Easily the best of the lot. Top to bottom coherence, Bass, Treble and midrange all in balance. And yes it does pick up a hint of that faint delay echo from somewhere deep in that distant space in front of the stage.

Bottom Line

Even from my very first sit down impression. The BHA-1 can recreate a huge amount of dynamic contrasts. This Can Jammer amplifier has tons of gain and sounds very nimble; it is quick clean and transitions loud and soft contrasts with ease.

What I'm searching for is the resolving power of fine details painted on three dimensional space. The Bryston amplifier slotted into my stereo system does a good job portraying all three, Width, Depth, and image Height. Of course the caveat is that the (height) information must be present on the recording. The hardest dimension to paint must be image height. After all could one really expect a set of headphones to image behind your eyes at the center of your head? For one manufacturer the answer is yes! Let me tell you a little story. Last year during the Rocky Mountain Audio Fest I toured a wing of the Marriot Tech Center housing the RMAF 2013 Can Jam event. Lured was I to every exhibitor for a sample listening session. Subsequently I ran into this (unnamed) manufactures representative. He proceeded to tell me his brand of Headphones were so revelatory that the music would originate right in the middle of my cranium. However what I actually heard reminded me more of musical ping pong. Well I'm still searching for the world's best cans, and I'm not saying that it can't be done.

The Bryston BHA-1 for $1395 is one heckova high-end Class A headphone amplifier. If it had more high level inputs it would serve very nicely in my system as my reference preamplifier. Judging by the stereo room performance I am convinced that it would not impose any limitations on the finest ear speaker's money can buy. And I'm not sure throwing lots of money at expensive headphones would necessarily do justice to this amplifier. I suspect that at this moment in time the Bryston BHA-1 amplifier design has matured beyond earspeakers.

As always, enjoy the music and from me, Semper Hi-Fi

Foot Note: I would like to refer you to Tyll Hertsens article that appeared in InnerFidelity listing the graphical response plots/graphs of various headphone brands. The graphical representations are revealing, especially the square wave response plots.

Review System Components
Source Components: Sangean Digital tuner, Marantz 8400 Universal CD player.


Amplification: Sanders ESL power Amplifier.


Speakers: Aurum Cantus Leisure 2 SE two-way monitors on 24" stands.


Speaker Cables

: Kimber Kable 12tc 8 foot.


Interconnect Cables

: Monster Reference Four pairs, 2.5 meter, 1 meter and 1.5 meter Nordost Red Dawn, 1meter Chord Silver Siren 1 meter, Homemade Teflon 1 meter Autobahn 0.5 meter digital


AC Power: Wire World 10 gauge IEC line cord, Homemade 3 pairs, 12 gauge IEC

Islatrol Industrial 20 Ampere AC line conditioner, Richard Gray 20 Ampere Sub Station

Alpha Core Balanced Transformer Power Supply, Audio Power PE-1 power enhancer

, and Triad 2-Ampere isolation transformer

.
A comfortable chair.

Specifications
Type: Stereo headphone amplifier
Frequency Response: 20 Hz to 20 kHz (± 0.1dB)
Power Bandwidth: <1 Hz to over 100 kHz
Inputs: Balanced XLR pair, single ended pair (RCA), 3.5mm Stereo jack
Outputs: Balanced XLR (4 Pin), Balanced XLR Pair (3 Pin) and 1/4" headphone jack
Control: Remote Trigger Input ( 5 - 12V AC/DC @10mA)
Power Output: Two Watts per channel into 32 Ohms at 1% THD
Input Impedance: 10 kOhms single ended (unbalanced), +15K/-5K ohms double ended (balanced)
Sensitivity: HI = approx. 20 dB, LO = approx. 14 dB
Distortion THD+Noise: < 0.005% 20 Hz to 20 kHz
IMD: < 0.001% 60 Hz + 7 kHz mixed 4:1
Noise: >103 dBv
Dimensions: 17" x 2.713" & 11.1" (WxHxD)
Weight: 11.7 lbs
Serial Number Of Review Unit: BHA1-000867
Price: $1395

Company Information
Bryston LTD.
P.O. Box 2170
677 Neal Drive
Peterborough, Ontario
Canada K9J7Y4

Voice: (800) 632-8217
Website: www.Bryston.com