Five Blue Notes For
ACI's Titan Subwoofer!
Review By A. Colin Flood
Click here to e-mail reviewer
OK, you see the picture -- so you know Audio Concepts' Titan subwoofer is one gorgeous deep bass machine. The kind of electronic furniture craftsmanship extolled in "Sculptural Art," thus instantly winning bonus points for its Wife/Mate/Spouse Acceptance Factor. What you can't see is that this elegant sub-sonic machinery weighs 69 pounds and thunders down to 20Hz!
The ACI Titan has higher output and price, with lower distortion, than the first model a few years ago. Resplendent in beautiful burled Cherry, the new Titan is $1200 on the Internet. At that price, Audio Concepts' improved model competes with mid-range retail subwoofers; in price, but not looks or performance. Wood lovers, when was the last time you saw a subwoofer that looked this good?
Fitting modest subwoofers in with my big ole horns is difficult at best. With large bass bins, my horns have no problem covering the outfield bass so many mediocre subwoofers think is too far afield. Khorn bass is certainly present, but it is lean and taut. Like acoustic string bass compared to amplified electric bass. It falls off naturally at 80Hz, yet extends down to 31.5Hz, leaving only a small basement for a subwoofer. Modest subwoofers can't crawl under the horns. They add to the excitement of movies sure, but muddy up critical listening like skunky wine. Drinkable perhaps, but hardly the juice of audio nirvana.
On jazz vocalist and pianist Diana Krall's new CD, the Titan seems barely there, unless input is turned all the way up. The bottom-side 12" cone flexes easily. Though it hardly moves, it adds significant depth and warmth. Only turning it off makes the Titan's absence clearly noticeable. Turning it back on restores solid texture and heft to bass drums and left-hand piano keys. It restores the balance. The Titan fills in the hollow with cement. One song and you don't want to listen without a deep and powerful subwoofer. This holds especially true, in my own humble opinion, when flea-powered tube amplifiers try to push the impedance of 15" woofers. Here the hard edge of solid-state adds required punch.
On Kralls' first song, the opening notes are a plenty of growling 80Hz notes. Even though barely noticeable, the Titan adds texture to string bass. With it dialed back, the bass is smoother and warmer, but still vibrating furniture. The Titan seems to drop the piano and string bass down an octave. The Titan makes music and movies thrilling. It makes me want to abandon the goal of a flat frequency response in favor of tipped up bass.
Moving to the techno-boom of Sade's Lover's Rock jazz CD, the Titan delivers her deep bass like a purple '75 Chevy from the bad neighborhood. The Input knob has thin white line, making nighttime adjustments at the back of the subwoofer easier. The knob turns from 10 to 8:00. On acoustic bass tracks like Patricia Barber's artsy "A Distortion of Love" jazz CD, the setting with the most bass, without sounding boomy, was at 6 o'clock.
The pounding "U-571" submarine action movie - with the once talented Matthew McConaughey (see the second "Texas Chainsaw Massacres," he is gruesome) - has become one of the benchmarks of ridiculous audio performance, like dragging racing Dodge Neons down the street to select the most economical family sedan. Yet, this movie is now a standard to judge all subwoofers.
The sumptuous subwoofer performed wonderfully. The Titan gives outrageously loud and deep bass in the Depth Charged scene (15). It makes steel drum bombs clinking together and dropping into watery depths sound fuller and better formed. As the charges pound the submarine, the Titan rocks the room, sending low rumbles of thunder through and adding a new dimension to the action/adventure genre. It never blinks, huffs or makes any noise. I didn't have the pedal to the floor mind you, but with volume louder than normal, the Titan is a tactile thrill.
Equipment influences music choices (admits the SET and horn lover). So did the Titan. I found myself listening to riffling bass lines and watching mediocre action flicks. Man, there is a lot of subterranean bass in new movies!
Every loudspeaker should come with its own frequency response and linear impedance curve. Subs are no exceptions. Frequency responses allow consumers to match loudspeaker and subwoofer performance factually, without subjective opinions. The Titan's frequency response (transfers) charts are available at their website.
The second chart shows that with the two filters set at their lowest 40Hz settings, the Titan's output shifts lower, while declining steeply before 100Hz. This steep roll-off merges the Titan seamlessly with full range loudspeakers.
The sound of "space" in many large areas is enhanced by the "hall" sound, which has a considerable amount of low-bass content. Extension to 20Hz ensures that space fundamentals play accurately. The Titan measures down to a 20Hz, within an admirably flat 3dB.
Comparisons
The 200-watt Klipsch KSW200 subwoofer peaks around 60Hz. According to its frequency response, the KSW should be the flatter, more natural sounding subwoofer with Khorns. Yet, the KSW always intrudes on the big ole horns, stepping on their toes, muddying the mid and upper bass.
The 500-watt Klipsch LF10 subwoofer peaks around 40Hz, low enough for many full-range loudspeakers, but not deep or adjustable enough to get out off the Khorn's way. It turns warm booms into tight thunks, also fills lower registers, yet is more accurate and precise doing it. It helps a little, but didn't make an incredible difference.
At the highest settings, the Titan is several times louder than the other two subwoofers throughout the 50 to 200Hz range. It is almost 2 to 3 times louder at 20 and 25Hz! Dialed to match the Khorn's effortless output level, it stands aside to let the big ole horns play their low notes, and picks up the slack below 80Hz. At its lowest EQ settings, the Titan clearly fills below 63Hz and down to 20Hz.
The golden child is overwhelmingly effective. Bass is deep and powerful. Low level listening is palatable. Every song is affected, as if the bass was missing before. I kept looking for something wrong with the Klipsch subwoofers. Titan rumble is felt through the couch; its extra power especially nice for action movies.
Shake Value
In the purist world of audio, many subwoofers have more powerful output than the Titan. Comparing my in-room response to reviewer Tom Nousaines' measured 20Hz output alone, the Titan runs with the pack of 31 most powerful subwoofers.
Comparing price for 18 deep subwoofers however, puts the cherry Titan ahead of subwoofers that are larger and/or more expensive, on par with DIY kits and used subwoofers; the big SVS 20-39 tubes and the Legacy Audio Deep Impact do better.
Subwoofer output at 25Hz is more audible than 20Hz and quite noticeable in movies and music. Ranking 41 subwoofers by their 25Hz output alone, the Titan is middle of the pack. Larger, more expensive old dogs in this survey top it.
Compare price at the 25Hz level however, and the cherry Titan is near the top. Lower cost models, but with less output, do better: Atlantic Tech T70.1PBM, PSB Subsonic 5i and JBL S120PII.
The Titan is louder, deeper and fits better with my big ole horns. With its gorgeous looks, the Titan excels in this price range. I can't think of a better looking subwoofer that sounds this good.
Modest performers are the most economical values in subwoofers. They bang the bass drum for the least bucks. Look at the Enjoy the Music.com™ review of the PSB SubSonic 5i, for example. The 5i lists at $529, the low end of the subwoofer scale, has only 87dB output at 25Hz, yet is one of the better price/performance values in this survey.
Obviously there is more to subwoofers than mere deep output and price. The key to the Titan's success are not its charming good looks, but its two wide range 12dB-per-octave filters. The independently adjustable filters equalize from 35 to a high 250Hz, allowing the Titan to slip under the radar of both full range and small bookshelf speakers. Used together, the filters yield a sharp slope of 24dB down.
Keeping crossover frequencies low and steep avoids overlap that muddies the mid-bass. The sharp slope and Titan's loud output match main loudspeakers with already low bass. At their lowest settings, the Titan filters did indeed merge easily with my big ole horns. But with my flea-powered amplifiers at modest volumes, the Titan sounds better adjusted about mid-way; giving an added push without distorting the mid-range. Additionally, it has one theater direct input as well as two 35Hz line-level outputs.
Although ASC recommends their 18" for most configurations, I was not sure their Subtrap could help the Titan in my new, larger room. Indeed, the RTA function of the Behringer DEQ2496 showed immeasurable differences in this room.
Constructing A Classic
Audio Concepts, Inc. (ACI) sells direct to consumer for nearly 28 years. They build OEM for other companies that sell under their own names. Mike Dzurko (pronounced De-zurk-o) started ACI in 1977. Half Czechoslovakian and half Norwegian, the ex-musician built his own, until people heard them and started buying them, he says, "I built more and more and it took off from there." For fun, he has been building for about 38 years.
Dzurko says electrical phase is not simply 0 or 180 degrees, but varies continuously. It is difficult, he says, to blend a subwoofer with the main loudspeakers correctly "unless you can match phase precisely." So the new model features continuous two-way phase adjustment (0 or 180 degrees). A manual and warble tone CD fine tune the fit. An Excel spreadsheet at the ACI site automates the tuning task.
System Q (damping) primarily measures the transient response of a subwoofer. It is a function of the woofer, cabinet size and electronics. The Titan has no ports or vents. It is a low Q rating, sealed, second order to maximize transient accuracy. The Titan has a system Q of approximately .6, compared to many subs with Qs from 1-1.5.
Line input impedance is approximately 10,000 ohms. Input impedance with ACI's speaker level adapter is approximately 24,000 ohms.
The cabinet is High Density Fiberboard (49.5 lb/cu. ft.). Walls vary from 0.75" to 1.5" thick. Varying the thickness helps with resonance control. Internal bracing is interlocking 0.75" MDF rings. Internal dampening is a proprietary type of polyfill.
The Titan's cabinet is tall and narrow, trimmed and topped with hardwood panels, primarily for high partner approval ratings (WAF). The panels and trim top aren't laminate or plastic, but smooth hardwood. Cherry or clear oak with black insets are standard. ACI customers get an attractive end table, not a bulky black box. The panels make good handholds for inching it in and out of position.
Free air resonance (Fs) is a very low 18Hz. To get there, the Titan has a cast-frame downward firing SV-12 driver. ACI says forward facing subs have an advantage only if the crossover frequency is high, above about 100Hz. Voice coil size is 2 inches. The cone is a rigid long-fiber ribbed cone with loose, flexible black surround.
Although Sunfire recommends mink oil for shoes on their rubber cone surrounds, Dsurko says not to put anything on the rubber as it might "react and cause problems." He says Titans last for years with no other treatment than dusting.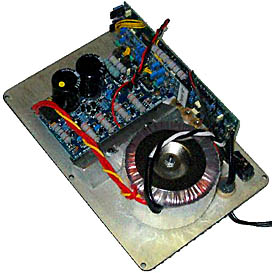 The Titan is a 250-watt Class A-B amplifier, like many separate amplifiers, not the typical Class D of subwoofers. Dzurko says this amplifier costs 6 to 7 times the typical plate amplifier, but "is worth every penny for reliability and sound quality." The driver and amplifier are made in the US. Though the subwoofer sounds good right from the start, break-in period is 60 hours.
With all of the possible methods for adding a subwoofer to your home movie and music reproduction system, ACI provides some excellent graphics at their subwoofer set-up page. There is also a good subwoofer primer on their site.
With only RCA inputs, ACI provides thin RCA to loudspeaker cable adapters: simply plug them in and twist around your positive and negative cables. Using audiophile-quality interconnects instead of thin chain store specials improved bass definition slightly.
The 8 1/2' Titan power cord is long, but attached. It doesn't allow for upgrades, but it does make placement and ASC Subtrap swapping easy.
The Company
La Crosse, Wisconsin, is about 2.5 hours south of my teenage stomping grounds in St. Paul, Minnesota, and less than 5 hours from Chicago. St. Paul is home of Atma-sphere OTL amplifiers, audio legend Robert Fulton and Magnepan panel loudspeakers. Obviously, the ice-cracking winter air makes for some great audio listening.
Dzurko says they have about 35 different models. Their most popular model is a toss up between Sapphire, Panorama, Emerald, Titan and Force. Eight woods are commonly used. ACI's most popular finish is the beautiful Cherry -- $150 over the basic black and well worth it. Black oak, oak, maple, mahogany, rose-walnut, walnut, gold oak are all options at slightly higher cost. In addition, ACI can custom match 100s of finishes.
ACI has a retail showroom at a local AV specialist. Most orders ship within 2-4 days with a 30-day Money-Back guarantee. If ACI doesn't have the chosen wood in stock, it can be three-four weeks. Warranty is a good five years with ACI covering everything including shipping the first year.
Sumptuous Sub
Though I normally grade on a miserly scale, I lavish four Blue Notes on many of the Enjoy The Music.com™ categories. I thought the Titan made above average improvements in Tonality, Sub-bass and Mid-bass. Fit and Finish were superb for a subwoofer in this price range, with no Self Noise. The Titan doesn't affect many other categories, so they are not rated: High-Frequencies, Attack, Decay, Inner Resolution, Soundscape (Width; Front & Rear, Depth & Extension). My own Enjoyment category is higher than most other products: another Blue Note. The Titan appearance and power, with two steep adjustable controls, make it a very enjoyable companion. Therefore, for the first time, I award five Blue Notes, for Excellent Value!
So think early tax refund. It is trade-up time: I am keeping this one. The Titan is a powerful performer, with good looks and valuable features. It is a solid and attractive value.
| | |
| --- | --- |
| Tonality | |
| Sub-bass (10Hz - 60Hz) | |
| Mid-bass (80Hz - 200Hz) | |
| Fit and Finish | |
| Self Noise | None |
| Enjoyment | |
| Value for the Money | |
Specifications
Type: Self-powered subwoofer
Driver: 12" proprietary "extreme long throw" cast-frame woofer
Amplifier: 250 Watt amplifier ("Class AB" with discrete outputs and toroidal transformer)
Adjustments: Level control for loudspeaker or line-level (RCA) inputs
Inputs: Mono or stereo inputs via RCA
Low-Pass Crossover Frequency: Continuously Variable: 35-250Hz total of 24db/octave, increasing to 36db/octave
Outputs: Line-level RCA
Adjustable phase (0 to 180 degrees)
Warranty: Five years labor and parts
Dimensions: 22.75 x 16.5 x 16.5 (HxWxD in inches)
Weight: 70 pounds
Price: Black $1050 and Cherry: $1200
Company Information
Audio Concepts, Inc.
901 So. 4th Street
La Crosse, WI 54601
Voice: (608) 784-4570
Fax: (608) 784-6367
E-mail: sales@audioc.com
Website: www.audioc.com