International CES 2009 & THE Show Report


CES & THE Show 2009 Report
Part 2 By Rick Becker
Meridian presented a concert video that captivated me for several moments. They were also touting their award winning sooloos server. While I prefer to ride behind the cutting edge of home theater and surround sound, this presentation certainly got me thinking about how much fun it would be to combine my interest in live recordings with video in the family room at home. They also had on display their 810 Video Reference projector with D-ILA technology from JVC, I believe. This projector is large enough for you to share your movies with the entire neighborhood if you use your garage door as a screen. Now there's a thought! Why confine yourself to an indoor home theater when you could turn the whole street into a Drive-In? Parental guidance advised, of course.
Moving from the Megabuck to the Minibuck, I stopped into the Polk Audio room for a Real World taste of Blue Man Group, listening to their Surround Bar 360 with an AM/FM receiver and built-in CD/DVD player with HDMI input designed to produce a synthesized surround experience from a size zero footprint — it is light enough to place on a wall shelf. It produces a full range sound without a subwoofer. Like a folding chair for extra guests at the Thanksgiving table, this solution makes a lot of sense for a lot of people. I was genuinely impressed. It was not the measure of the Meridian system above, but if your portfolio has recently evaporated, this will certainly tide you over. I was also intrigued by their Atrium series loudspeakers that can be suspended from a ceiling, indoors or out.
Occasionally I would stumble into an OEM supplier's room. SB Acoustics, a vertically integrated company impressed with their 15-inch honeycomb paper woofer and a ring radiator tweeter with a dimple rather than a pointed cone in the center. They make virtually everything in the drivers.
I found a very interesting looking tube amp that combines elements of aluminum and glass from TAC. It is made by Vincent for distribution in Europe. It uses a 6L6 tube (replacement for EL34) and has auto-bias circuitry.
The Sonicweld Pulserod System, an active line stage type loudspeaker with an active subwoofer, all passing through an external DQEX digital crossover with room correction definitely fell into the bling category for me being machined out of billet aluminum. All you have to do is add a source, which in this case was an Esoteric CD player. PS Audio Power Plant Premiers cleansed the electricity. The harmonica music playing when I was in the room was extremely precise and probably dead accurate, but I had the feeling I would quickly tire of the precision sound. The loudspeaker system goes for $110,000. I heard a very pleasant Experience One headphone amp from Trafomatic in Serbia. I heard it through Ultrasone 672 headphones which were the prettier, and Sennheiser HD650 headphones which I preferred for the sound.
In the Angelis Labor room I met up with Jean-Pierre Boudreau of Gemme Audio in Montreal. I had been trying to get a hold of a Katana for review ever since hearing them in Montreal. They are in short supply to say the least. In stead, Gemme was showing the first speaker in their new ultra high-end Phenix line. The Green Gem is a three piece system although this system will be given different names depending on the specific finished desired for each custom order... a rather unique approach in my experience. I didn't know quite what to expect, acoustically, from this speaker that ranges from $37,500 upward, depending on finish requested. The cabinetry is done by Don Green of Green Tree, near New York City. We're talking not only high end audio here, but high-end furniture as well. The two woofers in the credenza are a modern duplication of the JBL 2226. There is only one capacitor on the tweeter and one on the midrange units. There is no crossover between the satellites and the woofers. It was bi-amplified with Angelis Labor Spiritual tube amps putting out 40 wpc in push-pull with EL34 tubes. The front end was one of the most stunning turntables I've ever seen, also from the Italian company, Angelus Labor. Shown here with four arms, the cost of a single arm version, with their own tonearm and cartridge is 26,000€. How good was the music? I get chills listening to the digital video notes taken with my camcorder. The Green Gems are now in my living room, encircled by literature on the floor from the show as I write this report. I can't type fast enough! To put it mildly, this was one of the best rooms at the show. Stay tuned for a complete report on the Green Gem, hopefully before the Montreal show.
Two doors down I had the pleasure of meeting Andy Payor again and we reminisced about my impromptu visit many summers ago when I got to see his pride and joy — a 1966 Pontiac GTO. Listening to his Rockport Technology Akuila loudspeakers ($44,500) driven by Ypsilon Electronics from Athens , Greece , was also a great pleasure. The 300 lbs (each) speaker has a triple laminated cabinet with constrained layer damping and a 5-inch thick front baffle. The three-way includes a Scanspeak ring radiator built to Andy's specs and midrange and woofer built to spec by Audiotechnology in Denmark with carbon fiber composite cones. Demetris Baclavas proudly exhibited their hybrid monoblocks with tube front end and solid state power stage. The heavy monoblocks are mostly transformers, designed and built in-house, below the tube input stage on top. The three blocks of what I believe were the SET-100 amplifier ($70,000) reminded me of little Parthenon, built to the highest standard. I'm not sure what the middle "building" might be, possibly a separate power supply. The source was an audiophile grade server. I would encounter their CD front end back at the Alexis Park at the end of the show. Excellent sound in this room, too, to go along with the very handsome visual presentation of the components and loudspeaker.
Between the two rooms above was nestled a stealth Class D power amplifier from Blueblade, a company that also makes products for the United States military. The amp shown in the photo puts out 50 watts x 2 into 8 Ohms (100 watts x 2 into 4 Ohms) and can be bridged to mono. I should have stuck my finger into the photo; it will fit in my outstretched hand. This OEM product seems a perfect solution for active loudspeakers — bookshelf, floor standing, ceiling mounted, sound bars for flat panel TV's, etc. While it will not challenge megabuck products in sound quality, it was surprisingly good in a modest system between a laptop as a source of uncompressed audio and a pair of floorstanding loudspeakers. I didn't write down the price, but in quantity, I think it was between $100 and $200, OEM. Something built around this amp could easily bring the iPod generation into the high-end fold.
Weiss Engineering showed the Minerva, a $5000 DAC with a FireWire input that would allow you to play digital audio right out of your computer... or your HD camcorder, too, I suspect, which would make for some interesting bootleg playbacks.
And Rega showed the new Illicit 80 wpc integrated for $3000 which looked svelte. Next to it was the Rega Ios MC phono stage with dual mono discrete symmetrical circuitry and easily selectable loading and gain at $3200.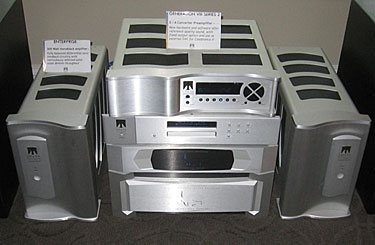 Ken Stevens look out. There's a new CAT on the block. But this one is loudspeaker company California Audio Technologies, showing a stand mounted monitor looking suspiciously like an Acoustic Zen speaker, except for the stunning red paint job and the $35,000 price tag... or $40,000 if you wish to include the sealed subwoofers with aluminum cones. Electronics were by Theta including their Enterprise fully balanced 300 watt monoblocks and Generation VII Series 2 preamp/DAC which can also be used as a stand-alone DAC. The rig sounded pretty good in spite of the fact there were no tweaky micro-vibration absorbing racks in sight. But then, perhaps it might have sounded even better.