Salon Audio Montreal / Audio Fest 2019 Show Report
Part 2
Salon Audio Montreal / Audio Fest 2019 Show Report By Rick Becker
Returning to the ELAC room I found Andrew Jones had taken the helm and was waxing enthusiastically about his $6000 Navis floorstanders with 300 Wpc built-in, as well he should. Woofer, midrange and concentric tweeter each have their own Class AB amplifier. With the addition of a receiver, they can also be streamed wirelessly. They sounded great, but as his designs creep higher in price, they seem to be coming up against stiffer competition. Part of this is the quality of the competition, but another part of it is the fact that as price rises, so does the cost window of the competition, though the fact that they are active speakers certainly plays into the equation. (Somebody looking at a $300 pair of speakers might have a price window of $250 to $350, while someone looking at a $6000 pair might have a price window of $5000 to $8000 that would encompass a lot of very good speakers.) Nonetheless, it was easy to hear why the seats in this room were so warm. I also noted the fact that he had the speakers on the long wall, an orientation I've long favored for its ability to create a wide soundstage and reduce side reflections' interference with the direct wave from the speaker. Trends Electronics / ELAC America, Room 2336.
Klipsch and Rotel teamed up for a home theater presentation that must have been pretty good as nobody seemed to want to leave the room. Maybe the word "affordable" on the banner had something to do with it?
Sylvio Comtois continued on the road of excellence with only minor modifications to his Artist Cloner line of solid-state integrated amp, stand mounted monitor and cables. The darkened room with spot-lighted components created justifiable drama for the excellent sound here. The monitor ($16,000 w/stands) had taken on a different shape than I recalled from two years ago with clipped upper corners and a creased front baffle to time align the drivers. All told, one of the Best Rooms at the show. Artist Cloner, Room 2346.
It was a real pleasure to hear the KEF Blade Two for the first time. I've heard the larger Blade on a couple of occasions with mixed results. Driven by a superb Tenor power amp, the music here was, well, superb. Robert(?) Lemay was one of the original people at the start of Tenor years ago. He confided in me that even in a small room he still prefers the larger Blade to the Two, but price is often a factor for people. Nonetheless, I thought this room was very well put together, ranking as one of the Best Rooms. Lemay Audio, Room 2405.
Jerome Fragman brought the North American premier of the Stenheim Alumine TWO SE ($19,500) to Montreal from Switzerland. It was driven by a Swiss Solution 330 integrated amp seen here on a beautiful Massif two-tone wood amp stand and damped with a pair of Massif tuning blocks on top. Massif wood roller blocks were also used under some of this gear. A Wolf ripper/streamer was the front end of the system and a Brinkman Nyquist DAC did the conversion. Music here was crystal clear and crisp, which is fairly typical of Swiss components, but certainly not all. Stenheim / Tri-Cell / Wolf Audio / Sonic Artistry, Room 2409.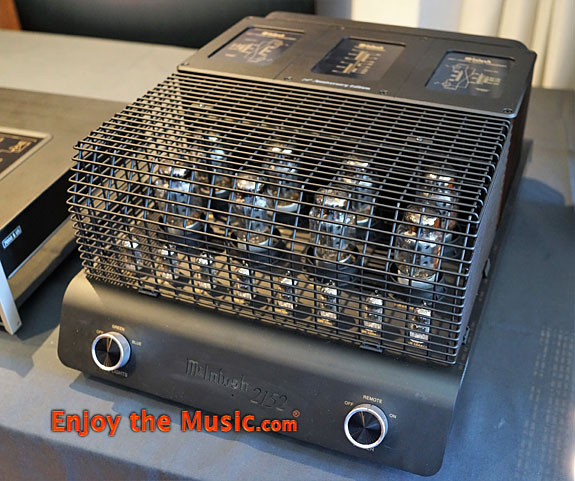 Somewhere along this hallway I heard Magico A3 speakers (~$16,000 CDN) playing music at an acceptable level driven by a very modest looking rig. A McIntosh 2152 integrated amp took on the Dark style so popular with Harley Davidson motorcycles, though on silent display, again like a lot of Harleys parked at local cafes, it wasn't making much noise. Filtronique SonOr, Room 2414?
The new Wilson DAW speaker in a very attractive shade of green was being driven by a rig comprised of Luxman electronics. The sound was decent but not at the level Peter McGrath sets up his rigs. In fairness, the rigs Peter typically set up were much more expensive than the electronics used here. I suspect the Luxman gear was simply too polite to bring out the best in the DAW. The power amp shown here was certainly a handsome piece. Filtronique SonOr, Room 2414.
Neat Acoustic presented their Ekstra loudspeaker at what seemed like a high price of $5499 for this brand, but a poster revealed there was a lot going on inside that doesn't meet the eye, like a downward firing isobaric woofer. And was this the room where I (and everybody else) saw the Raspberry Pi? My friend Tom got a kick out of seeing this as he uses one in his secondary system. Kimbercan, Room 2417.