Munich HIGH END Show Report 2016
High End Society Munich Germany


Pro-Ject DAC Box DS2 Ultra, Plus Classic And VTE R / VTE L Turntables
---
Pro-Ject Audio Systems came out big and strong at HIGH END 2016, and for very good reason. They had so many new products that it is nearly impossible for a humble guy like me to keep track of them all. For those unfamiliar, Pro-Ject is an Austrian company founded in 1990 in Vienna by Heinz Lichtenegger. Heinz believed that analog playback was the most cost-effective and best way to listen to music in audiophile quality and still maintains that belief 25 years later. Inspired by the concept of supporting analog in the face of the digital onslaught, Pro-Ject Audio Systems is a driving force in reinventing analog turntables for the hi-fi market. Sure they also offer very high quality digital audio products, yet their turntables shined brightly at HIGH END 2016.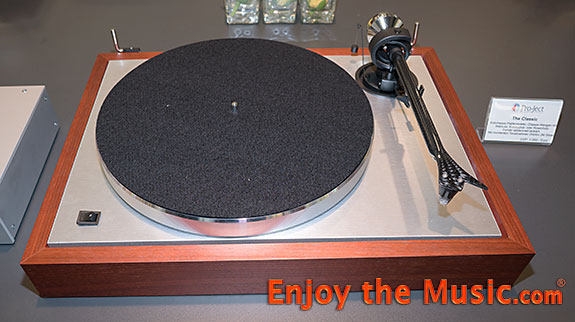 Pro-Ject new Classic turntable (€1000) rides on a special TPE dampening for the plinth. An aluminum carbon tonearm and 2M silver cartridge is included. This easy to use 'plug & play' design and shows that set-up does not need to be complicated like rocket-science. Belt drive has two settings, being the industry standard 33.3 and 45 rpm. Height adjustable decoupling feet ensures the platter is level and certain detrimental vibrations are kept at bay. Precision balanced TPE-damped aluminum-platter is joined by a felt mat, which all sits atop a specially-designed metal / MDF sandwich chassis floating on Pro-Ject's TPE suspension. The Classic turntable includes a 9" carbon / aluminum tonearm with MM & MC cartridge capability. Speaking of cartridge, Pro-Ject's Classic turntable is optionally available with 2M Silver phono cartridge. For tweakers and those who demand precision, azimuth and VTA are fully adjustable.
As i said earlier, Pro-Ject also offers high-end audio digital products such as their new DAC Box DS2 Ultra (€599) with AK4498 chip and AK4137 for sampling rate conversion. It also provides upsampling too. Standard cabinet is all aluminum, with the wood side panels adding €100. Getting back to the chipset, the Asahi Kasei Microdevices AK4490 32-bit/784kHz DAC works its magic and does also provide DSD256 capability. The AK4490 DAC integrates a switched capacitor filter OSR Doubler that greatly reduces sound degradation from noise shaping, which is said to achieve a flat noise floor of up to 200kHz. A sophisticated sampling rate converter, the AK4137EQ, converts any incoming signal between 44.1kHz and 384kHz up to 768kHz. This allows use of the low pass filter, which Pro-Ject says is needed to filter carrier frequencies and digital distortion at much higher frequencies without any sound degenerating effect. As you can see in the photo above, it handles virtually all types of digital inputs, has unbalanced RCA output plus 12V trigger for home automation.
What really caught my eye was the truly ingenious, and lovely, wall fixture within the Pro-Ject booth at HIGH END 2016. No, it was not a photograph or painting, but a wall-mounted turntable! Pro-Jet now has a wall mounted turntable that uses a spring on the tonearm for tracking force.
VTE and comes in left or right handed and with or without Bluetooth (€315 or 420 with Ortofon OM5 cartridge). It can also be vertically standing on a table, or or wall mounted of course. Furthermore, Pro-Ject went the extra mile to offer a right- and left-handed version! An included record clamp secures your beloved vinyl LP to the platter. Pro-Ject's VTE L and VTE R (left or right) has a silicone belt-driven platter and low vibration synchronous motor with DC power supply. Also included is an 8.6" aluminum tonearm. The turntable is pre-adjusted for tracking force and anti-skating force. So how does the VTE turntable do it's magical trick? The tonearm relies on a specially-designed spring to ensure proper vertical tracking force. Color options include black matt, White matt, and red matt. Project's VTE L and VTE R earns an Enjoy the Music.com award for Turntable Style.
---> Back to HIGH END 2016 show report homepage.