The AXPONA 2023 Chronicles: Part 4
The 12th floor was filled with glorious sounds.
Audio Expo North America 2023 Show Report By Rick Becker
Fidelity Imports
As they were at Capital Audiofest 2022, Fidelity Imports was a heavy hitter at AXPONA 2023, fielding six rooms. They did a nice job, from my perspective at least, of mixing up the brands and even the models within the brands to give different combinations of gear. It wasn't just a replay of the previous show.
Unison amps and opera speakers are a natural combination as both come from Italy. Here was the Opera Callas Diva speaker ($12k) with the Unison Research Simply 845 integrated amp ($10k) along with the Unison Research CD Uno ($3k). In the photo above you get a clear view of why I like the design of the NEO audio rack. The front supports are spread out just a bit to facilitate the installation and removal of components. Plus, it's a nice differentiating touch of design.
That's a piano gloss black top, gloss wood veneer sides, and a black leather baffle on this speaker. Elegant, but not over the top. And like other Opera speakers I've heard over the years, very musical.
Unico amps with silver faces and Plexiglas tops so we could see the internal construction, are from Unison Research, as are the tube amplifiers on the right. They always take extra care with their designs, either way.
Fidelity Imports
I'll let the product sheet below speak for this room.
These equipment lists are so handy for the press and visitors alike. Fidelity Imports did a good job at this show, but many, many others fell far short.
Fidelity Imports Roon Two
The Perlisten speakers had room to breathe here, driven by an Audia Flight FLS10 integrated amplifier from Italy — again that extra touch of elegant design.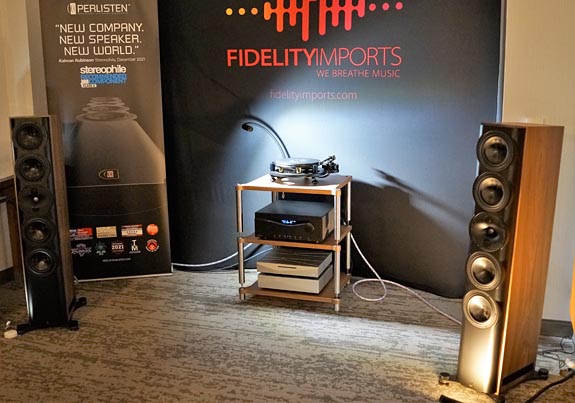 The Perlisten S7t speaker ($20k), is built in China and has a fine fit and finish, as well as sounding very good. They are available in several finishes, some at extra cost.
Taking note from the furniture industry, they supply samples of the various wood finishes that supplement the traditional piano gloss black. At this price point (and above) interior design and spousal acceptance can become a major factor, particularly with speakers. They offer a choice of matte or gloss finish with several veneer options.
It's always nice to see a Michell turntable on display — the Gyro SE with TechnoArm2 ($5498) with heavy brass weights suspended under the platter has the look of a more expensive turntable.
An Innuos Statement server provided an alternate source of music on the bottom shelf.